Located at the entrance of the Art Building, Studio San Giuseppe has a renovated, open floor plan with professional, updated lighting and wall space for art displays. You're guaranteed to find a wide range of media on display at Studio San Giuseppe, from paintings to sculpture to photography.

Gallery Hours
*Note: Per campus protocols, please wear a mask when visiting the SSG Art Gallery. Thank You!
| | |
| --- | --- |
| Monday – Friday | 10:00 am – 5:00 pm |
| Saturday – Sunday | 1:00pm – 5:00 pm |
Gallery Exhibitions 2021-2022
OCTOBER 4 – NOVEMBER 7, 2021
Elizabeth Ann Seton: Life & Legacy
An exhibition of works celebrating the life and legacy of Elizabeth Ann Seton, foundress of the Sisters of Charity. Participating artists include: Sisters of Charity (Cincinnati), Seton High School, DePaul Cristo Rey High School, and Art Guild students of Mount St. Joseph University.
Thanksgiving Recess: November 24 – 28, 2021 (Gallery Closed)
---
NOVEMBER 21 – DECEMBER 17, 2021
Selections 2021
The biennial exhibition spotlighting art works created by talented area high school students as selected by their art teachers.
Martin Luther King Holiday: Monday, January 17, 2022 (Gallery Closed)
Mid-Semester Holiday: Friday, February 18, 2022 (Gallery Closed) 
---
JANUARY 10 – FEBRUARY 13, 2022
MSJ Art & Design Faculty Exhibition
Surveys recent creative work by the faculty of the Department of Art & Design at Mount St. Joseph University.
Spring Break: March 7 – 12, 2022: (Gallery is OPEN)
---
FEBRUARY 27 – APRIL 1, 2022
Alan deCourcy
Interdisciplinary photography exhibition.
Easter Holiday: April 15 – 18, 2022 (Gallery Closed)
---
APRIL 8 – MAY 7, 2022
2022 Senior Thesis Exhibition: Art/Fine Art; Graphic Design
Comprehensive projects representing the culmination of studies in each student's major area of concentration. These projects serve as a bridge to professional careers in the visual arts and design.
Gallery Exhibitions 2020-2021
2021 ART & DESIGN SENIOR THESIS EXHIBITION
Each spring, senior art & design students execute comprehensive degree projects. These intensive experiences are the culmination of studies in the students' major areas of concentration. This final exhibition highlights their achievements and serves as a bridge to professional careers in the visual arts and design.
HINDSIGHT 20/20 EXHIBITION
This show features photographers from our own Mount Community: current students, faculty, staff and Mount alumni. Those who chose to submit their photos were asked to share their response to the question "What has this year (2020) meant to you?"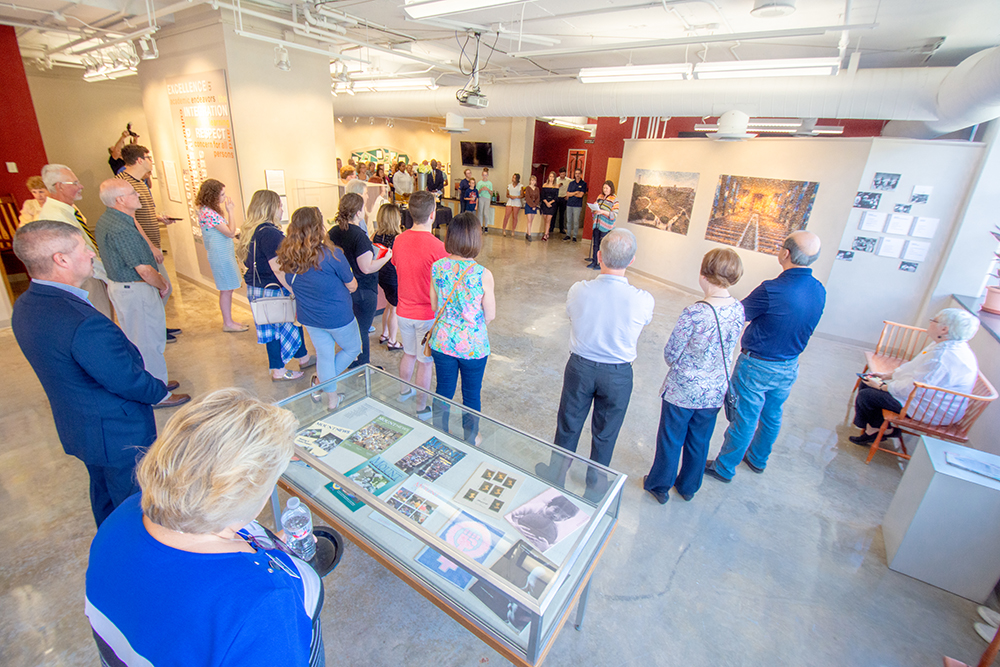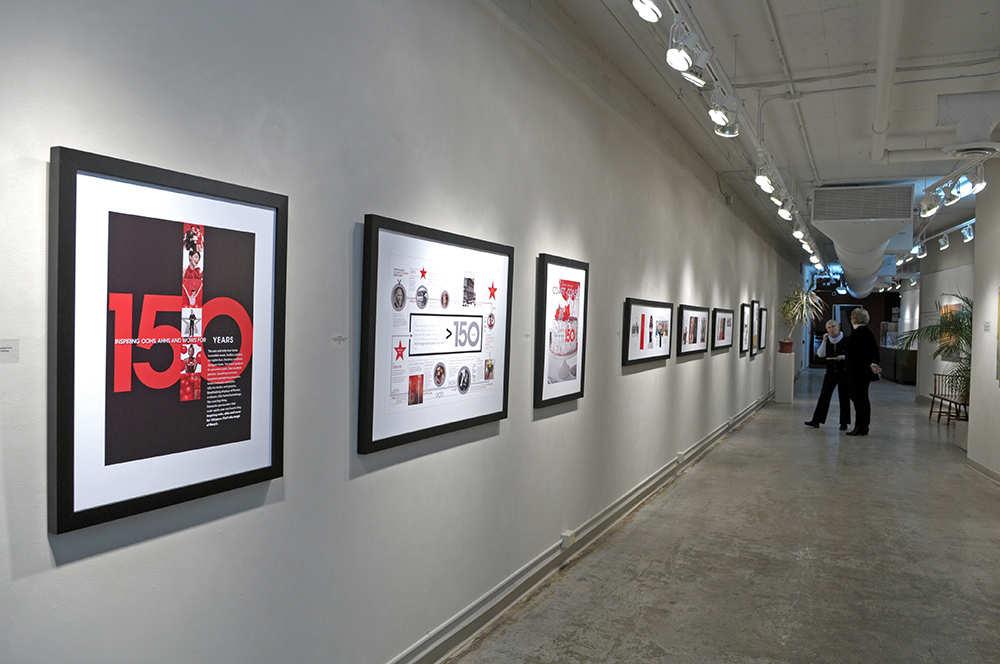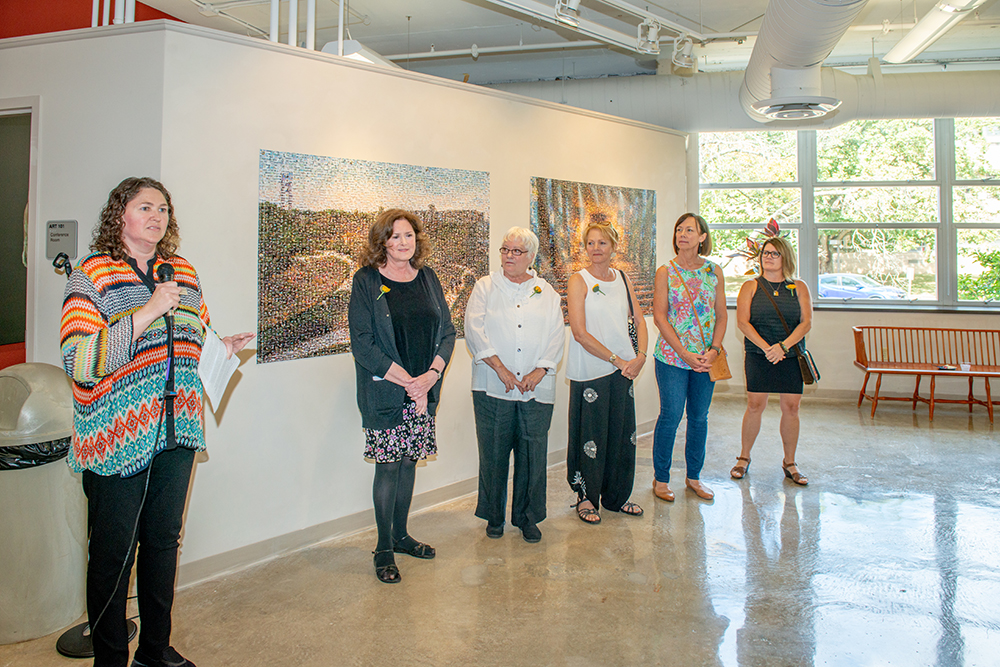 Art Gallery for Rent
Interested in hosting your next event in one of our facilities? Let us help you plan your next event!  Find rental information below for our conference, banquet, and event space for rent in the Studio San Giuseppe Art Gallery.
Conference Space for Rent 
Holding up to 50 guests, the Mount's conference space for rent in the Studio San Giuseppe Art Gallery can accomodate a singular event for your next business conference or formal meeting with free and abundant parking.
Banquet Space for Rent
Interested in hosting a party or other personal event with friends, family, or coworkers? The Mount's banquet space for rent can meet your social event needs.
| | |
| --- | --- |
| Cost to Rent | $150/hr |
| Seated Capacity | 50 guests |
| Standing Capacity | Currently Unknown |
| Accessibility Info | Slight hill from West Lot, ramp access to sliding glass doors |
| Food Service | AVI must sell/serve alcohol and food (requires separate contract) |
| Parking | Free and abundant |
Contact:
For more information on renting this facility, please contact Katrina Kenton, Director of Auxiliary Services at Katrina.Kenton@msj.edu 
Take a virtual tour of the Harrington Center Gym and other facilities and equipment at Mount St. Joseph University.