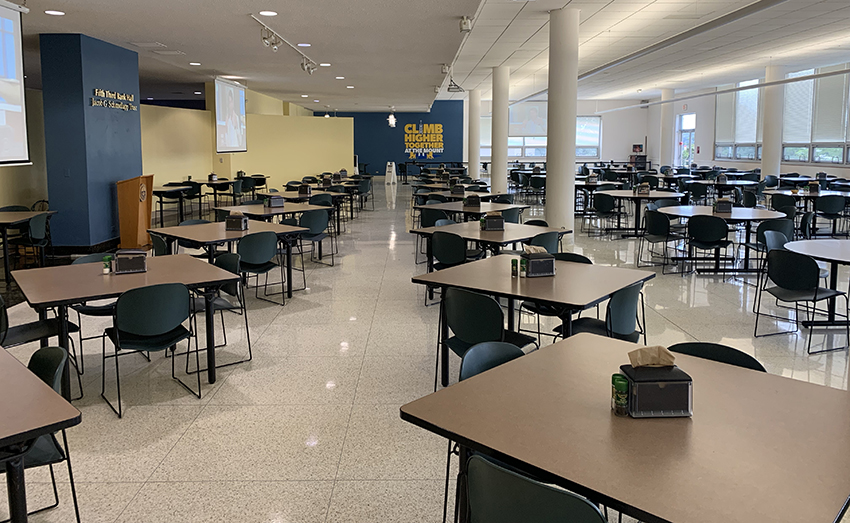 Fifth Third Bank Dining Hall 
The "all-you-care-to-enjoy" Fifth Third Bank Hall is located in the Seton Center. We have a dining room with a hot entree bar, a full service deli, a demo station, a salad bar, pizza/soup station, and a grill. Our hot entree station features delicious homemade meals just like mom makes. A full service deli lets students create their own sandwiches and wraps. 
Our grill always serves fresh, handmade hamburgers and cheeseburgers as well as grilled chicken sandwiches, veggie burgers, grilled cheese, chicken tenders, french fries, and more. We also have a large self-serve salad bar, fresh pizzas, drinks and desserts. You can go back for seconds –or thirds – but please eat what you take. We accept Meal Plans and Flex Dollars, as well as cash and credit cards.
The Dining Hall is an eat-in only facility, with bagged breakfast and lunch options for those on the go.
Hours
Breakfast $7.00
Monday - Friday 7:30 a.m. - 9:30 a.m.
Saturday - Sunday (self-serve continental breakfast) 7:30 a.m. - 9 a.m.
Lunch $8.00
Monday - Friday 11:30 a.m. - 1:15 p.m.
Saturday - Sunday (Brunch) 11 a.m. - 1 p.m.
Dinner $9.00
Monday - Thursday 4:30 p.m. - 7:30 p.m.
Friday, Saturday, Sunday 4:30 p.m. - 6 p.m.
Take a virtual tour of the Fifth Third Dining Hall and other facilities and equipment at Mount St. Joseph University.