The Campus Quad at Mount St. Joseph University includes its iconic St. Joseph statue and an array of greenery space that is central to the campus.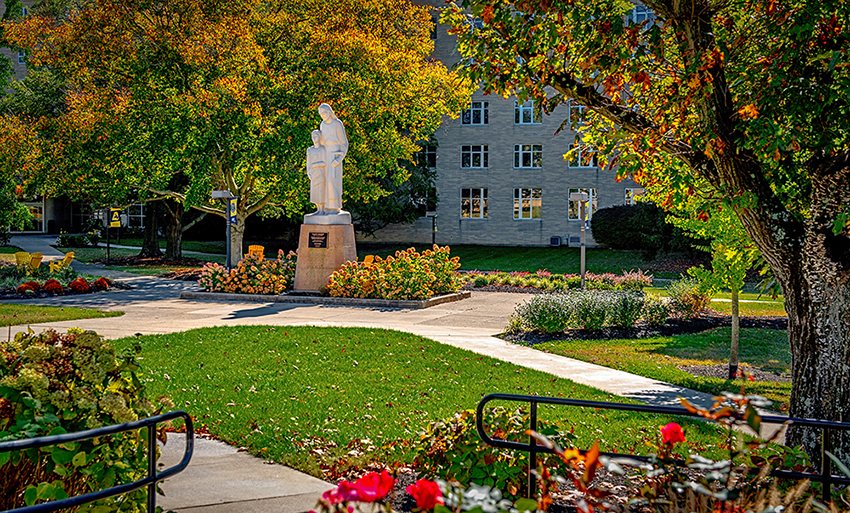 Campus Quad for Rent
Interested in hosting your next event in one of our facilities? Let us help you plan your next event! Find rental information below to rent our beautiful Campus Quad for rent.
Outdoor Concert Space for Rent 
Searching for the perfect outdoor location for your next live event or performance? Look no further! The Mount's outdoor concert space for rent is ideal for live performances and concerts in this iconic campus space to bring your vision to life.
Outdoor Banquet Space for Rent
Interested in hosting a party or other personal event with friends, family, or coworkers? This unlimited outdoor banquet space for rent with free parking can meet your social event needs.
Outdoor Conference Space for Rent 
This outdoor gathering space is suitable for events small and large. The MSJ Campus Quad conference space for rent can accomodate a singular event for your next business conference or formal meeting.
| | |
| --- | --- |
| Cost to Rent | $100/hr ($60/hr non-profit rate) |
| Seated Capacity | estimated 1000 guests |
| Standing Capacity | Unlimited/Outdoor |
| Accessibility Info | Ramp access from Admin Lot |
| Food Service | AVI (requires separate contract), can have food trucks in Admin Lot |
| Parking | Free and abundant |
Contact:
For more information on renting this facility, please contact Katrina Kenton, Director of Auxiliary Services at Katrina.Kenton@msj.edu 
Take a virtual tour of the Campus Quad and other facilities and equipment at Mount St. Joseph University.