Surrounded by an all-weather, eight-lane running track, the MSJ Schueler Athletic Complex opened in 2004 and is home to MSJ football, men's and women's soccer, men's and women's lacrosse, and track and field.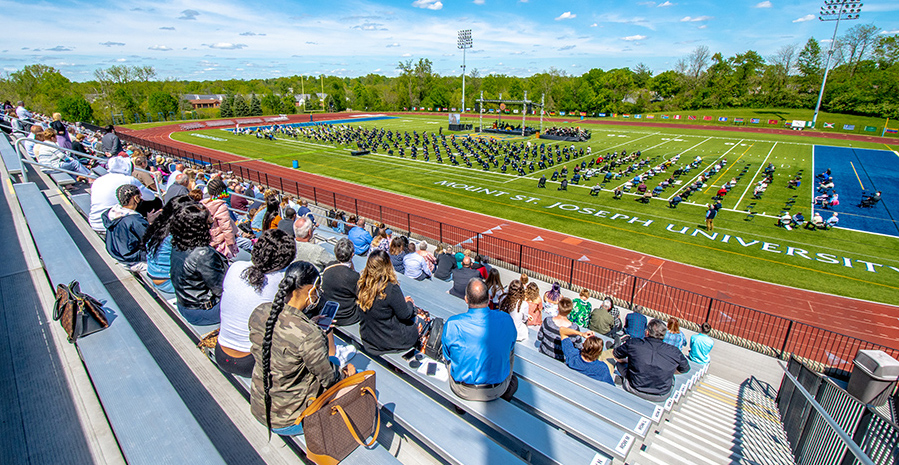 The complex houses concessions, locker rooms, offices, showers, equipment storage, and facilities for athletic training.
Community sports fans are invited to attend college-level competition in the comfortable, welcoming environment that has always been the hallmark of the Mount.
Take a virtual tour of the Schueler Athletic Complex and other facilities and equipment at Mount St. Joseph University.
Athletic Complex For Rent
Interested in hosting your next event in one of our facilities? Let us help you plan your next event!  Find rental information below for our football, soccer, and lacrosse field for rent in the Schueler Athletic Complex.
Football Field For Rent
The Mount's football field for rent can accomodate your next practice, party, or fundraising event.
Soccer Field For Rent
Looking to rent a large outdoor space? The Mount's outdoor soccer field for rent can meet your athletic needs for sports-related activities or parties.
Lacrosse Field For Rent
The Mount's outdoor lacrosse field for rent can meet your athletic needs and recreational activities.
Midland Plaza For Rent
The Midland Plaza for rent is perfect for parties, fundraising events, and receptions.
| | |
| --- | --- |
| Cost to Rent | $100/hr ($60/hr non-profit rate) |
| Seated Capacity | 1800 guests |
| Standing Capacity | Unlimited/Outdoor |
| Accessibility Info | Harrington Center entrance and parking - East Lot |
| Food Service | Concession Stand by AVI (requires separate contract) |
| Parking | Free and abundant |
Contact:
For more information on renting this facility, please contact Katrina Kenton, Director of Auxiliary Services at Katrina.Kenton@msj.edu