On July 21, Anna waited eagerly for three hours to hear her nurse exclaim "You're ringing the bell today!"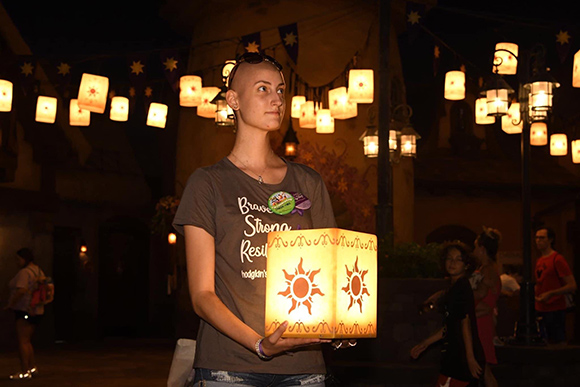 Anna Tenhundfeld, sophomore criminology and computer science major and vocal performance minor, was diagnosed with stage 2A Hodgkin's Lymphoma cancer at age 18. After the initial fear and crying, she realized that since her type of cancer had a 95% chance survival rate, she could keep living her life the way she wanted to. She described the journey as feeling as though her life was "put on hold."
Tenhundfeld was diagnosed with cancer a few days after Christmas and started chemotherapy the following week. For the next six months, she had to spend a minimum of five hours in chemotherapy every other Friday. On the weekends that she didn't have chemo, she had to get an immunity g-shot – a painful process that protects the immune system by putting bone marrow into hyper drive. It wasn't until July 21 that she got her final scans declaring her cancer free.
During her cancer journey, she experienced a lot of mood swings and depression. She wasn't allowed to drive, and she had to lie in bed for hours getting drugs pumped into her system. She was petrified to go anywhere because she didn't want to put her immune system at risk. After about a year of recovery, she was able to regain her strength.
While fighting cancer, Tenhundfeld was able to take some time for reflection. Cancer helped her realize that her mom was always there for her and would do anything for her. She also learned that, at the time, she wasn't truly mentally ready for college. Having experienced firsthand what it's like to be a cancer patient and coming out of it stronger than before, she says, "You don't realize how tough it is until you experience it yourself."
She said the hardest part about having cancer was that you face a lot of setbacks. Your treatment could be going smoothly until something suddenly goes wrong. You also have nausea and lack strength and energy. She shares that at one point the nurses couldn't pull blood from her veins because there was too much scar tissue. She was given the choice between a port or pick line to draw her blood and receive chemo medications instead of using an IV. She chose the port because she would be knocked out so that she wouldn't feel any pain. Her biggest supporters throughout her cancer battle were her family and a best friend at Miami University.
On the day she got to ring the bell announcing her victory, the nurses who cared for her lined the hallways to celebrate her win. She cheerfully rang the bell and then hugged all the nurses. "I didn't cry because I was too busy celebrating," she says.
Out of gratitude for all those who helped her during her time of trial, she decided to help others in any way she could. A week after she got her diagnosis, she started posting videos about what she was going through, taking people on her cancer journey. Someone commented on the first video she posted, saying they were "twinning," meaning they also had Hodgkin's Lymphoma. As she posted videos on TikTok about what life was like with cancer, she encouraged people to DM her if they had any questions or just wanted to talk.
One person she currently helps in his battle with cancer is Aiden Fertig.  A sophomore at the Mount, Fertig was diagnosed with stage 4 Ewing Sarcoma cancer. The Mount recently hosted a fundraiser at a home football game to support the Fertigs in paying for his medical bills. Tenhundfeld and Fertig met in Written Word in the fall semester of last year. They hung out at a restaurant to get to know each other and became friends. For a while they didn't talk much but checked in with each other occasionally on Snapchat.
One day she saw a post on his story about his cancer diagnosis and asked if he was ok. After learning about his condition, she took to comforting him and talking him through the cancer process, promising to be there for him and to bring him whatever he needed. She told him about the special shampoo she used to get chemo toxins out of her scalp so that she could keep her hair for longer and taught him about the benefits of choosing a port over a pick line.
She continues to help people with cancer or cancer-related symptoms by answering questions they have through Tik Tok or Instagram. She claims to have already helped two people discover they have cancer. Her advice to people who may be struggling with cancer-related symptoms is to not be afraid to ask for help.
"If you feel something is wrong, just ask for help," she says. "Don't try to tough it out or do it on your own [just because you are an adult]." She explains that some people, such as herself, didn't experience any of the normal symptoms related to Hodgkin's Lymphoma so it's better to seek help immediately instead of waiting for the normal symptoms to appear. Like her, someone could unknowingly have cancer for two years until they finally seek help just because they don't experience any of the normal symptoms.
If anyone has questions about Hodgkin's Lymphoma or wants to talk to her about her cancer journey, feel free to email her at annamten23@outlook.com.