To aid in their efforts of diversity, equity, and inclusion (DEI), Mount St. Joseph University has welcomed Diana Garcia, assistant director for DEI.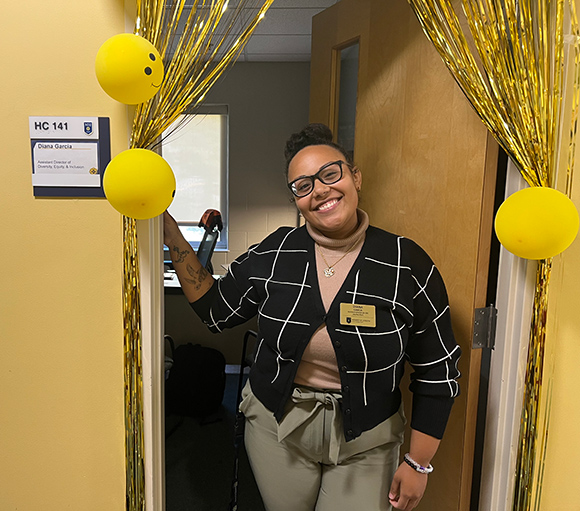 Garcia was always interested in justice. "I always loved 'Law & Order SVU' and 'Criminal Minds,' so that was like my dream," she laughs. However, she realized that criminal justice was not the path for her, and became more interested in environmental justice and the conservation of animals, specifically marine life.
Before arriving at the Mount, she worked with Groundwork Ohio River Valley, a nonprofit that focuses their efforts in environmental justice and workforce development, as their environmental justice and engagement coordinator.
"I worked with their DEI within the organization, and a big focus there was also character strengths, which I know you already work with here at the Mount," she says.
Once she found out about the position at MSJ through a former colleague studying nursing, she recognized how good of a fit it might be. She reflects, "I reached out and I spoke with Sister Karen (Elliott) first, and you can definitely feel the love she shows here at the Mount."
Garcia realized how many beliefs and personal values she shared with Elliott, and the Mount community as a whole. This conversation ultimately led to her accepting the position.
"A lot of what my role is going to be is to make sure that these different diverse groups we have here feel equitable and feel included, and that they belong here at the Mount as a home away from home," says Garcia.
Also, as a representative of the Center for Mission and Belonging (formerly MOSAIC Center), her job is to ensure that individuals feel comfortable and respected at MSJ, and that they have the power to voice their opinions.
"Within the office we're just trying to build relationships and gain the perspective of where we are now and where we would like to be as a community, in terms of belonging and inclusivity," she says.
Garcia also plans on getting involved with various student organizations on campus, as well as faculty and staff, to bring inclusivity to all facets of the student experience.
"I think DEI has started to become more of a political term, but it's just to make you feel like you belong," she says. "So we're working on how we can bring in more ways to make people feel like they belong here, and that they're included."
When she is not meeting with faculty and staff, Garcia plans on making herself as available as possible to be a resource to others.
"I remember being a student in the position where I needed resources and I needed support, and I just sometimes didn't know where to go," she says. "And now I'm in the position where I am that resource where I know how to give that support."
When she's not on campus, she enjoys exploring and learning about nature; her passion for marine life is still prevalent. She has also taken an interest in reading, singing, and new food spots in the city.
To the whole Mount community, she wants to express one main sentiment: "I'm here, I'm a resource, and I'm happy to be a resource. I've been in these shoes before, literally."
If you'd like to meet her yourself, please reach out to diana.garcia@msj.edu
Welcome to the Mount, Diana!