When I found out I had the opportunity to go to Rome and Cinque Terre, Italy, with the Sport Management department here at the Mount, I pictured walks on the beach, pastries and pasta galore, and maybe some wine to go along with it.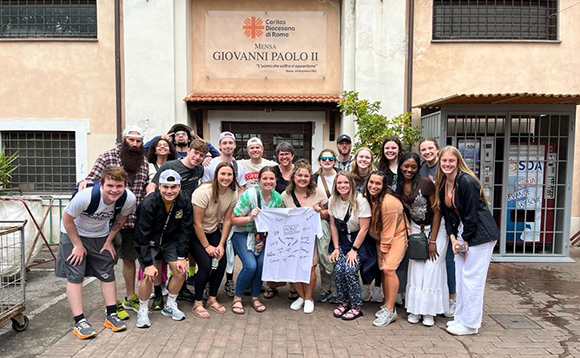 However, these signature Italian excursion takeaways were not the activities that stuck with me three months later. Oddly enough, the Service Learning activities that I initially just wanted to get out of the way to relax on the beach were the activities that have weaseled their way into my brain and decided to stick around. Here are three different ways that participating in Service Learning while traveling abroad impacted me.
I will admit, when I first thought about volunteering in soup kitchens, a refugee center, and churches throughout Italy, I was kind of scared about having to interact with homeless people. However, this stereotype was extremely far from the reality that I experienced. For example, many of the soup kitchen visitors were dressed business casual and heading off to work after eating their only meal for the day. People within the Joel Nafuma Refugee Center were actively job hunting, learning Italian and English, going through legal proceedings, and even more. Many of the people getting dinner at the churches were coming from work, refugees from other countries, or eating their only meal of the day at six o'clock at night.
I had a fixed idea of these people in my mind when, in all reality, they are no different than you or I. They just might have to try a little harder to get where we are because of their set of circumstances. Since I have learned this, I take a step back and do not lead with stereotypical beliefs within my day-to-day life.       
Another realization I had after some reflection is that we, as Americans traveling to Italy, expected the Italians to cater to our lack of ability to communicate in Italian. However, if someone from Italy is visiting the United States, we fully expect them to know English, which does not seem quite right to me. Since we were working with so many refugees, there were people from all over the world that I had to learn to communicate with throughout our experience, and I actually learned several different phrases and ways to communicate with the visitors. This experience taught me many communication skills that I would not have had to learn otherwise, which was amazing.
And lastly, my experience serving others throughout Italy allowed me to realize that we have a purpose and impact on others so much larger than we think. The multitude of smiles, laughter, hugs, and joy that I was able to bring out of the visitors of these soup kitchens, refugee centers, and churches was truly amazing. I was able to realize that little things that we do such as trying to communicate with someone that speaks a different language can truly make their day because we showed effort and initiative. Since this experience, I have made it my purpose to make someone else's day, at the very least, just a tad bit better.
If you get the opportunity to participate in Service Learning, whether it be abroad or five minutes down the road, I do believe it is a very awakening and self-reflecting experience. Our purpose does not have to be all about us, we can make others' days that much brighter, as well.