Alumni Kelsey and Anthony Miles met in the MSJ student choir, and today, they share their Mater Dei Love Story.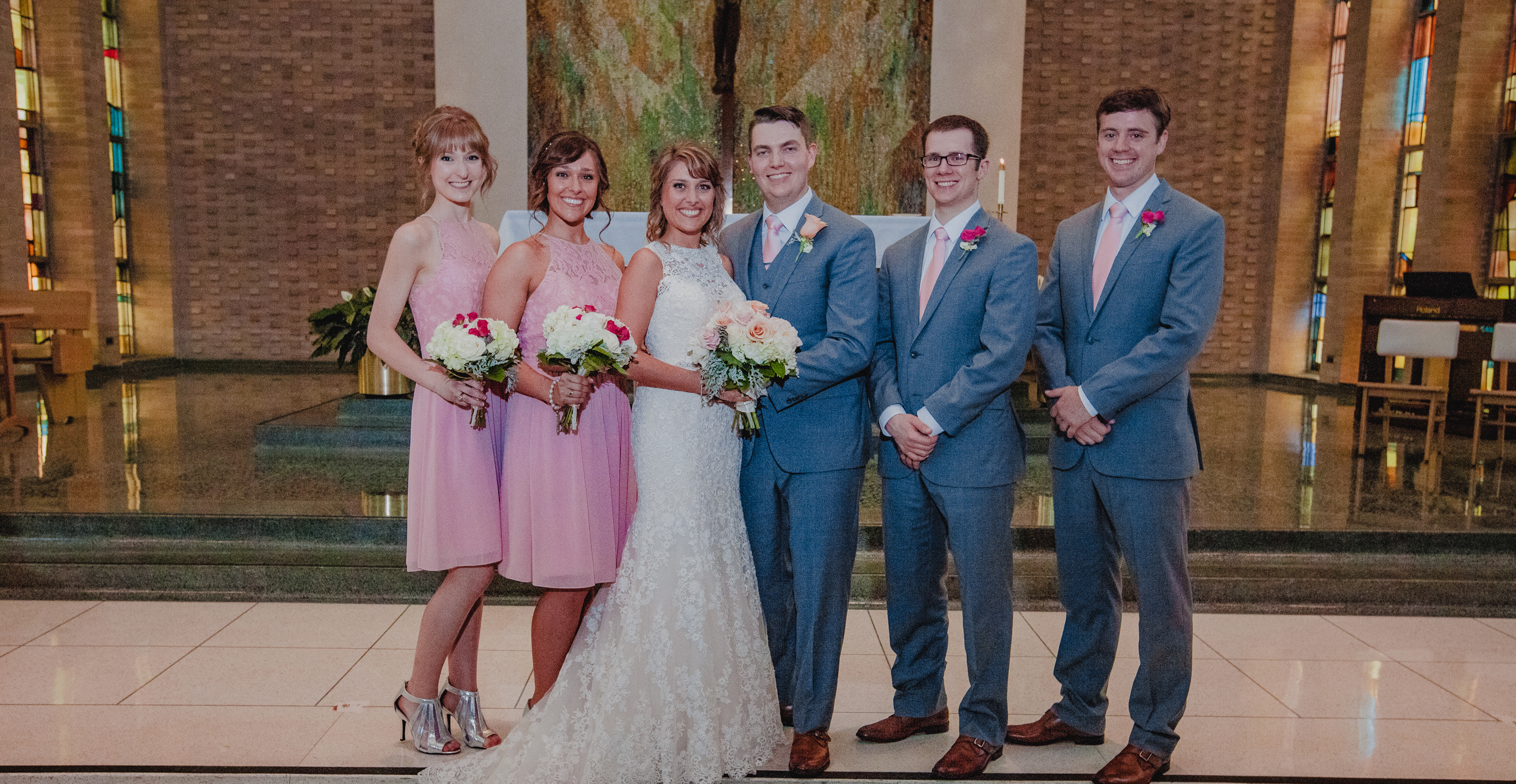 As melodies filled the room of the 6th Floor Chapel for Sunday evening mass at Mount St. Joseph University, love was brewing for the young MSJ couple who met in student choir.
Growing up in Colerain Township, Kelsey attended St. Ann Groesbeck before attending McAuley High School. Anthony lived in Hamilton, Ohio and attended St. Ann Hamilton before attending Badin High School. As for their college decision, the Mount offered Kelsey continued private Catholic education and the best nursing program in the area, while Anthony chose the Mount for its top-notch Doctor of Physical Therapy (DPT) program and closeness to home.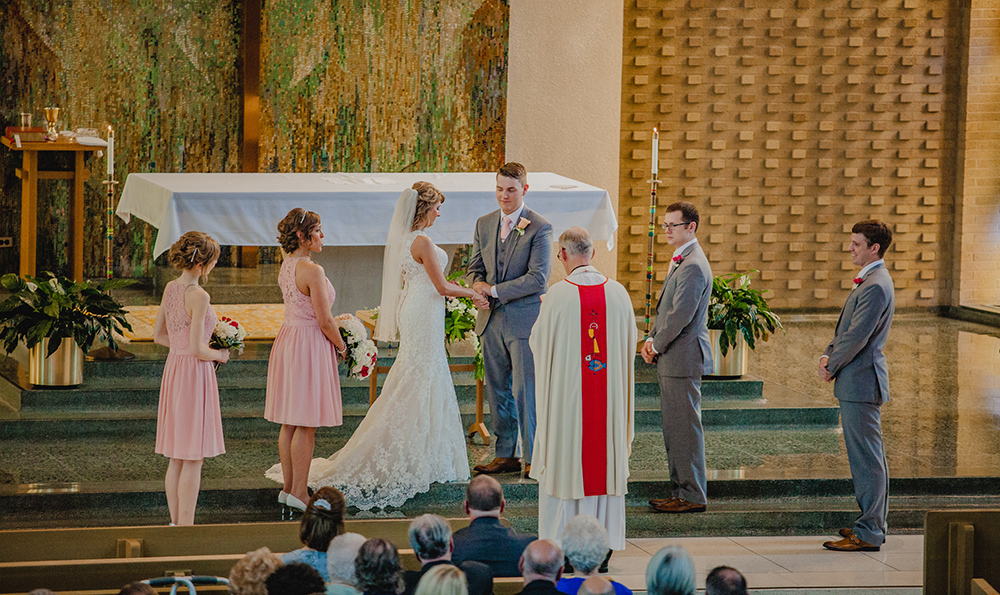 Singing Harmonies Leads to Harmonious Love
Before dating for six years, Anthony and Kelsey met at the Mount in 2011, when she was a freshman and he was a junior while both singing for Sunday evening student masses in the 6th Floor Chapel. Their favorite song to sing was the "Our Father," but since Kelsey did not prefer singing the soprano part, she often sang the harmony for the baritone row, which allowed her a chance to stand next to Anthony. 
In addition to their shared passion for singing, Kelsey and Anthony quickly discovered another passion they held, in which they would soon incorporate into their lives together: Theater and musicals.
Anthony was involved in the Mount's Theatre Arts, participating in a variety of productions. Two months prior to Anthony and Kelsey "officially" dating, she was with her mother and grandmother watching Anthony perform as the Scarecrow in the Mount's "The Wizard of Oz" performance.
"My grandmother later recounted me saying, 'I'm going to marry that scarecrow someday,'" Kelsey says. "Six years later, she attended our wedding at the Mount!"
Furthermore, their shared Catholic upbringing led the couple to grow together in their faith through several activities. Kelsey and Anthony became involved in the Mount's Campus Ministry Leadership Team (CMLT), helping to coordinate student events like Shanty Town and the 30 Hour Famine. During their respective senior years, they were each the chairperson of CMLT.
This involvement in CMLT further deepened their faith and shared values for one another. "It was very special to share faith-filled experiences with someone I cared so deeply for," Kelsey reflects.
As a nursing student during her junior year, Kelsey broke her right arm in a car accident while commuting to the Mount.  This injury prevented her from completing her clinical rotation for a semester, which she was able to make up during the summer.
Anthony was very supportive during this period, carrying out many acts of service both big and small to help Kelsey, even helping tie her shoes. Kelsey knew that Anthony was the one she wanted to marry.
"After a short period of dating when I arrived at the Mount, I decided it was time to find my future husband.  It didn't take long, as the baritone in our student choir checked all the boxes on my list!"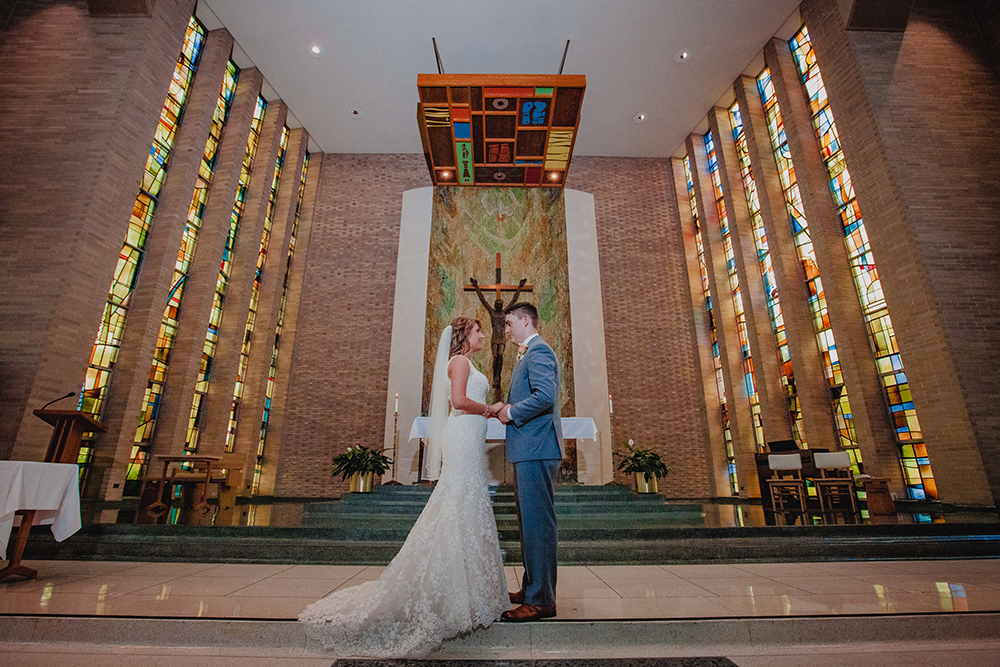 A Walk to Remember
As the couple enjoyed frequent walks together, an especially enjoyable one was to the Spring Grove Cemetery on her 21st birthday where they picnicked. On Kelsey's 24th birthday, they returned to Spring Grove, where Anthony proposed to her.   
After Kelsey's graduation, she worked as a night-shift nurse at Mercy West Hospital while Anthony completed his Doctor of Physical Therapy (DPT) program at the Mount. After he graduated from the DPT program, Anthony became an inpatient physical therapist at Mercy Fairfield Hospital, and Kelsey found her dream position as an endoscopy nurse.
The couple now resides and works in Fairfield, attending Sacred Heart Church, singing in the choir, and raising their two sons, Trent (2 ½ years) and Wes (six months). Since marrying, they both have vowed to attend at least one musical each year as a special date night.
"Our families are very supportive, and it's wonderful to watch our sons spend time with their grandparents and great-grandparents," says Kelsey. 
Surrounded with Love in the Mater Dei Chapel
Many members of their wedding party were in healthcare classes with Kelsey and Anthony during their time at the Mount, and have played pivotal roles in the couples' lives. These Mount friends, and many more, have been with Anthony and Kelsey on their wonderful journey.
"They shared our ups and downs, from practicals and exams to graduation day, as we transitioned from college students to healthcare professionals," she says. "We are beyond grateful to have developed these lifelong friendships."
Before holding their ceremony at the Mater Dei Chapel, Kelsey and Anthony had their "first look/no look" in the 6th Floor Chapel. This sacred space gave them an opportunity to slow down reflect on where their love story started before committing to each other as husband and wife.  
"The Mount was where Anthony and I fell in love, so we could only have chosen the Mater Dei Chapel for our wedding," Kelsey fondly recalls. "The Mount allowed us to find our paths, both personally and professionally. We grew as students, as young adults, as Catholics and as partners. The foundation set at the Mount has allowed us to face the world, meeting all obstacles and leaning on our faith and each other to overcome them. The Mount provided the backdrop for our love story."  
Interested in hosting your wedding at the beautiful Mater Dei Chapel? Visit the Mater Dei Chapel page to submit a wedding inquiry form.