Currently enrolled in the undergraduate Speech, Language, and Hearing Sciences (SLHS) program, Ashley Cook '25 climbs higher as she settles into her second home — the Mount.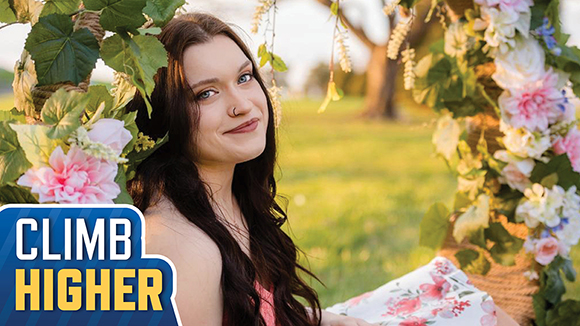 Speech, Language, and Hearing Sciences student Ashley Cook has a very specific objective—to better the lives of children and coax them into a place of health and wholeness. While facilitating growth in children is a goal for many, Ashley developed this undertaking when she was one herself.
As a 6th-grader, Ashley began volunteering for Project MORE, which stands for Mentoring in Ohio for Reading Excellence. This organization is intended to instill greater literacy and reading comprehension in students who are underperforming in these categories. Ashley, who volunteered at her local elementary school, helped to foster these qualities in those she tutored, which turned out to be a rewarding experience for her. She worked with Project MORE for 5 years total, and by the time she turned 13, she was coaching competitive cheerleading—an experience that only solidified her willingness to mentor children.
"I loved watching them improve," Ashley says, "and the excitement they would have when they understood something. The happiness I saw in them, made me realize that working with children is something I want to do."
These formative experiences shaped Ashley's career aspirations, which became twofold—she wanted to find an occupation that was economically viable and, more importantly, in alignment with her values. Ashley, in other words, began searching for a career where she could carry out her philanthropic ambitions and see success and sustainability in doing so. The field of speech pathology, in particular, directly offered such a dual incentive.
"I knew this field was something I could make a difference in," Ashley notes. "...I have known families who had a child that went to speech therapy. When their child would talk for the first time and they were able to hear their child say 'I love you,' the excitement they had was such an incredible feeling that I wanted to be able to give families that same feeling."
The Speech, Language, and Hearing Sciences program at the Mount was certainly attractive to Ashley, and the reason she ultimately decided to apply directly echoes the degree and career she continues to pursue.
Ashley's home is not far from the Mount, so her decision to attend was to remain nearby family and those she's mentored. With younger siblings and a nephew, Ashley felt it important to stay local and be there for them as they grew older. She was even able to visit some of the kids she had once coached and guided in middle school, so going to the Mount meant maintaining this family that she had previously built.
After receiving an acceptance letter and going on a campus tour, Ashley sensed the "homey" atmosphere of the university, as well as a cultural fulcrum of service, kindheartedness, and generosity, which cemented her reasoning for going in the first place—boosting community through speech pathology.
"The Mount has provided resources to help me achieve this goal through the phenomenal professors…the Career Center, and many other faculty members who genuinely care and have been willing to help me in any way they can," says Ashley. "My professors have made such a difference in my life that they will never know how much."
Because of this influential mentorship, Ashley has the means to go above and beyond with clinical practicums in her senior year, clinical fellowship post-graduation, networking capabilities, experiential education, and the Mount's motivational mission to uphold the common good. Each of these things, in their own rights, will provide the necessary eligibilities and impetuses for Ashley to excel, which she is prepared to do.
But the specifics of her major aren't Ashley's only motivators. During some of the more trying times, she finds solace in her family, fiance, and friends.
"They push me to be the best version of myself I can be and believe in me even when I am doubting myself," Ashley sings praise. "If I can give one piece of advice to other students who are new on their SLHS journey, it's to lean on the people around you whether that be a significant other, professor, family, or friends. They will be your biggest cheerleader[s] and will make an impact in your life whether you realize it or not."
This familial quality rests at the nucleus of Ashley's ambitions, and her careers in both speech pathology and college are orbiting around that quality. Even the skills she is developing while learning about these different things reveal the innate desire to connect with others, as is characteristic of a degree in Speech, Language, and Hearing Sciences.
Furthering her communication skills, especially in terms of speaking to patients, and remembering to celebrate childhood stepping-stones, Ashley even picks up a few things from her professors and peers in terms of sustained passion for their craft, relationship-building, and listening to advice when it's given.
Planning to begin her Master's degree in Speech-Language Pathology at the Mount in the fall, Ashley is spearheading student participation in the program. Since it is relatively new, Ashley is the first of many to be accepted into the advanced curriculum.
Being the forward thinker she is, however, Ashley has plans for when she graduates graduate school. Looking beyond the Mount, she hopes to open her own practice eventually with a plethora of medical professionals in order to offer the most pervasive and effective medical care she can. But that's just the tip of the iceberg for her aspirations.
"...The one thing that means the most to me," says Ashley, "is partnering with the local foster agency and doing pro-bono work for foster children. Unfortunately, they are usually overlooked in the system and speech-related issues are typically one of the last things to get treated. I want to make a difference in their lives and show them that people care."
Ashley hones in on a cornucopia of issues through her speech pathology angle. While the physical and verbal medical care is patently central to the practice Ashley hopes to set up, she also focuses on a concern that is underwriting her entire career—maximizing the well-being of children in all forms. Tackling the very social problem that precludes children from receiving the assistance that they need, Ashley can realistically improve healthcare and wellness outcomes in real-time and provide pure, unfettered care—perhaps the greatest sense of home to those children without.
About our MSLP program
Students in this program become prepared for careers as speech-language pathologists, conducting research and treating swallowing disorders. With the demand for SLPS expected to grow 29% by 2030 according to the Bureau of Labor Statistics, the job outlook is optimistic.
Interested in learning more? Check out our MSLP program page here!