As Carrie Marazita '25 prepares for graduate school in the Speech, Language, and Hearing Sciences program, she mirrors the Mount by pursuing diversity and social responsibility in her field of study.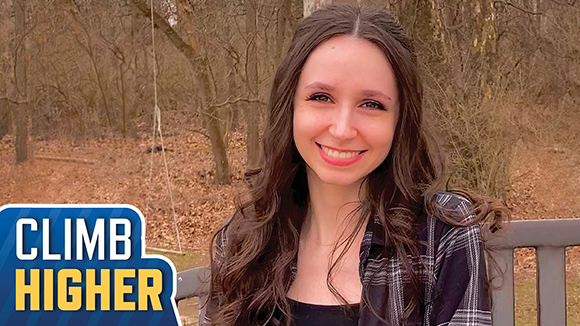 Carrie Marazita's career choice since her youth has always involved helping children within her community. When she came across speech pathology, which focuses on the well-being of individuals of all ages and from any background, Carrie knew she found her calling. And this calling materialized best at the Mount.

"I came to MSJ to pursue a major in Speech, Language, and Hearing Sciences (SLHS) because I was especially passionate about how this program lives out MSJ's mission through the respect and concern for all people as well as diversity of cultures and beliefs," says Carrie.

Carrie's preference was to attend a small campus—especially one so conscience-oriented—but she was unable to find many of that size with a speech pathology program. While she did visit a few others, Carrie discovered a wholly different experience at the Mount. The combination of the campus, the riverside view, and the overall tone of the university provided Carrie with her ideal mode of educational and vocational enrichment.
Even more than these things, Carrie, during her first tour of the Mount, was met with warmth and attentiveness, particularly from her current advisor Dr. Erin Sizemore.

​"When I visited the Mount, she took time to introduce herself and talk about the program with me and my family," Carrie recounts. "I was not expecting to meet a professor at this visit. In fact, I did not meet any professors on any of my other visits [to other schools]. She has been my advisor, and she is encouraging and supportive. The other faculty in the program are equally supportive and want to see their students succeed."
In her classes, Carrie continues to learn what it means to be a speech pathologist. Individuals in this profession complete various tasks, some of which involve assisting babies who have difficulties swallowing, helping them eat cake on their first birthdays, treating stroke victims by teaching them to communicate effectively again, and transgender voice therapy.
Beyond this, Carrie completes clinical observation hours to build up her repertoire and equip herself with the experience necessary to fulfill practicum requirements in graduate school and career goals even further down the road. She bolsters this education with guided observation online through Master Clinician Network, a family-owned company that offers a window into the clinical process. The patients represented on the network range from all demographics and reside all over the spectrum in terms of their speaking capabilities. The treatment techniques Carrie learns from the website are effective, despite their unconventionality.
"For example," Carrie notes, "one [speech pathologist] used rocks to visualize syllables in a word and another used a small sponge on a stick to place a fruity flavor on specific parts of the mouth, like the sides of the tongue and behind the front teeth, so the child could learn tongue placement to produce a targeted sound. They would taste the flavor when the tongue was placed properly."
This constructively unorthodox teaching does not comprise the entirety of Carrie's education, however. Nearly finished with her undergraduate studies in this field of healthcare, Carrie plans to attend the Mount's new Master of Speech-Language Pathology (MSLP) program, which begins in the fall. Once she begins this portion of her educational journey, she can begin accumulating real-world experience through clinical hours. This is where students apply what they've learned to practice, which they can do in schools, organizations, or healthcare institutions.
With more work to be done and opportunities on the horizon, Carrie has much to be proud of and look forward to. Her education, career, and moral propensities are beginning to tie together at the Mount, and she plans to become another embodiment of the Mount's mission for diversity, equity, and the betterment of the lives of others.

"I am passionate about my program and work hard academically as I prepare for graduate school and advancing my work beyond the classroom and into the community because everyone deserves a voice!" Carrie exclaims.
As a soon-to-be professional speech pathologist, Carrie is enabled by the Mount's SLHS program to fuse her ethical and occupational goals, and extend the gift of voice in more ways than one. This way, Carrie will empower others to speak not just from the mouth, but from the heart and soul as well.
______________________________________________________________________________

About our SLHS Program
Speech, Language, and Hearing Sciences is often a pre-professional degree for those wishing to pursue a career in speech-language pathology or audiology. Whether your career takes you to the neonatal intensive care unit, an elementary school, an acute care rehabilitation hospital, or a private practice, the education you receive at the Mount will provide you with the knowledge and skills to make a meaningful difference in your world.
Demand for speech-language pathologists is predicted to grow 27% through 2028 and employment for audiologists is expected to grow 13% (Bureau of Labor Statistics, 2020), making the employment outlook very strong.
Interested in learning more? Check out our
SLHS program page here
!