Mount St. Joseph University's Nursing Program has been awarded a grant to increase diverse student enrollment.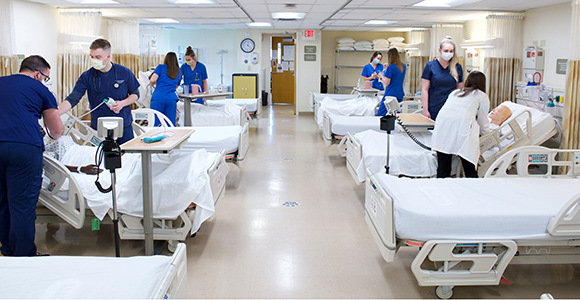 CINCINNATI - Mount St. Joseph University's (MSJ) Master of Science in Nursing (MSN) program was recently awarded a $199,600 grant from the Ohio Board of Nursing to increase diverse student enrollment in the nursing profession.
MSJ applied for funding from the Nurse Education Grant Program (NEGP) to increase the enrollment capacity of the MSN program by 20 percent (17 students) by enhancing relationships with clinical partners and increasing the visibility of the program.
The other goal of the NEGP funding is to increase underrepresented student enrollment to 20 percent (11 percent increase) and maintain a 100 percent graduation rate.
"MSJ has offered quality nursing programs for almost a century, responding to community and professional priorities," said Mount St. Joseph University President H James Williams, Ph.D.  "The NEGP funding will enhance MSN capacity to increase the number of graduates who will become nurse educators in the state of Ohio."
The Mount will partner with two hospitals to recruit students and nurses to serve as adjunct faculty in the nursing program with a focus on diversity. The mentors from the health care partners will support diverse MSN students who aspire to become nursing educators and leaders.
"Nursing's leaders recognize a strong connection between a culturally diverse nursing workforce and the ability to provide quality, culturally competent patient care," 
said Dr. Darla Vale, Dean of School of Health Sciences at Mount St. Joseph University.
According to the AACN report on 2018-2019 Enrollment and Graduations in Baccalaureate and Graduate Programs in Nursing, the need to attract students from underrepresented groups in nursing, specifically men and individuals from African American, Hispanic, Asian, American Indian, and Alaskan native backgrounds, is a high priority for the nursing profession.
Dr. Vale added, "In order to address these needs effectively, a diverse student and faculty body is needed and therefore, with the support of the NEGP grant, recruitment and retention efforts will focus on increasing the diversity, and diversity awareness, among our students and faculty."
The NEGP funding will also be used for MSN marketing materials to be reviewed by a firm with expertise in diversity, equity and inclusion (DEI). This same firm will conduct focus groups with diverse MSN students, alumni and faculty to identify barriers in the MSJ environment that have prevented full participation.
Strategic marketing efforts will be conducted to increase awareness of the MSN program and support services, as well as promote funding that is available from state and federal sources for nurses to earn a graduate degree to become a nursing educator.
Lastly
,
the funding will help the MSN program develop collaborative plans with health care partners to address prioritized population health needs.
Mentoring with diverse nurses from the hospitals partners will provide MSN students additional opportunities for skill development and networking that can minimize some of the challenges that underrepresented students experience with academic progression.
"Refining the MSN curriculum to intentionally address diversity as a means of improving patient outcomes, and better addressing the needs of diverse students in the program is imperative," said Dr. Vale. 
"Moving towards a more diverse and inclusive nursing profession is essential to meeting the health care needs of the nation and reducing health disparities that for too long have existed among many underserved populations."
About the Mount
As a Catholic institution rooted in the values of the Sisters of Charity, Mount St. Joseph University excels at serving the common good. Undergraduate, graduate, and doctoral students at the Mount are inspired to think beyond the classroom and redraw the bounds of what's possible for their futures. This is accomplished through individualized educational experiences, a safe, secure campus environment, and an all-in commitment from faculty and staff to inspire students to reach their highest potential. The Mount fosters life-long learners who serve, care, and contribute to the world beyond their front doors. 
 ###