The MOSAIC Cross Cultural and Inclusion Center has been unveiled, defining the Mount's commitment to a lasting legacy for diversity and inclusion.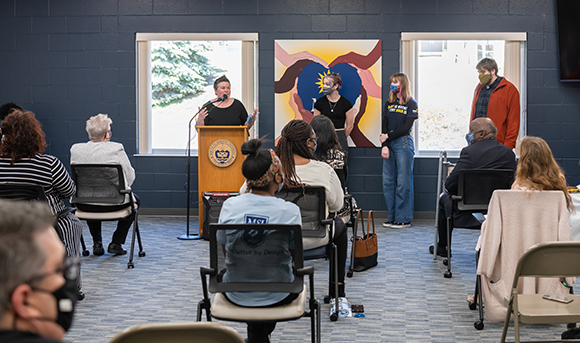 Located in the Harrington Center, the MOSAIC Center brimmed with heritage and persons from all backgrounds, gathered together to support an impactful addition to the Mount's campus during an opening and ribbon-cutting ceremony.
Nicknamed, "The Family Room," the MOSAIC Center will be a safe space for students to lounge, have fun, and make new connections and embrace new perspectives in an accepting environment, as they explore how to create and inspire meaningful change.  Several Mount faculty provided a warm introduction, followed by three Mount students recognized for their artwork displayed in the center as they honor the space with their contributions. Moving speeches of gratitude graced the room from Black Student Union representatives, Latin X, Rainbow Alliance, and members from the President's cabinet. All came together to support this embodiment of intercommunal peace.
"Difference can be challenging. If you have a homogeneous group of people who all think alike, it's easier to reach a comfortable consensus," Dr. Rayshawn Eastman, Chief Diversity and Inclusion Officer at Mount St. Joseph University, announces at the ceremony. "Difference means people with different perspectives, experiences, different opinions and expectations, coming all together. This center will serve as a place to encourage engagement across and around differences; a place that will foster learning, growth, and development for our students."
This is a space for all students, and student organizations and athletic teams are encouraged to reserve the center for diversity workshops, awareness on various issues, and to encourage the community between all students.
"The MOSAIC Cross Cultural and Inclusion Center opening and ribbon-cutting ceremony provided us with a glimpse into the vast impact the center will have at Mount St. Joseph University," says Dr. Eastman. "The ceremony reaffirmed our commitment to cultivate a community that is diverse, equitable, and inclusive. The support of the faculty and staff at MSJ was overwhelming. Their engagement was a demonstration of their dedication to these efforts.  I was moved to tears by our students' remarks as they expressed their gratitude for creating a visible space on campus that will foster belonging and learning. With the opening of the MOSAIC Center, we lived out our mission. This is just one of the many Diversity, Equity, and Inclusion efforts that we will be doing to ensure MSJ is Inclusive by Design. The work has just begun!​"
In the video above, Mount members express their gratitude for the MOSAIC Center.