Congratulations to the Mount St. Joseph University 2021 May graduates!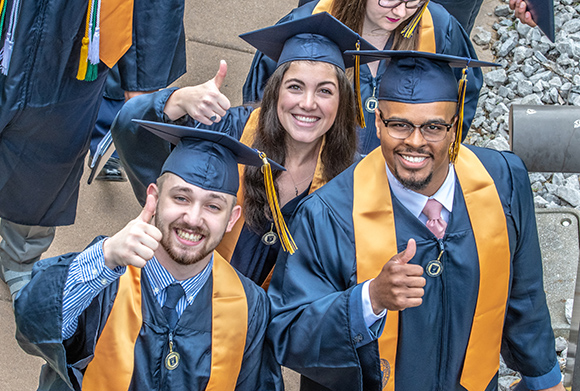 On May 8, 2021, Mount St. Joseph University will hold its 2021 Commencement ceremony as an in-person event featuring three separate ceremonies for the Class of 2021 graduates, undergraduates, and the Class of 2020.
After challenging circumstances last year, the Mount looks forward to celebrating these pivotal student achievements. Many members of the Mount faculty and staff have worked very hard to make these events possible, and just like the Mount's students, the graduation planning team has shown the heart of a lion in re-imagining a meaningful experience for its students and their guests. 
"I am so excited that we are able to offer Commencement ceremonies for the Class of 2021," says Janet Cox, Dean of Students. "Our graduate students will receive diplomas at 10 a.m. and our undergraduate students at 2 p.m.  I am so relieved that the State of Ohio has allowed for these activities to take place outdoors with controlled capacity allowing some family guests to attend as well.  These students have been through a challenging time in completing their education under the circumstances of the last year, but they have persevered and succeeded.  This ceremony welcomes them into the rank of alumni who will always call the Mount home."
Event Details:
Friday, May 7, 2021
Baccalaureate Mass & Professional Photo Opportunity, 6 p.m.
Mater Dei Chapel
Saturday, May 8, 2021
Commencement Ceremonies – Graduates, 10 a.m. and Undergraduates, 2 p.m.
Schueler Field
Class of 2020 Ceremony ­­– 6 p.m.
Schueler Field
As a reminder to those participating in graduation ceremonies on Saturday, May 8 –Only flat soled shoes are permitted (due to the artificial turf) on the turf.
Livestream Link:
There will be a live HD video stream of the graduation ceremony for any family and friends that cannot attend. The video stream can be accessed at the MSJ Youtube link. 
For more details on 2021 Commencement, visit the Commencement page to learn more.