On October 7th, Mount St. Joseph University brings its first-ever basketball and futsal court to campus.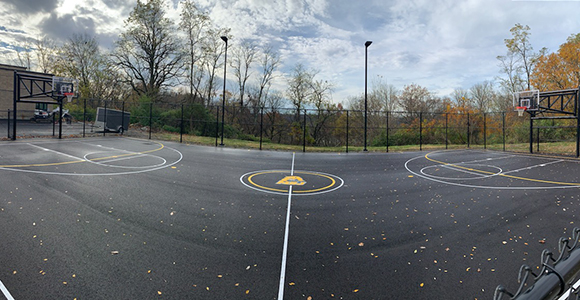 In effort to create an outdoor recreation space for MSJ students, Mount St. Joseph University brings a versatile asset to its campus: An outdoor basketball and futsal court located across from the Seton South Lot.
Combining a basketball and futsal flooring option, this multi-purpose court provides flexibility for students. The sport of futsal is very similar to soccer, but played on a smaller level of five people on each side, as opposed to 11 versus 11.
"Our architect, Jose Casteron, added the idea to make it a combo basketball and futsal court," says Jeff Briggs, Chief Financial Officer. "We moved forward with that concept. The small grassy area behind Seton was identified as a preferred site due to its proximity to the Residence Hall."
According to student Resident Assistant, Kamryn Magee, Mount St. Joseph University's newest addition of the outdoor basketball and futsal court caters many benefits for the student population. "While sporting practices are taking place in the indoor gyms, non-athlete students can participate simultaneously in outdoor intramural games and friendly competitions of their own," says Magee.
It will be used solely for student recreational use, and the remaining site will be finished with some landscaping and additional concrete to create a patio for tables.  "These opportunities provide healthy outlets for students to engage in, as well as a safe space where multi-purpose events can take place," Magee adds. "It is the hope of the University that students will take full-advantage of this new addition and use it to its full potential."
For more information on the Mount's facilities, visit the Facilities on Campus page with virtual tours to view these spaces.