Coming back from the holiday break, H. James Williams, Ph.D., offers a welcome to the Mount Community and previews what should be an exciting semester at Mount St. Joseph University.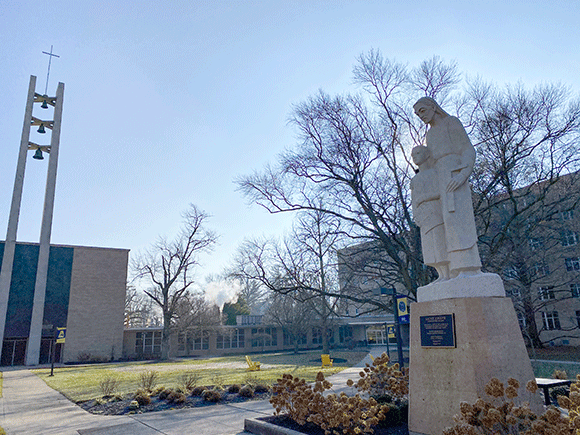 January 11, 2021
Mount Community,
Happy New Year and welcome back!  I hope that the first week of classes inspires you and invokes a sense of possibilities for the semester to come, as it always does for me.  We have so much for which to look forward in 2021!  Soon, the Centennial Field House & Austin E. Knowlton Fitness Center will be finished and open for our students.  It is a truly remarkable space – as well as a tangible symbol of the beginning of the Mount's second century and its limitless future. 
This spring, Mount activities – both inside and outside the classrooms – will enrich our region and showcase our talents.  Indeed, we expect huge successes in all our academic, co-curricular, and extra-curricular programs, including welcoming new public art installations from our Art & Design Department.  We anticipate magnificent performances from our spectacular University Band, the University Singers, and the Theater Arts Department.  Moreover, for the first time in our history, every Mount athletic team will compete during the spring semester – and games will be available for all to watch through robust live streaming. We will, also establish the new Mosaic Cross Cultural and Inclusion Center, as a reaffirmation of our commitment to demonstrate respect and concern for all persons, especially during these challenging times of civil unrest in our Nation.  These are but a few examples of what we can expect from another exciting and impactful semester at the Mount, as we begin 2021.
I am so proud of our achievements in 2020.  Our successes did not depend on the actions or work of a single individual, but on our collective efforts, adaptability, and unwavering commitment to our students and our mission.  What we learned in 2020 will carry us into this New Year and serve us well.  With vaccines on the horizon and a campus community that is stronger now than ever before, the possibilities in 2021 are endless.  Indeed, the best for the Mount is yet to come! 
GO LIONS!
Sincerely,
H. James Williams, Ph.D.
President