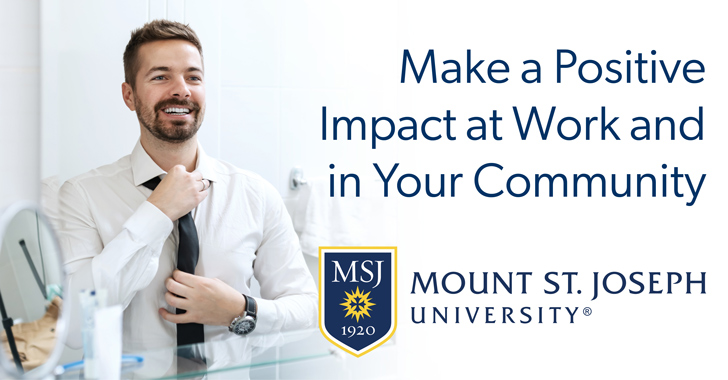 The MBA covers all the fundamentals of business including economics, marketing, management, and accounting.  The theme of the MBA is social impact.  All businesses want to make a positive impact on their community, thus the theme of social impact is woven into several of the courses and is the focus of the social responsibility for managers class that is take in the first semester of the program.  In this class students learn about socially responsible investing, environmental sustainability, and diversity equity and inclusion in human resource decision making.  Students will utilize technology and learn about the start-up techniques for opening their own business.
The 4+1 MBA is for Mount undergraduate students who wish to begin MBA courses in their senior year and complete the MBA with only one additional year of study. It is open to all Mount students regardless of major, provided five foundational courses are completed.  Courses are during the day. Admission is competitive.
"
"My inspiration for choosing this field was changing the trajectory for women in male base fields! We are capable of any and everything and I want to show other women anything is possible! I chose the Mount based off the school of business and specifically to achieve the goal of completing my Masters within a year of completing my undergrad. I would rate my experience with the Mount a 10/10! My college experience truly changed transferring to the Mount, I gained life long friends and family and amazing people I can stay connected with."
Hayli Huff
MBA '22
"
"I chose the Mount because I loved the small intimate feel and I knew I wanted to participate in the 4+1 MBA program. So many people throughout the MSJ community have impacted me throughout my time here. The one person who has really changed me for the better is Sister Karen. She has always given me amazing advice, rooted for me not only as a athlete but as a student, and was kind to me every time she saw me! I am forever grateful for her and the impact she has had on my life! I would rate my educational experience at the Mount as phenomenal! I am beyond grateful for everyone I've met and everything I've learned at the Mount and it will forever be home!"
Aliyah Huff
MBA '22
"
"I chose the Mount for the small class sizes as well as the ability to play a sport at the college level. I feel the Mount has prepared me for the work force by using real life situations in class as well as having professors who care. Professor Rashed helped develop my critical thinking skills in class by actively using current global issues."
Hayden Wood
MBA '22
Start your journey by completing this simple form and someone will be in touch.
Loading...

INSTAGRAM NEWS
RECENT NEWS