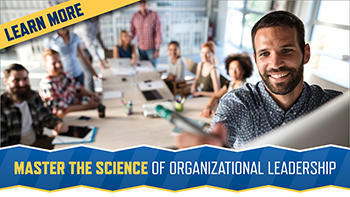 The Mount St. Joseph University MSOL is designed to provide the flexibility required by today's busy leader.

Grow personally and professionally. Make a difference.
The Master of Science in Organizational Leadership is a multi-disciplinary graduate program intended for individuals in a variety of organizations that require executives with well-developed leadership skills. Both an art and a science, the essence of leadership is explored and put into everyday practice by the variety of professionals who are enrolled in the MSOL program. Classmates from a wide range of industries encourage new perspectives and broaden each student's view.
What will you get out of MSOL? 
You can expect changes in your approach and in the outcomes you achieve.
Increased management and leadership skills. You become primed for expanded supervisory responsibility and possible commensurate pay increases.
Stronger self-awareness, which leads to a realistic appraisal of your knowledge, skills, and abilities. You will be able to assess which jobs or promotions to pursue. You may also realize you are qualified for positions you once thought impossible.
Increased exposure to new ideas and methods. You become aware of new concepts and the knowledge that supports them, such as ways to lead and facilitate change.
Expanded networking. You will acquire access to information about new and unforeseen career opportunities as you share your goals and abilities with your peers in the program and in the work place.
Making a difference. With the support of professors and classmates, you will conduct a master's project about something important to you. For projects, our students have started not-for-profit organizations, launched businesses, and implemented programs to address problems or opportunities in their workplaces.
 Saturday MSOL
The Mount also offers the Saturday MSOL program on its main campus in Cincinnati. Classes meet 5 Saturdays per semester.
 Students take two classes at a time.
Classes meet Saturdays at 8:30 a.m.-noon and 1-4:30 p.m.
Classes meet 5 times each semester, typically every third Saturday during the Fall and Spring semesters.
The MSOL is completed in two years

Where Our Graduates Work
For more than 20 years, MSOL graduates have been making a leadership difference in Greater Cincinnati. We engage the heart, soul, and mind in order to produce ethical leaders who make a difference in our communities. MSOL students and graduates use their values-based leadership skills across a variety of industries in some of today's leading companies.


Financial Aid
Learn more about tuition and financial aid.


How to Apply
Mount St. Joseph University conducts a comprehensive and individualized review of
each candidate's credentials, including:


A completed graduate application. Apply online at www.msj.edu/apply.
An undergraduate degree in any field from a regionally accredited university.
Submit official transcripts to the Office of Graduate Admission.
A resumé.
Contact information (name, email, and phone number) for two references who
can speak to your character and abilities.
One-page statement introducing yourself and describing how the MSOL
program fits into your personal and professional goals.
An interview with the program director.
GMAT not required.
No specific prerequisite courses required.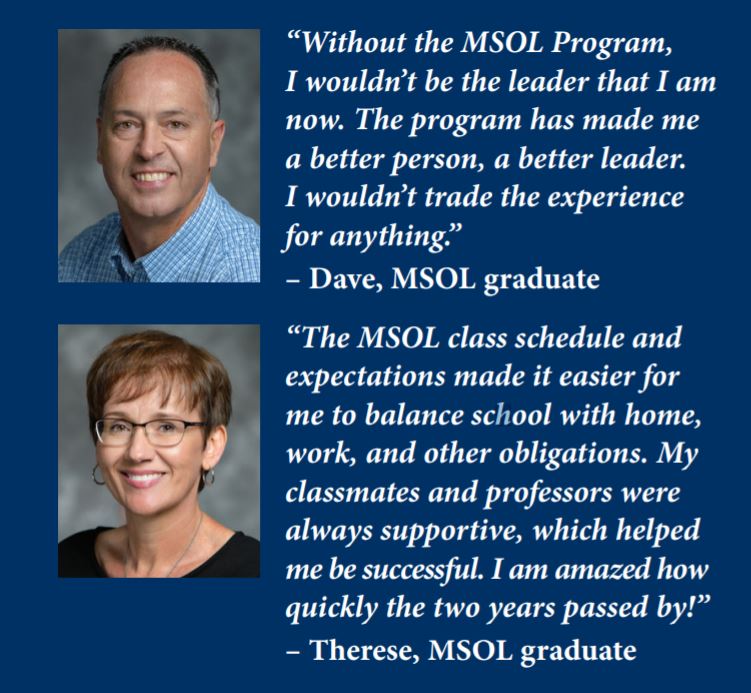 Tentative Schedule: Year One
Exploring Leadership

Social Influence

People in Organizations

Ethical Issues in Organizations

Spirituality of Leadership

The Changing Workplace
Tentative Schedule: Year Two
Finance & Accounting for Leaders

Organizational Research & Change

Managing Information, Technology, and Projects

Organizational Research & Change II

Global Economic Awareness

Legal Issues in Organizations