The DPT curriculum builds semester by semester to facilitate development of knowledge and skills.


Mount St. Joseph University delivers high-quality academics, hands-on experiential learning and individualized attention from faculty and staff who are devoted to the success of students. We do so while consistently living a culture of ethics and service.
The Mount's DPT Program is a 117 credit hour, 9 semester, 3 year curriculum designed to build from semester to semester as students develop the necessary knowledge and skills to be professional and proficient physical therapists. The first year presents foundational knowledge from which students can build initial clinical skills, culminating in short inpatient and outpatient clinical experiences. The second year clinical courses, organized by practice pattern and patient population, build from the basic knowledge and skills of the first year. The third year builds upon the prior two years and culminates in four full-time clinical internships, which include inpatient and outpatient experiences. Core course series proceed developmentally through the curriculum and include research, professionalism, foundational science (pathology, medical management), patient management and clinical experiences.
MSJ DPT Curriculum Plan
Credit Hours:
117 credit hours over 9 semesters (3 years)
| | |
| --- | --- |
| CREDIT HOURS | THEME |
| 29 | Foundational Sciences series |
| 12 | Introductory Clinical Skills series |
| 6 | Research and Evidence-based Practice series |
| 14 | Professionalism and Healthcare series |
| 34 | Advanced Clinical Skills and Reasoning series |
| 22 | Direct Patient Care series (clinical education experiences – 40 weeks) |
DPT academic standards and program requirements
MSJ DPT Curriculum Plan
Year 1 (42 credit hours)
Summer (11 credit hours)
BIO 526: Gross Anatomy (8)

PT 605: Exercise Physiology w/Lab (3)
Fall (16 credit hours)
PT 601: Foundational Science I (4)

PT 603: Surface Anatomy (1)

PT 608: Biomechanics & Kinesiology w/Lab (4)

PT 624: Neuroscience w/Lab (3)

PT 650: Professional Socialization I (2)

PT 661: Research in PT (2)
Spring (15 credit hours)
PT 610: Basic Patient Care Skills w/Lab (3)

PT 611: Modalities w/Lab (3)

PT 612: Basic Exam & Evaluation w/Lab (3)

PT 615: Therapeutic Exercise w/Lab (3)

PT 651: Professional Socialization II (2)

PT 652: Professional Issues I (1)
Year 2 (46 credit hours)
Summer (11 credit hours)
PT 780: Introductory Clinical Experience (2)

PT 702: Foundational Science II (3)

PT 762: Research in PT II (3)

PT 770: Administration (3)
Fall (18 credit hours)
PT 703: Foundational Science III (3)

PT 715: Acute Care & Cardiopulmonary w/Lab (4)

PT 720: Orthopedics I w/Lab (5)

PT 722: Neurologic Rehabilitation I w/Lab (3)

PT 746: Lifespan I-Pediatrics (3)
Spring (17 credit hours)
PT 721: Orthopedics II w/Lab (6)

PT 725: Neurologic Rehabilitation II w/Lab (3)

PT 745: Special Topics w/Lab (3)

PT 747: Lifespan II-Geriatrics w/Lab (4)

PT 754: Professional Issues II (1)
Year 3 (29 credit hours)
Summer (12 credit hours)
PT 753: Healthcare Policy (3)

PT 863: Research in PT II (2)

PT 875: Electives (3)

PT 881: Clinical Education Experience I (5)
Fall (6 credit hours)
PT 882: Clinical Education Experience II (5 credit hours)

PT 855: Professional Issues III (1)
Spring (11 credit hours)
PT 883: Clinical Education Experience III (5)

PT 884: Clinical Education Experience IV (5)

PT 857: Professional Issues IV (1)
DPT students get hands-on experience through integrated and terminal clinicals in various healthcare facilities.


DPT students get practical experience through short-term and long-term clinical experiences, totaling 42 full-time weeks of clinical education in a variety of practice settings. The University maintains contracts with over 300 clinical organizations to provide diverse practical experiences for students.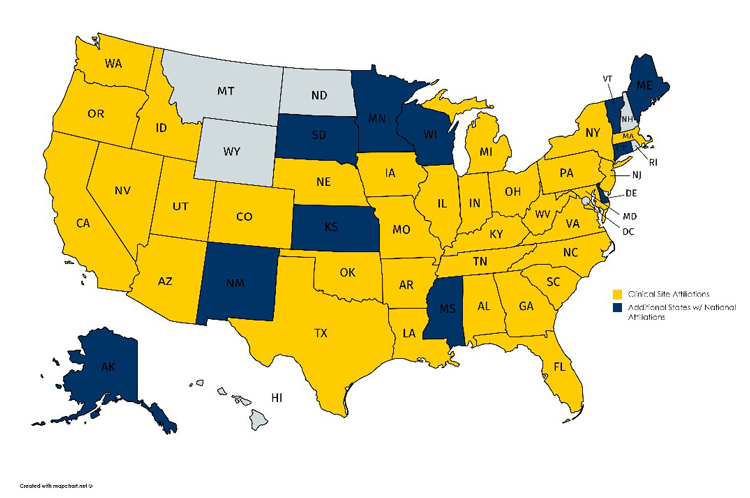 The majority of clinical sites are located within Ohio, Kentucky, and Indiana.  However, students should expect to travel outside of the Greater Cincinnati area for at least one clinical experience. It is important for students to participate in a stimulating and diverse clinical experiences therefore, the MSJ DPT Clinical Education Network includes facilities in all 50 states, Washington DC, Puerto Rico, and Canada. Availability of specific clinical sites varies from year to year. Prospective students should be aware that physical therapy interns pay tuition during their rotations and very few clinical sites are able to offer stipends.
The University is always looking to add new clinical partners who can offer unique, high-quality, intentional clinical education opportunities for students.  Faculty, students, alumni, or clinical facilities should contact Director of Clinical Education, Jamie Bayliss at (513) 244-4647 or by email to recommend a clinical partner organization for the MSJ DPT Clinical Education Network. 
Register Now for our APTA Credentialed Clinical Instructor Program (CCIP) Level 1
Level 1 CCIP Course 1— Concentra Employees Only- Saturday February 3rd and February 10th, 2024 (Virtual)
Level 1 CCIP Course 2— Concentra Employees Only- Sunday February 18th and February 25th, 2024 (Virtual)