The PT Alumni Board facilitates communication between the program (faculty, staff, and students) and the alumni base to assist with fundraising, community connection, and social engagement efforts.
MSJ Physical Therapy Alumni Leader Award
Award Description and Eligibility
MSJ Physical Therapy Alumni Leader Award
The Alumni Physical Therapy Leader Award recognizes an alumnus who earned a physical therapy degree at Mount St. Joseph University and is a leader in physical therapy practice.
The DPT Awards and Scholarship Committee invites the community to participate in this program by nominating a physical therapy colleague for an award. Complete descriptions of the awards can be found in the related documents on the right. Submissions must be received by March 1st, and must include:
A completed nomination form
A nomination narrative typed or printed legibly
A current curriculum vita or resume for the nominee
Alumni Award Winners
Winners:
2022: Dr. Lauren Tiemeier
2021: Dr. Andrew Burchett, PT, DPT
2019: Jeremey Heinrich, '06, PT, DPT
2018: Kelly Moore '07, PT, MPT, CKTP
2017: Jamie Bayliss, PT, MPT, DHSc
2016: Andrew Beardslee, PT, DPT
2015: Erin Hofmeyer, PT, DPT
2012: Kelly Moore, PT, MPT
2011: Chris Chirumbolo, PT, MPT, GCS  
2010: Rob Dunham, PT, DPT
MSJ Physical Therapy Alumni Scholarship
Scholarship Description and Eligibility
The Physical Therapy Program has always focused on developing the whole student — mind, body, and spirit. Our graduates practice ethically and soundly within their respective fields of practice. As part of the significance of our alumni milestones, the Physical Therapy Alumni Board was developed in late 2018 to better engage with our many alumni cohorts. Some of our PT Alumni Board endeavors include:

1.) Engagement—providing alumni with program and class updates.
2.) Celebratory—organizing gatherings with fellow program alumni.
3.) Scholarship—providing a legacy by giving back to support a future alumnus.
The Physical Therapy Alumni Scholarship is an endowed scholarship that was established in 2020 to recognize a student who is emerging as a future clinician. The criteria to be considered for this scholarship included a minimum GPA of 3.25, good academic and program status, a video submission answering 3 questions posed by the PT alumni board, and a character reference indicating how the candidate both now and in the future (as an alum) will demonstrate the APTA Core Values.
  Application
Scholarship Winners
Jenna Swartzentruber, DPT Class of 2024, PT Alumni Scholarship Winner 2023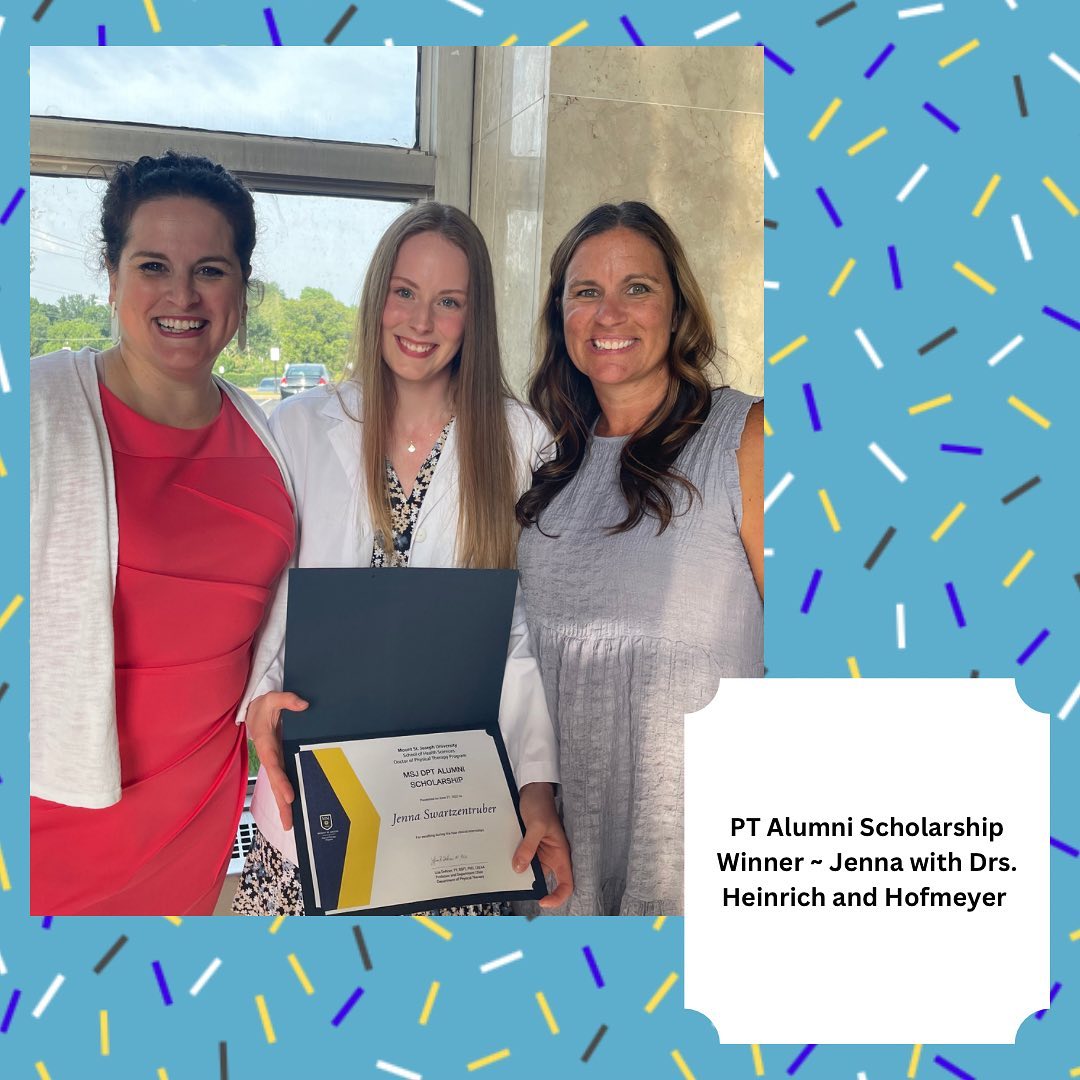 Donate to the Alumni Scholarship
INSTAGRAM NEWS
RECENT NEWS