Associate Professor and Founding Chair of the Department of Physician Assistant Studies, Patrick Cafferty provides an op-ed for National PA Week.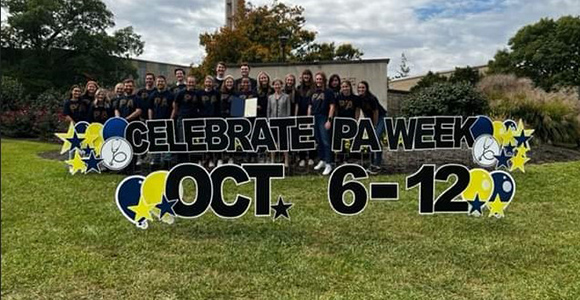 Our healthcare system is facing a "perfect storm": Demand for healthcare providers is outpacing supply, which has left patients suffering. More than 96 million Americans lack adequate access to primary care and more than 155 million Americans lack access to mental health care. These are staggering numbers. On top of that, our nation is facing a shortage of up to 3.2 million healthcare workers by 2026. Combine that with a growing older population, along with significant percentages of the population experiencing chronic diseases like obesity (42% of adults aged 20 and over) and diabetes (more than 37 million Americans), and the lingering effects of COVID-19, and we have reached a tipping point.
Mount St. Joseph University's Physician Assistant (PA) Program is celebrating National PA Week October 6-12, which recognizes America's more than 159,000 PAs.  These licensed clinicians practice medicine in every specialty and setting and in every state. 
PAs complete a demanding medical education that is based on the rapid training of physicians developed by the US military.  The profession had its birth 55 years ago at Duke University to address the challenges accessing health care following the introduction of the Medicare program in 1965.  Today, the average PA program involves a 27-month graduate education including anatomy, physiology, pharmacology, clinical medicine, genetics, diagnostic lab, EKG, physical exam and clinical skills followed by approximately 2000 hours of clinical rotations in family medicine, internal medicine, emergency medicine, general surgery, pediatrics, women's health and behavioral health. Graduates must demonstrate their competence by successfully passing the PA National Certification Examination (PANCE) before applying for licensure to practice.  They are lifelong learners who are required to complete 100 hours of continuing medical education every two years as well as a recertification exam every ten years.  This assures you they are up to date on advances in medicine.  
In Ohio alone, there are over 3,000 licensed PAs – each a trusted, rigorously educated and well trained healthcare professional.  These PAs are dedicated to expanding access to health care and transforming community health and wellness through patient-centered, team-based medical practice.
 A 2022 study from the National Commission on Certification of Physician Assistants (NCCPA) found more than 66% of patients received care provided by a PA, demonstrating that the demand for PAs has never been higher. Providing more than 500 million annual patient visits, PAs are a crucial part of the solution to today's workforce shortages, which are crippling healthcare and they are critical to ensuring patients have access to quality health care when and where they need it. With a projected 31% increase in PA employment between 2020 and 2030, it is evident that the growth of this profession will play an essential role in health care sustainability.   
A hallmark of the PA profession is a commitment to patient education.  PAs believe patients deserve to understand what a diagnosis means for a person's daily life, why a particular treatment was chosen and what you can do to improve your health! 
Next time you seek a medical appointment, ask whether a PA is available. You'll experience, firsthand, the excellent patient care PAs provide!  Isn't it time you made an appointment with a PA?