Mount St. Joseph University's Physician Assistant program prepares students to become outstanding clinicians fully prepared to deliver quality health care in an ever-changing environment.
The graduate degree program emphasizes critical thinking and lifelong learning through its use of hands-on patient care and state-of-the-art technology.
Professional Associations 
      
Program Highlights
A 27-month graduate program with 12 months of classroom training including anatomy, physiology, pharmacology, clinical medicine, genetics, diagnostic lab, EKG, physical exam and clinical skills.
Clinical rotations in family medicine, internal medicine, general surgery, women's health, pediatrics, emergency medicine, orthopedics and behavioral health, along with two student selected elective rotations. Following the clinical phase, students complete a comprehensive summative evaluation.
On campus Simulation Lab featuring Simulation IQ with audiovisual recording capability and embedded electronic health record.
Advanced Anatomy Lab including AnatomageTM virtual anatomy program to supplement cadaver specimens.
Graduates receive a Masters degree in Physician Assistant Studies (MPAS) and are eligible to take the PA National Certification Exam (PANCE).
MSJ PA Program Student Attrition
Graduated Classes
Class of
2020
Class of
2021
Class of
2022
Class of
2023
Maximum entering class size (as approved by ARC-PA)
32
32
32
32
Entering class size
32
32
24
24
Graduates
30
31
* Attrition rate
6.25%
0.00%
0.00%
4.17%
**Graduation rate
93.75%
96.88%
*Attrition rate calculation: Number of students who attritted from cohort divided by the entering class
size.
**Graduation rate: Number of cohort graduates divided by the entering class size.
Comments:

The Class of 2021 graduated in May with one student on a medical leave with an anticipated December 2021 graduation.
There has been No Attrition from the Class of 2022 cohort to date.
One student from the Class of 2023, in good academic standing, opted to leave the program at the end of the first semester.
Program Facilities

Click below to view a virtual tour of the PA Skills Lab, PA Exam Room, and other areas of the MSJ PA Program learning experience.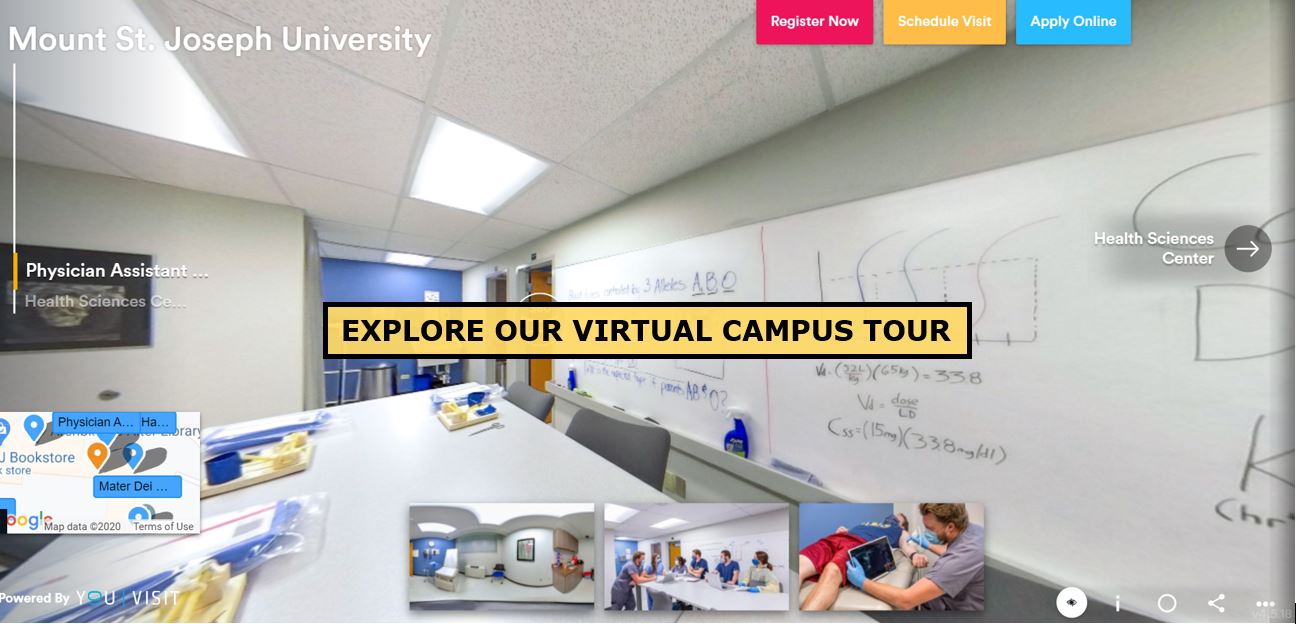 Program Mission and Vision
Program Mission and Vision Statements
Mission
The specific mission of the Physician Assistant program is to educate outstanding, compassionate clinicians, fully prepared to deliver high quality, accessible health care, demonstrating commitment to life-long learning and ethical practice.
Vision 
The Mount St. Joseph University Physician Assistant program graduates will be recognized for their leadership and for the quality of health care they provide, exemplifying professionalism, empathy and an attitude of service to others.
Accreditation
Accreditation Information
The ARC-PA has granted Accreditation-Provisional status to the Mount St. Joseph University Physician Assistant Program sponsored by Mount St. Joseph University.

Accreditation-Provisional is an accreditation status granted when the plans and resource allocation, if fully implemented as planned, of a proposed program that has not yet enrolled students appear to demonstrate the program's ability to meet the ARC-PA Standards or when a program holding Accreditation-Provisional status appears to demonstrate continued progress in complying with the Standards as it prepares for the graduation of the first class (cohort) of students.

Accreditation-Provisional does not ensure any subsequent accreditation status. It is limited to no more than five years from matriculation of the first class.
The program's accreditation history can be viewed on the ARC-PA website: Mount St. Joseph University Accreditation History
Program Competencies
Program Required Competencies
Professional Licensure Information
Professional Licensure Information
Mount St. Joseph University's Physician Assistant Program has Accreditation-Provisional status from the ARC-PA.  Successful completion of the PA program, whether delivered face to face or via virtual platform, satisfies the academic requirements for initial licensure in all 50 states and the District of Columbia.   


Requirements for licensure/certification as a Physician Assistant vary from state to state.  For students who wish to practice in a state other than Ohio, please contact the program director or faculty advisor to discuss additional requirements in that state. 


A chart describing initial PA licensure requirements in each state and the District of Columbia is available here, and a directory of state medical licensure boards here.