The National Nursing Shortage - MSJ Rises to the Occasion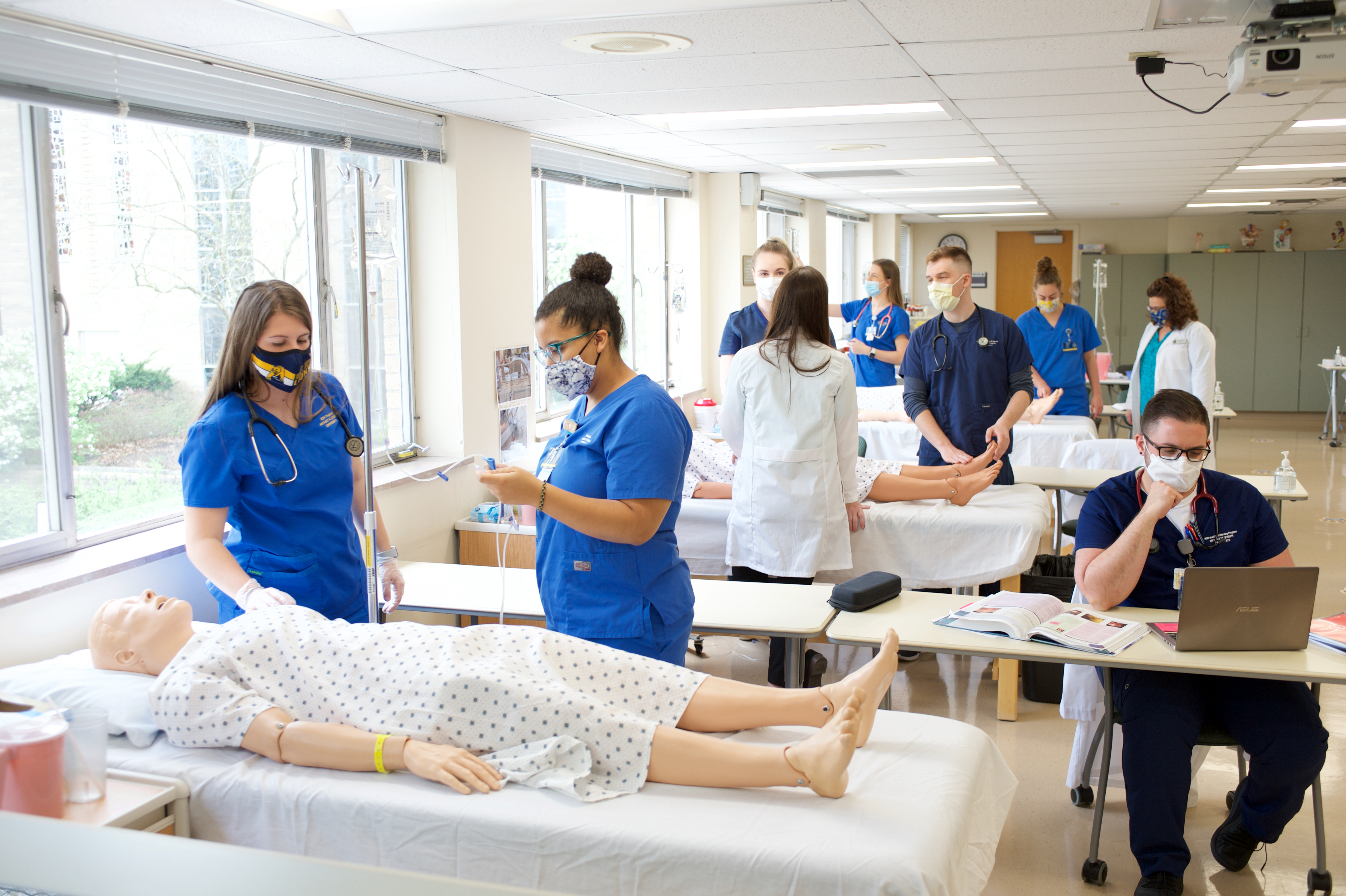 We have been dealing with an international pandemic for over 2 years now and with that, the growing nursing shortage is noted as the highest it's been since 2005, sitting at 11% in Greater Cincinnati (Mitchell & Sutherland, 2022).
Adding to this astounding percentage, the American Nurses Foundation noted, "52% of Nurses are considering leaving their position," (2022).
Recruiting nurses is inevitably a top priority for health care organizations. However, the American Association of Colleges of Nursing (AACN) report that U.S. nursing schools turned away 80,407 qualified applicants from baccalaureate and graduate nursing programs (2020a). The top reason for not accepting qualified applicants was due to faculty shortages (AACN, 2020a).
The Mount St. Joseph University Department of Nursing is proud to report a 100% admittance rate among its nursing programs for all qualified applicants and a 100% clinical placement with no waitlist. The Bachelor of Science in Nursing (BSN) program has admitted 139 qualified applicants since September 2021. The direct-entry Master of Science in Nursing (MSN) MAGELIN program has admitted 78 qualified applicants since April 2021.
How do we do it?
The MSJ Department of Nursing has always lived and breathed our Mission - to prepare students to become professional nurses who integrate the liberal arts and sciences with the knowledge and skills essential for patient-centered nursing practice.  Graduates are caring, ethical health care providers who support the dignity of others and promote holistic, evidence-based practice in a variety of settings.
By living and breathing this mission, we strive to provide nursing students with a student-centered learning experience that is rigorous and relevant, yet allows for personal attention and guidance for each and every student…always.
We realize student success requires skilled and qualified nurse faculty, Magnet designated health care organizations for clinical placement, and award-winning student support services.
MSJ invests in recruiting and retaining skilled and qualified nurse faculty
MSJ maintains close partnerships with and offers clinical experiences at:

18 clinical sites
150 health care organization departments

MSJ BSN students have completed over 500 hours at the clinical sites in the last 3 years
MSJ has 31 BSN students and 21 MSN MAGELIN students graduating May 2022
MSJ Nursing Alumni have a 100% job placement rate within 6 months or less of graduation
Climb higher at the Mount!
Kristin Clephane DNP, RN, CPN
Associate Professor
MSN-DNP Program Director
American Association of Colleges of Nursing. (2020a). Fact sheet: nursing faculty shortage [PDF]. AACN. https://www.aacnnursing.org/Portals/42/News/Factsheets/Faculty-Shortage-Factsheet.pdf
American Association of Colleges of Nursing. (2020b). Report on 2018-2019 enrollment and graduations in baccalaureate and graduate programs in nursing [PDF]. AACN. https://www.aacnnursing.org/News-Information/Research-Data-Center/Employment/2019
American Nurses Foundation. (2022). Pulse on the nation's nurses survey series: COVID-19 two-year impact assessment survey [PDF]. https://www.nursingworld.org/~492857/contentassets/872ebb13c63f44f6b11a1bd0c74907c9/covid-19-two-year-impact-assessment-written-report-final.pdf
Mitchell, M. & Sutherland, B. (2022). Demand for nurses outstrips supply. So why can't Cincinnati area nursing schools keep up? https://www.cincinnati.com/story/news/2022/03/03/nursing-shortage-mean-nursing-teacher-shortage-area-training-programs/6912339001/