Sydney Beckmeyer `23 describes her championship-winning lacrosse team experience during undergrad, and her transition to the Physician Assistant Studies pathway at Mount St. Joseph University.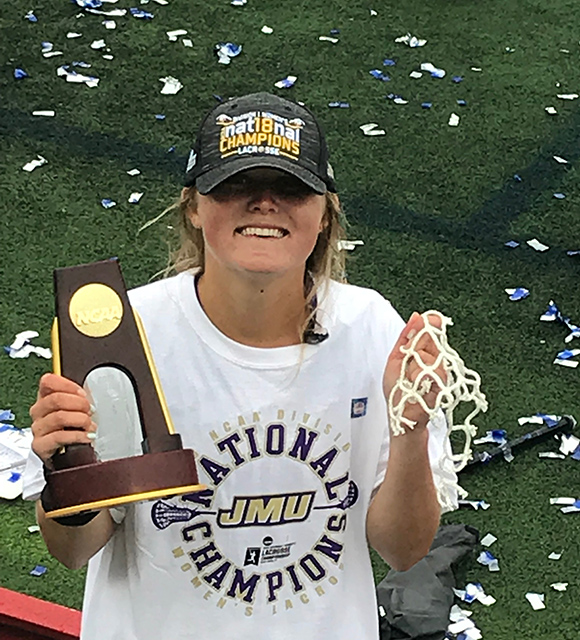 National Championship
A Defining Moment
For Sydney Beckmeyer, someone once said to her during her undergraduate time at James Madison University (JMU), that if you better yourself each day, even just 1% better, that by the end of one year that's 365% improvement. Since then, she integrates this mindset within her daily actions and to help achieve her goals.
She attended undergrad at JMU, balancing her Kinesiology major with a concentration in Exercise Science while playing Division I lacrosse. Her acquired skills from her academics combined with her passion in athletics set the bar before her next stop: Physician Assistant Studies at Mount St. Joseph University.
But the story begins with the skills Sydney developed within her lacrosse background prior to her graduate studies at the Mount.
During her time as a lacrosse player at JMU, no words can describe the amount of emotions that were felt when Sydney's team won a lacrosse National Championship her sophomore year. They beat Boston College 16 to 15, JMU's first time receiving a women's lacrosse National Championship. She says her immediate reaction of this feeling of accomplishment was nothing short of contentment and happiness.
Tears of pure joy were running down every person's face.
"This was the first time that I had ever experienced the true meaning of the phrase 'hard work pays off,'" says Sydney. "Each person on our team had to make sacrifices and set their personal desires aside, in order to win that game. Going through daily training sessions--practices, staying after practice for extra reps, athletic training rehab, watching countless hours of film, and eating every meal together--was finally all worth it."
And it doesn't stop here. Sydney also won the Madison Award her senior year, one of her proudest accomplishments rewarded for hard work ethic, leadership, and passion towards her teammates. Her senior season her and her team were on track to break history for their school; four conference championships back-to-back before their season was cut short due to COVID in 2020.
"I take pride in the goals I set for myself and especially those that I set with my team," she says. "Working hard with teammates, or should I say friends, towards all around success on the field, in the classroom, and in life for the future, is something that I hold closely to my heart."
Sydney says every day as a collegiate athlete is difficult, but it develops life skills that she never could have imagined before starting. Through playing lacrosse, she has learned through trial and error, skills time management, compassion, work ethic, and the importance of goal setting.
Whether that was studying for an extra 15 minutes, helping clean up the weight room after a lift, staying after practice to help a teammate with an extra drill, going to bed 10 minutes earlier, or comforting a friend in a time of need, it was the little things that molded her long-term success.
Physician Assistant Studies
Lacrosse Experience Translates to Program Success
This improvement mentality during her experience as a lacrosse player has certainly carried over into Sydney's time in the Physician Assistant program at the Mount.
With her love of the Cincinnati area combined with the ability to be a part of a developing and reputable program producing well-versed medical professionals to provide quality care to this city, the Mount was her first pick for Physician Assistant school.
"My desire for improvement now shows in different ways, whether it be practicing skills on a break or after class, getting up an extra 10 minutes early to review a concept, asking questions of our professors, or helping a classmate that is stuck on a certain subject," she states.
"The time management and work ethic that were instilled in me as a college athlete, are part of my everyday life, allowing me to push myself in my studies, while maintaining balance in my life with exercise, family, and friendships."
Sydney found the MSJ faculty and staff have consistently accommodated her learning styles to help aid in her success along her graduate journey to become a Physician Assistant. Through her years as a lacrosse player, Sydney learned the power and importance of feedback and adaptive learning within the classroom, and enjoys being told and shown ways of self-improvement for greater success.
"After having been "coached" my whole life in sports, many of the faculty have recognized that providing me feedback frequently helps me to learn effectively, similar to the way a coach would tell me to perform a certain way in order to win a game. The MSJ faculty has done an incredible job of providing me feedback, examples, and techniques for success."
Interested in learning quality healthcare with hands-on patient care and state-of-the-art technology? Check out the Department of Physician Assistant Studies to learn more.