Mount St. Joseph University's Theatre Arts program presents upcoming October production, "Spoon River Requiem."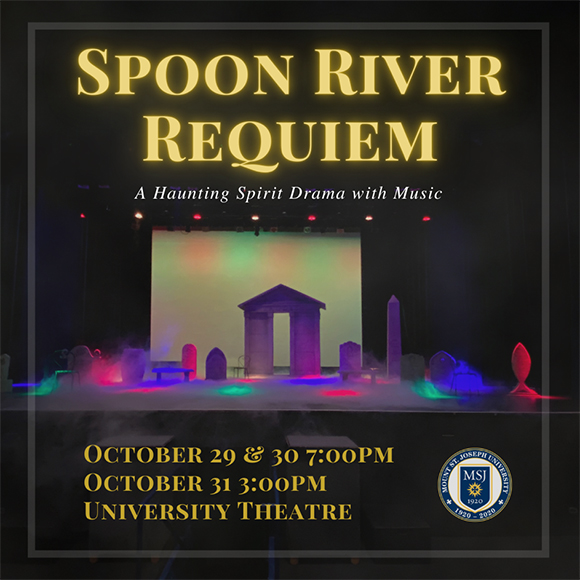 "A newly departed soul awakens in the after"—so starts a synopsis of an upcoming Mount production, seamlessly blending drama with the Halloween season.
"They are met by an unusual guide called the Keeper. The Keeper introduces them to the spirits of Spoon River, and along the way they encounter a series of virtues and vices showcased it[will disappear. What choices can you live with forever?"
A profoundly philosophical and macabre summary by Director of Theatre Arts Richard Buchanan marks the return of Mount St. Joseph's Theatre Department to live, in-person productions at the end of October with Spoon River Requiem. A "Haunting Spirit Drama with Music," as Buchanan described it, this production is an adaptation of Edgar Lee Masters' magnum opus Spoon River Anthology.
"This original adaptation fuses Edgar Lee Masters original poems with new arrangements of 1910s music and a mysterious narrator," Buchanan stated. "This project is a collaboration between MSJ Department of Music and MSJ Theatre Arts, and provides an amazing opportunity for our talented students to create new work."
The musical elements, pivotal and thematically fundamental for this production, will consist of both original compositions and public domain songs from 1900 to 1920, which Buchanan hand-picked himself. Chair of the Music Department Mark McCafferty arranged the music for the show and accommodated it for the Mount's own choir and pit orchestra, incorporating influences and styles of early twentieth-century music.
"We were very taken with early New Orleans Jazz," Buchanan said, "its distinctive flavor and energy have appeared in most of the final songs."
The set itself, built by the students of MUS 219 Stagecraft & Theatre Design, includes gravestones displaying names of Spoon River characters and set pieces informed by historical research and aesthetics. Buchanan emphasized that "without the creativity and dedication of our students, this production would not have been possible."
But along with inventive set design and musical composition comes similarly ingenious and talented Mount actors prepared to readjust to live performance. While virtual theatre was imaginative and well-acted on its own, in-person productions add another layer of experience for both the viewer and performer.
 "Live performances are important because they allow us to connect as a community," Buchanan stated. "Theatre is all about the give and take relationship between the actors and the audience."
Junior and computer science major Tim Zang, an actor from the Mount's virtual productions, returns along with the Theatre Arts to live performance. When asked if he was more nervous or exhilarated coming back to the stage, Zang said "It is a little of both. Finally having a real audience watch you makes me nervous, but what makes it amazing is that I can be close to my friends on stage again and having them close makes those nerves disappear."
Ciara Tucker, a junior and returning actor, reflects similar sentiments when she noted, "I've always loved the performance aspect of theatre, being on stage with a simultaneous rush of nerves and adrenaline and getting to feed off the energy of the crowd is the reason I do what I do.  However, COVID caused a need for adaptation in the form of virtual performers which brought with them their own challenges and opportunities and I'm forever grateful to MSJ Theatre Arts and Richard Buchanan for making these shows possible and making the best of a bad situation.  I feel as though I've grown a lot from online performance but I am beyond thrilled to be back on stage and to have the opportunity to share this project live with the student body."
However, for the newer actors joining live theatre this year, the Mount's Theatre Arts open a brighter world of possibilities. For Kaitlyn Schulte, a sophomore and communications and new media studies major, "live theatre is both [nerve-racking] and amazing. It's a different experience since I'm only accustomed to virtual."
With such promising stage work and gifted actors set to perform in Spoon River Requiem, as well as an original adaptation and score, drama fans can only grow more enthusiastic in anticipation. However, intriguingly, one not only needs to look to the near-future for a Spoon River adaptation, but also in a more-distant past. Serendipitously, the Theatre Arts and the Mount's Library Services learned that a stage adaptation for Spoon River had actually already been performed at the Mount over half of a century ago!
Upon hearing about the upcoming play, Mount alumna Elaine Busch Billmire, class of 1972, contacted Library Services about uncovering materials on the previous performance in 1969, which were successfully resurfaced. Known then as "Weed," Billmire mentioned that her Spoon River adaptation was directed by Chair of the Theatre Department John Gutting. Billmire was encouraged to get involved by her friend and student director of the play Betsy Cowen. Billmire helped with stage design, adhering "thousands of autumn leaves" to panels on the stage.
"As the production went on," she noted, "the leaves dried and some of them would flutter off during the performance—which was really an effective metaphor for a show about dead people!"
Similar to McCafferty, Gutting included folk songs played by guitarists and banjo-players to bolster the aura of the performance and establish that sense of time pertinent to the story. Performed by students, many of these songs served a pivotal role in the production, such as the song "The Water is Wide" accompanying the recitation of the poem "William and Emily" with a refrain consisting of the lyrics: "'It haunts you, it hunts you, wherever you roam, Spoon River, Spoon River is calling you home.' My 'crowd,'" Billmire continued, "learned that and sang it often as part of our sing-a-longs (It was the sixties, remember!)."
What's more, according to articles written about the play in the Seton Journal, the Mount's newspaper at the time, Gutting rearranged the order of the poems and maintained "a sense of chronicity," Billmire mentioned. However, this timeliness was not only chronological in the narrative sense, but timely in relevance to the political happenings of the time. "Some of the poems had an anti-war sentiment," said Billmire, "very relevant and poignant in that Viet Nam war era."
This adaptation, created by actor Charles Aidman only six years earlier, consisted of two students—Barbara Dagenbach and Peggy Kudlacz—French professor Stanley G. Thom, and three "'outsiders'"—Gary Stephens, Daniel Berne, and Charlotte Holly, since no male students attended the Mount at the time. This cast of six played several characters each, wearing period costumes and performing soliloquies, though "there was some limited interaction between cast members, especially when one character referenced another character," Billmire added. While being very "intimate" in such a small theatre, the play's multi-faceted composition should not go overlooked. Being "humorous, sad, upsetting, thought-provoking, even a little 'racy' for its day (Openly talking about love affairs and infidelity, for example)[,  all six of the actors were outstanding."
Performed during Parents Weekend in 1969, this adaptation of Spoon River was well-received, not only by the school and the viewers, but also by Billmire herself.
"Oh, I absolutely loved it, and it generated some 'deep' discussions—"meaning of life stuff'—among my friends." When asked why she thought this play has remained relevant beyond its semicentennial anniversary, Billmire noted that "any work that asks the 'big questions' and encourages reflection on...life—well lived, or wasted, or full of happy memories or regrets—has got to remain relevant, doesn't it? I have a copy of the poems, and I have re-read favorites from time to time."
The play was entered into some theatre competitions and may have won a regional competition, Billmire believes, almost having been performed in Washington, D.C. had it won the American College Theatre competition. Nevertheless, the production remains as an indispensable tenet of the Mount's theatre since the first time it was performed in 1969. Being redone over fifty years later, this reality is only proven.
Spoon River Requiem will be opening for one weekend only: Oct. 19 and 30 at 7 p.m. and Oct. 31 at 3 p.m. in the University Theatre. Tickets for this production are free but must be registered for 24 hours in advance. The registration link is listed here: https://alumni.msj.edu/register/?id=1fa510c5-0593-4b93-8876-fd4c946bae74.
Attached: Program cover from the Mount's 1969 production of Spoon River.