Welcome to our new reality where social distancing can likely lead to being socially awkward. In the midst of all the chaos, now is the time to either stand out or be left out.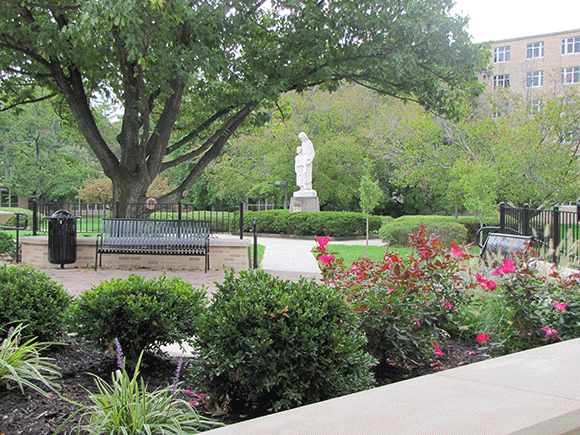 Welcome to our new reality where social distancing can likely lead to being socially awkward. In the midst of all the chaos, now is the time to either stand out or be left out.
We're all fortunate enough to be members of an elite private school. Being left out is not an option for the Mount St. Joseph community. We are resilient and we continually aim to be socially responsible even as it now takes on a new meaning.
As we look forward to the new possibilities to leave our mark on the world, we realize that it is time to find that balance between being accountable to others and being counted for new opportunities.
If you've previously found it challenging to stay socially engaged, then here are six fast and simple things to do at home. These tips will easily get you connected with vibrant people on campus, have exciting new experiences, and start to live your best life.
Set a Goal

. How many events will you aim to attend? Even if you are shy or reluctant, ask yourself, "What is it that I really want to be known for throughout my life?" You get to create your future with design thinking. This is an incredible opportunity to make choices based on your areas of interests and increase your exposure to excitement. Campus life is still successfully offering many opportunities to enhance your social life with options for experiences such as entertainment, civic engagement, spirituality, fitness, and more shown below. Choose a specific number of activities that you will happily commit to before finals week in December.
 


Practice Communication

. While wearing a mask that covers your smile and avoiding handshakes to slow the spread, it's now more challenging to give a great first impression. Your ability to initiate a conversation with someone who may be feeling shy and anxious themselves will surely spark relief and make you more memorable. Here are a few suggestions to break the ice: "Tell me about your day so far" or "What brought you here today?" or "What have we gotten ourselves into?" Get creative in your spare time and practice asking open-ended questions. See how many options you come up with on your own and work with what makes you more comfortable in the moment. Small moments of practice in private will help you to get to know the person behind the mask.
 


Rehearse Your Resume.

Did you know that your resume is a living friend and "'wingman"? It is a good thing that you spent so much time crafting your resume because now it can help you with exciting talking points when you take advantage of new experiences. When you treat your resume like a friend and you spend time with it, you get reminders of how incredible you are. If your resume friend currently seems boring and slightly out of date, then now is a wonderful opportunity to reach out to the MSJ Career Center. They offer virtual appointments to help you highlight your experiences, perfect your pitch for a big possibility, and uncover hidden skills that you may have overlooked.
 


Breathe

. Right before you walk into a new setting, take a deep breath and enjoy a little fresh air without the mask while you can. Then, breathe out slowly while reminding yourself of your brilliant decision to attend Mount St. Joseph,  which automatically helps you stand out. Another opportunity for breathing includes Yoga on Fridays when you log on virtually. Remembering that breathing while in quarantine will surely help you find peace, balance, and connections.
 


Download the Mount Roar App

. This app available for Apple and Android devices has a full listing of campus activities arranged by date. With this app, you have access to campus resources. MSJ is full of people who will bend over backwards to help the students who ask. If ever you feel isolated or overwhelmed, the app allows you to speak to professionals, ask for help when needed, and prepare for success personally and professionally.
 


Take Risks.

This is the perfect opportunity to put yourself in another league and reinvent yourself as desired. Consider that the people who are most shy have a huge advantage right now. Introverts can use technology and all its virtual aspects to their advantage. You can send emails to introduce yourself to new people who pique your interest without direct personal contact. Extroverts may be cringing right now with so much isolation. Either way, seize this an opportunity to send out new friend requests, and invite a classmate to an event that you want to attend. Chances are that they are looking to get involved too. Every time you make a new connection, you increase your chances of finding your new best friend. As you take risks, you will meet new people, build relationships, have unforgettable experiences, and end up on the path of your next big job.
Here are more than 15 ways that you can increase student engagement and ways to still meet amazing people, find your voice, and experiment with life changing experiences. Now is the time to stand out.
Entertainment Options- Coming together with students excited about living and having fun to enjoy life.
Theater Lab
VR Theatre Performances
Trivia Night
Movie Watch Parties
For more information contact Warren Grove, Assistant Dean for Student Engagement and Leadership at the Office of Student Engagement and Leadership
Spirituality Options- Coming together with students passionate about self-development and personal improvement.
Interfaith Club
Fellowship of Christian Athletes
Bible Study
Prayer
For more information contact Michelle Arnold, Assistant Director of Mission Integration.
Civic Engagement Options- Coming together with students passionate about making the world better for future generations.
Social Justice Forums on Student Hunger and Homelessness, COVID, and LGBTQ
Debate Watch Parties
Voter Registration
Service Learning
For more information contact Keith Lanser, Associate Director of Service Learning & Civic Engagement at the Career & Experiential Education Center
Networking Options- Coming together with students passionate about Leadership and Success
TOP (Talent Opportunity Program)
Power My Career Portal
Co-Op Prep Workshop
Career Fair
For more information contact Nicole Rottmueller-Jones, Career Development Coordinator at the Career & Experiential Education Center
Fitness Options- Coming together with students passionate about physical health and personal fitness
Warrior Run
Yoga
Barre Fitness
For more information contact
Amy Demko
, Health Services Manager at the Wellness Center.
Special thanks to Nicole, Warren, Amy, and Keith for helping me to compile this list. They are all very passionate about ensuring the success of all the MSJ students, sponsors, and alumni. They look forward to seeing your smiling faces even with the masks.