A Mount St. Joseph University graduate reflects on their experience in the Master of Science in Organizational Leadership (MSOL) program.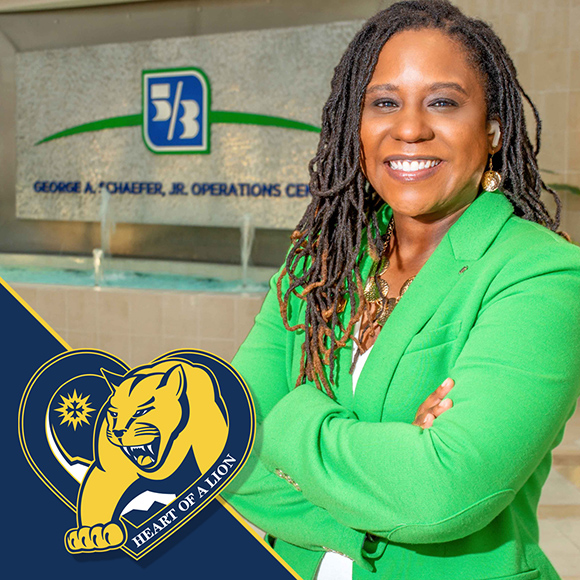 While studying at Xavier University, J'Nelle Easley '18, M.S.O.L., took a parttime job as a teller at Fifth Third Bank. She expected it to be a temporary gig to help pay the bills through college.
It ended up being much more. Inquisitive and self-motivated, Easley began asking questions about the banking industry. Her motto then—and still today—is, "How far can I take this opportunity?"
When she learned of the bank's Operations Leadership Program, she saw another chance to broaden her skillset. That year, she was the only internal candidate selected for the leadership training. As Easley completed the program, her career transitioned from managing tactical services to being a strategic manager and leader. For 10 of her 17 years at Fifth Third Bank, she worked as the commercial specialty loan servicing manager, where she led a team of 14 in managing seven enterprise-wide customer processes.
As a leader, Easley believes it was important to give her team a platform to advance their careers, and to motivate them. She also believes that continuing to step out of her comfort zone leads to great things. That, in turn, is what led her to MSJ's Master of Science in Organizational Leadership (MSOL) Program.
"The MSOL Program never really felt like school to me, because I was actively applying what I was learning in all of my classes to my projects every day," says Easley. "It was a challenging curriculum, but it also constantly affirmed the value of integrating my master's level learning with my career."
Today, she serves as principal quality control lead for the Bancorp Quality Control/Workforce Management Team at Fifth Third Bank. Easley focuses on leading and directing a variety of top-level quality improvement programs across multiple lines of business.
"I'm the leader I set out to be, those many years ago," she says. "On a strategic level, I'm helping other leaders to navigate change management within their teams. But, I'm also mentoring members of those teams and giving them the encouragement they need to grow in their careers. On a personal level, I continue to shape my leadership style."
To view more of Mount St. Joseph University's Heart of a Lion stories, visit Heart of a Lion to read personal accounts of overcoming, defending, and of daring to risk a caring response.