All sports at Mount St. Joseph University were postponed due to the COVID-19 pandemic in March of 2020.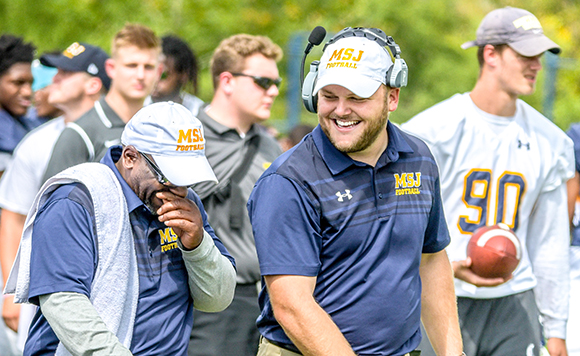 At the time, no one knew how long this situation would last. Tyler Hopperton, coach of the MSJ football team, was one of the coaches affected by this shutdown. "Coach Hopp" was a linebacker at Mount St Joseph University, and graduated in 2012, with a sport management degree. He earned a job with the MSJ football team after he graduated, then worked his way up to being head coach.   
In the beginning, Hopperton said, "Everyone had hopes that it would be over, but I wasn't shocked when the season got cancelled." This was an unfortunate setback, but his work was far from over: recruitment for the 2021 season still had to be done. So how do you get players to play for your school when you can't promise a season?
"We were very transparent with the athletes and their parents about the possibility of there not being a season again in 2021," he said. "However, it did help that almost all Division 3 coaches were in the same boat. Unfortunately, some recruits for the 2021 season decided to stay home, as there was a lot of uncertainty in just about every aspect of school and sports."
Because the campus was closed, recruitment occurred over virtual meets with the prospective athletes. Students weren't able to tour campus until July, but there still were no football camps. Despite this, Hopperton said, "We feel pretty good about our recruiting class, and we're still trying to get two or three game changers."
With college football being cancelled for the 2020 season, and moved to the spring for the 2021 season, many people are wondering why high school sports were still able to play.
"High schools didn't require COVID testing so they got to play their seasons," he explained. This question always was burning inside my head, because it seems like if high schools can play, then colleges should have been able to play too. During the last year and a half, Hopperton and his coaching staff faced a lot of adversity with keeping recruiting and all other aspects of their team afloat.
Although the last year and a half has been rough, it had some bright spots too.
"In November of 2020 my wife gave birth to our beautiful daughter Emorie," Hopperton said, "It was great being able to spend time with my family during the pandemic."
In times like these, that's important.