When walking through the San Giuseppe Art Gallery at Mount St. Joseph University, viewers will experience pulsating color palettes and cohesive brand concepts that flood the room with identity and passion, all embodied into the creative process and achievement we know as the Art and Design Senior Thesis.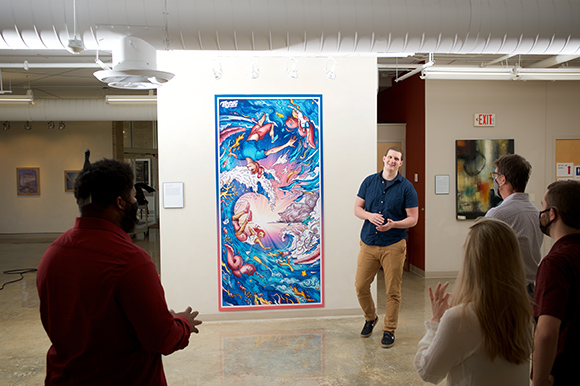 On April 15 through May 8, 2021, the Art and Design Department presents the 2021 Art and Design Senior Thesis Exhibition, showcasing the unique, comprehensive degree projects of eleven combined fine art and graphic design students. These intensive experiences are the culmination of studies in the students' major areas of concentration, and this final exhibition highlights their achievements and serves as a bridge to professional careers in the visual arts and design. 
"As Gallery Director, I plan and organize the annual Senior Exhibition, (normally held exclusively in the Studio San Giuseppe Art Gallery), and I work with the senior class all year," says Velma Dailey, Studio San Giuseppe Art Gallery Director. "It's so exciting to see their vision and passion come to life in a visual display. The students really care about the themes they explore in their senior thesis project. It's fulfilling for them to see all of their hard work come to fruition and it's rewarding for all of the faculty and staff who have worked with them many years to see these students accomplish their goals."
Seniors' Creative Processes Come to Life
Students begin this process by choosing a topic they are passionate about, completing six months of research to begin developing concepts on their topic of interest. Each student has to look at the historical context of their topic, current information about their topic, and projected concepts for the future. The student must also learn from historical and contemporary artists and designers throughout their research process. Their creation process for their final art/design works are guided by all of this.
"It is inspiring to watch how a student grows throughout this process in their senior year," says Kurt Grannan, Associate Professor in the Art and Design department. "There is such ownership in their work. They are the ones who have conceived this idea and have developed the product, organization, or event, and it becomes something genuine to them. They think it through at so many different levels it becomes second nature to talk about the project as if it were a reality. They believe in themselves and their work."
Grannan speaks to this experience from a design perspective. Once students nail down a direction, that's when the fun starts. They begin with naming ideation and then design a brand mark/logotype for the company, organization, or event that communicates the main principles that define the organization, product, or event promotion. As the logo comes to life, so does the development of the brand. Throughout the semester, multiple components are created. These branded components should interact with a customer, potential customer, or attendee at any customer journey stage.
Senior Student Voice
Trevor Theuerling, '21, Bachelor of Arts in Graphic Design, reflects on his senior thesis experience:
"Creating my senior thesis pieces was a fun and exciting experience for me because it showcased the culmination of skills that I have gathered from my classroom learning and co-op experience at Mount St. Joseph University. This design helped show me that that the skills that I developed can be used to serve the greater good. My thesis project's mission is to help end ocean pollution and advocate for using sustainable resources when it comes to selling merchandise. In addition to this, merchandise and graphics are not only used as desirable attire but also as a method towards causing change. Creating the logo, graphics, brand identity, and advertisements was a fun challenge for me because it pushed me to apply every discipline that I have gained and problem solve the visuals which I wished to create. Most of my pieces required multiple software to accomplish, and to see how far I have come since freshman year, makes me excited to see how much more I can grow and learn in the future. For me, I find pleasure when my work can be shared and admired by the public. Thesis work has allowed me to show off my skills and this greater message to the masses of people​."
View the Art and Design Exhibition online to see the comprehensive works of fine art and graphic design seniors, and for gallery hours, check out the Studio San Giuseppe Art Gallery page.