The Health and Exercise Science major provides foundational scientific knowledge and clinical applications enhancing wellness, quality of life, and physical activity across the lifespan. The curriculum encompasses a biopsychosocial model of health with an expanded emphasis on understanding the role of physical activity and exercise to improve health and optimize human performance.
Our program prepares students to enter careers in the health, fitness, or wellness industries. Additionally, with the selection of prerequisite coursework, graduates may pursue admission to graduate programs including athletic training, behavioral and mental health, chiropractic medicine, nursing, occupational therapy, physical therapy, physician assistant studies, and public health programs.

FEATURED COURSES
In this program, you have the opportunity to work with a member of the Health Professions Advisory Committee (HPAC) who will help design a course of study that is suited to your career goals.
Athletic Conditioning and Performance
Exercise Programming for Special Populations
Health, Physical Activity, and Aging
Human Nutrition
Principles of Human Performance
Physiological Adaptations and Management of Stress
What's Happening in Health - Dr. BC and 2 MSJ Students
"
I had my co-op at Oxford Physical Therapy. I really enjoyed being there. It made me realize that physical therapy is truly what I want to do. The people and patients were so welcoming and nice. I will miss the people that I met and the connections that I had with the physical therapists there. My advice for freshmen is to never give up and always do your best. Classes will be hard and will push you to the limits but I promise you it is all worth it.
Makayla Carroll
Oxford Physical Therapy Centers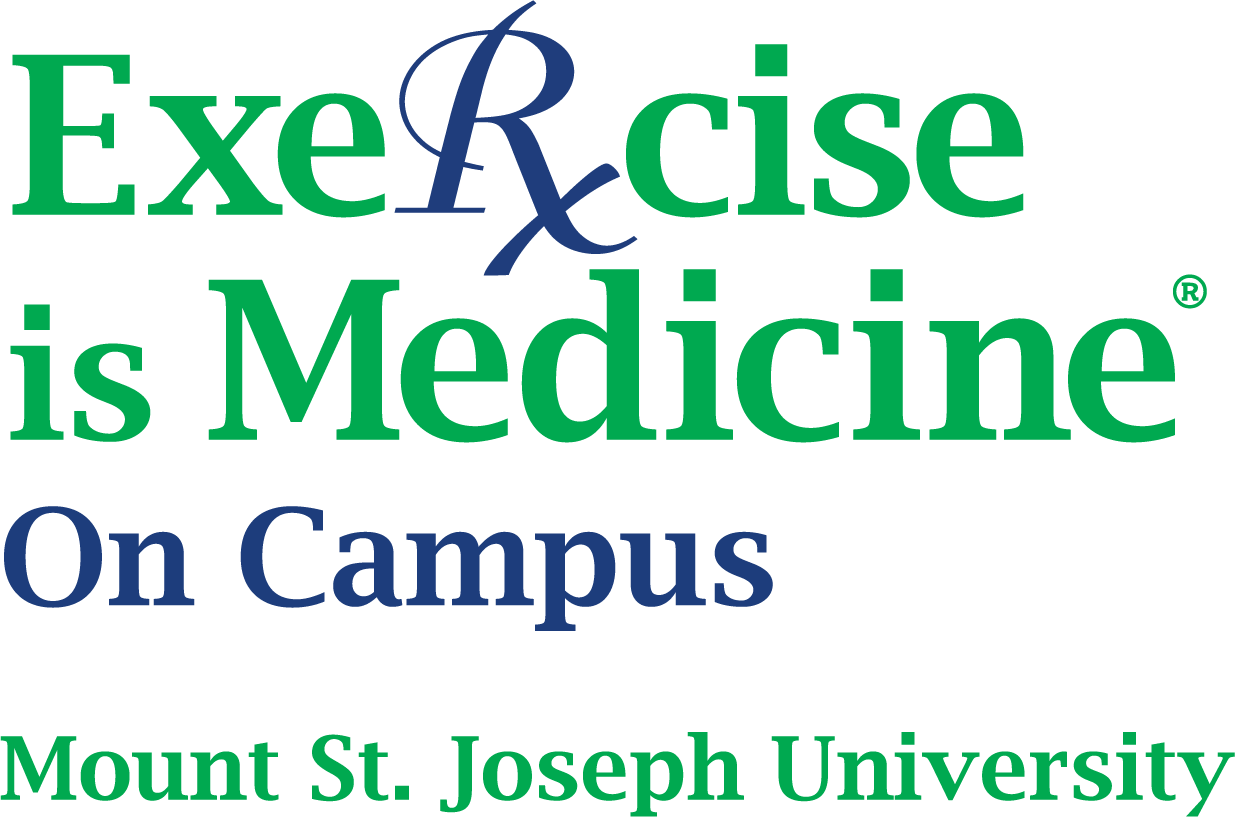 Where can I work with a BS in Health and Exercise Science?
Careers and Co-ops
Careers and Co-op Placement:
Common career paths: Athletic programs, student wellness centers, outpatient rehabilitation clinics, military, and tactical medical services, performing arts, worksite wellness and occupational health settings, family medicine, and orthopedic physician practices, and the fitness industry.
Our students and alumni have pursued opportunites at the following organizations:
Clinical Exercise Science
Sport Performance and Active Aging:

Bayley Fitness & Wellness (Delhi)
Beacon Orthopedics and Sports Medicine
Cincinnati Children's Hospital and Medical Center Physical Therapy
Cincinnati Recreation Commission – Therapeutic Recreation (Bond Hill)
Cincinnati Sports Club (5-mile Road)
Delhi Township Fire Department (Delhi)
Drake Rehabilitation Hospital – University of Cincinnati
Mount St. Joseph University Athletics – Sports Medicine
Physical Therapy: Rehabilitation and Balance Centers (formerly Howell Rehab)
Special Olympics of Hamilton County

BLOC Ministries Sports Performance (Price Hill)
Cincinnati Kettlebell
Cincinnati Recreation Commission – Therapeutic Recreation (Bond Hill)
Elder High School (Price Hill)
Griffin Elite Sports and Wellness (Erlanger, KY)
Mercy HealthPlex (Queen City)
Mount St. Joseph University Athletics – Strength and Conditioning
ProForce Sports Performance
 

Health Promotion
Health and Exercise Science – 3+2 Master of Athletic Training

BeConcerned (Covington, KY)
Wesley Chapel Mission Center (Over the Rhine)
Cheviot Elementary School (Westwood)
Cincinnati Children's Hospital Infectious Disease
City Gospel Mission (WestEnd)
CTI – Clinical Research Center (Cincinnati)
EarthConnection (Delhi)
Findley Market (OTR)
The Health Collaborative (Avondale)
Price Hill Will (Price Hill)
Our Daily bread (OTR)
The Recovery Center (Avondale)
St. Francis Seraph (OTR)
Thomas More University – Student Life (KY)
Working in Neighborhoods (South Comminville)
Graduate School Admission
Graduate School Admissions
Doctor of Physical Therapy – Mount St. Joseph University, Bellarmine University
Master of Science in Athletic Training – Xavier University
Master of Occupational Therapy – Walsh University
Master of Public Health – University of Cincinnati School of Medicine
Click below to view a virtual tour of the Centennial Field House.
Follow us on social media!
Twitter: @DrBCtheAT and @MSJ_MSJ_ExSciHealth
Facebook: facebook.com/MSJ.Exercise.IntegrativeHealth
Instagram: @drbctheat and @msj.exercise.integrativehealth
Climb Higher Series | Health and Exercise Science - Hear directly from our faculty about course offerings, program-specific details, and professional development opportunities. 
INSTAGRAM NEWS
RECENT NEWS