In order for people to see past the wins and losses and into the players that make up the women's soccer team, I interviewed my junior teammates and co-captains of the team.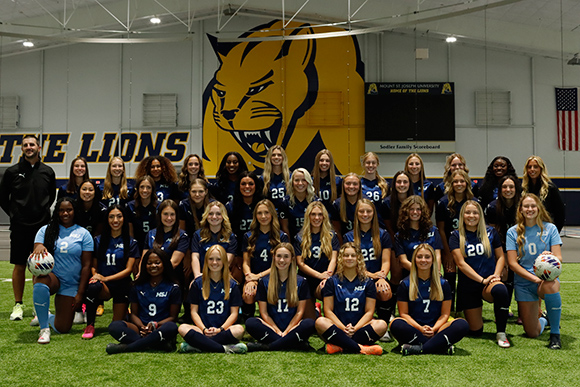 Recently, the Mount's women's soccer team has had an excellent record of 6-1 in the Heartland Collegiate Athletic Conference (HCAC) which puts them at a current standing of second in the conference. When thinking about our athletic teams, many fans think only about their wins and losses throughout the season. In order for people to see past the wins and losses and into the players that make up the team, I interviewed my junior teammates and co-captains of the women's soccer team, Vivian Willis, Kerigan Pollard, and Ella Pittman. I their comments give readers a look inside the soccer team to see the culture of the team, goals for the season, and some values that set the standard for MSJ women's soccer.
When talking about team culture, the consensus was the soccer team has quite a family-oriented atmosphere. Willis described this by saying, "We are always doing something together whether it be studying, eating lunch, practicing, or just hanging out." Pittman furthered this point when she stated, "Our team is a family and all of the girls on this team are my sisters." It takes strong bonds to spend hours on end together throughout the year, and the soccer team has used these bonds to create an uplifting and supportive family dynamic. Pollard described this dynamic as "a team that works together on and off the field to achieve all goals that we hope to achieve as individuals and as a team," which really nails that family-oriented culture home.
In terms of goals for the season, you really get a look into not only the team, but the players as individuals, as well. Willis's goals include "finishing the season with a strong record and continuing to build our program and players that are already present." Pollard has qsimilar goals that include "keeping up with the standards we have set in previous years such as winning conference and continuing to make a name for our program and set us apart from other institutions within the HCAC."  And lastly, Pittman, who is coming back from an injury from last season, said, "The goal for this season included starting strong and ending with a conference championship. A personal goal of mine was also to get back on the field after my long recovery for my ACL and meniscus surgery from last season." Pittman has come back strong from this injury and even had the game-winning assist for Pollard's goal against Anderson recently.
And lastly, team values that set the standard for the women's soccer team are a major part of the team's success. According to Pollard, "We each hold each other accountable in all aspects of life, and we are united as a team no matter the differences we have, which sets our high standards." Pittman and Willis added, "We keep positive mindsets and the will to win," which also sets the team's standard of success.
Although it may seem like all that goes into winning and losing is practice and good athletes, there are many aspects that go into a team's success. As you can see from these three players' comments, there is so much more that goes into keeping a team united and ready for competition. Team culture, goals, and values are some aspects that make the MSJ women's soccer team successful.