Mount student Josh Taylor shares at least two identities with the Bengals' Joe Burrow: they are quarterbacks on winning football teams and they have pursued degrees in the Liberal Arts.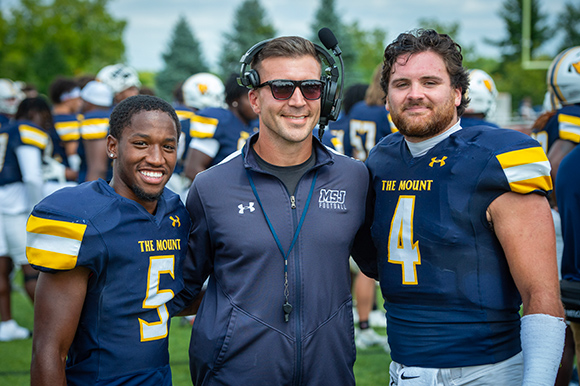 Taylor took time out from his busy sports and academic schedule to share some insight with "Dateline."
What do you most treasure about your football experience at the Mount?
The relationships I have made while being here and playing football. I have met so many different people from diverse backgrounds and learned about different cultures and  have seen the similarities and differences between how I have grown up and lived versus how many of my teammates have. This has been a once in a lifetime experience. I have also met some of my best friends that are now family to me and will be that forever. Those are what I treasure the most. I have been blessed with people that have helped me through the hardest times of my life, while also having those same people there to smile with me through some of the happiest moments of my life.
Do you have a favorite NFL quarterback? What do you admire about him?
This is a hard question, because I like a lot of quarterbacks for different reasons. But, if I had to pin down my all-time favorite, Tom Brady would be my pick, not because he has won so many championships, but rather his preparation and discipline that he took so seriously to get him all of those championships. He is one of the best competitors in all of sports, and I would consider myself to be a lot like that. Much like him, I have always been counted out growing up, and he used it as motivation to prove those people wrong. He stayed within himself and did not take shortcuts in the work he had to put in throughout his life while leaning on the people he loved the most to help him break through.
Who is the person (or persons) you look to as a model for your personal life? What values do you share?
One thing that I am most blessed with is having many role models in my life. I am fortunate enough to have many people in all kinds of roles that have helped me grow as a man and continue to grow as I live my life. The qualities and values that I look up to the most come from my late father James Taylor who passed away in 2020, Caleb Corrill who is one of my coaches at the Mount, Tom Albers, and my Uncle Terry Plank, along with many great men and women in my life. These qualities include not taking shortcuts in life. Life is not always fair, and you are going to lose a lot more than you are going to win. What I mean by that is life is not going to give you something just because you think you deserve it. It is up to us to work for those things and go grab what we want, and if we do not get those things, the only option is to keep working to make it happen. I have also learned from them that it is easier to do life with people that you love rather than doing it by yourself. Then the most important quality I have learned this far is to just have fun and smile. Life is too short to constantly worry and stress about things that are out of your control. So, just surround yourself with people that you love, and enjoy the ride!
Bengals QB Joe Burrow earned a master's degree in Liberal Arts from Louisiana State University, and you are pursuing a bachelor's degree in Liberal Arts with a history concentration. What are a few courses in this major that you have enjoyed, and why?
I have learned many valuable things throughout my time at the Mount and in the Liberal Arts program. The one class I probably enjoyed the most is Aesthetics: The Philosophy of Beauty with Professor Iris Spoor. The reason why is I took this class a semester after my dad passed so I had time to digest that situation and have a different perspective on the situation, and this class came at a perfect time in my life and where I was at the time. This class was all about finding beauty in every aspect of the world. Whether it was through nature, animals, humans, and situations in our lives. This class helped me to discover that there is beauty in every situation we go through even when we cannot see it in the moment. It definitely did this for me in the mourning of my father because it allowed me to see the beauty in that. It led me to see and reflect on all of the memories I had with my father and be grateful for the time I was able to spend with him.
You will student teach next semester in pursuit of licensure in Adolescent and Young Adult Integrated Social Studies. What goals do you have for that semester?
I am very excited but also a little nervous for the opportunity to student teach. The goal I have for this semester is to put everything I have learned from the great education department here at the Mount into play. I am also really looking forward to being able to get comfortable and confident in finding my own voice and style in my teaching. I have had some practice through my practicums, but being able to take full control over a classroom and apply my own personality to my teaching over a 12-week period is something I am looking forward to.
In photo: Josh Taylor, player #4 on right.