A man of incredible tenacity and perseverance, Tony Zaya '23 achieves much and reaches new, life-altering heights.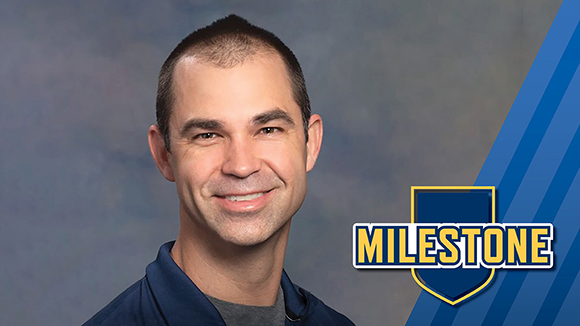 Tony Zaya's journey to the Mount wasn't unlike actually summiting a mountain. With long stretches of educational pursuits, career chasing, and even a need to move out of Ohio, Tony's trek doesn't cease to be devoid of challenges. But, while multifarious and extensive, his experiences were nevertheless formative and essential to who Tony is today.
Beginning at The Ohio State University, Tony first found employment as a tutor and then as a teaching assistant, which would become invaluable background for his efforts in graduate school, where he "was drawn to continue in higher education while seeking a Master's in Education (MEd) to teach secondary mathematics."
However, tragedy restructured Tony's trajectory.
Before attending graduate school, a close friend of Tony's suffered a neck injury that eventually caused quadriplegia while diving into a pool. So Tony, while in the middle of preparing for a Mathematics, Science, and Technology (MSAT) graduate program, decided to be trained to medically care for his friend.
"It was during this time as an independent provider, that my true vocation became apparent," Tony says. However, his teaching aspirations never waned, and he thought it only fair to give education a chance.
Tony then completed three years of teaching high school secondary mathematics before applying for an accelerated nursing program. This pursuit of a degree in nursing proved financially stressful, however. In an effort to make ends meet, Tony began his own tutoring business, taught courses as an adjunct professor, mowed lawns, and even made deliveries with a box truck.
"Praise God," says Tony, "I [eventually] began my nursing career at Cincinnati Children's Hospital Medical Center."
With double qualifications in both teaching and nursing, Tony's versatility came into play as his employment diversified profoundly. Within the next twelve years, he migrated from Gastrointestinal/Colorectal Surgery to a Specialty Resource Unit to the University of Cincinnati as an adjunct clinical instructor, and finally to the Cancer and Blood Diseases Institute as a nurse educator.
"Everything seemed to be aligning as nursing and education unintentionally became adjoined," Tony notes.
Achievements Grow Exponentially at the Mount
Around the beginning of the COVID-19 pandemic, however, Tony's wife became ill, prompting both of them to move to Kansas City where his wife's family lived.
This, though, did not hinder Tony's pursuits.
Applying to several universities to teach in the nursing field, Tony was turned away for his lack of a Master of Science in Nursing degree. The Mount on the other hand, heard his story and recognized his passion. Despite missing an MSN degree, Tony was accepted into the Doctor of Nursing Practice (DNP) program at the Mount—the one stipulation being that he must complete 600 additional practicum hours.
"This may be viewed as a hurdle," Tony says, "but it has actually pushed me out of my comfort zone."
With such powerful self-discipline, Tony expands his horizons in many more ways than one. Having these extra requirements has cultivated the motivation for him to achieve a multitude of things, including but not limited to obtaining his Certification in Medical-Surgical Nursing, participating in healthcare legislature, and joining the Intentional Leadership program at Saint Luke's Hospital in Kansas.
These efforts led to Tony's acceptance into the Graduate Nursing Student Academy Digital Innovators Program, which, in conjunction with Apple, teaches and encourages innovation for educating future nurses.
These milestones were reached with the generous support of his faculty advisor, MSN/DNP Program Director Dr. Kristin Clephane.
"She has been nothing short of amazing," says Tony, "from the very beginning of her encouragement for me to apply--Constant availability for assistance with questions, education about the Nurse Faculty Loan Program, and communication about progress through the program, her passion to educate and facilitate a safe environment where students may succeed will always be remembered. Dr. Clephane has been and always will be a role model to me for the rest of my career."
Alongside the guidance and direction of Dr. Clephane, Tony sees the Mount as a whole as devoted and personal. Given that he is actually noticed in class, even when he is absent, he feels a deeper connection to others in his program. The networking alone contributes to this social intimacy for Tony, where individuals in the program are able to share phone numbers to help one another with assignments or other challenges.
In his experience, the Mount has and continues to be a force for perseverance, achievement, and dedication to students, which mirrors Tony himself.
"The Mount recognizes each student as a person," Tony observes. "I've attended larger institutions that aren't as invested in the holistic education of a student."
God's Role in Success
The synthesis of his previous experiences, education, training, and aspirations reflects more than basic cause-and-effect to Tony, however. Currently pursuing his DNP to attain a university faculty position, Tony plans to offer his God-given experience and ambidexterity in medical sciences and teaching where he can.
Believing in the notion that God has plans for humanity to prosper, Tony reckons with the metaphysical undercurrents of his life and circumstances: "Through trauma and adversity, it's no coincidence of where I am in my career," says Tony. "Each day on my way into work, completing an assignment, or inspiring a student, I'm reminded that I'm fulfilling God's plan."
At the Mount, God, nursing, education, and achievement finally intersect for Tony, and the significance of the strides he's made and the places he's gone and will go is not lost on him.
"Completing graduate school in any stage of life is stressful and requires sacrifice," he notes. "Because of the encouraging nature of the Mount, accessibility of resources, and a genuine spirit to help students achieve their goals, it seems as if you can accomplish anything. With God, Family and the Mount, my career goals and success are possible!"
___________________________________________________________________________________
About our DNP program
Individuals involved in this program can make a difference by helping to improve the health and healthcare outcomes of individuals, families, groups, and populations. This program was even ranked the #1 best small school DNP program in Ohio by U.S. News!
Interested in learning more? Check out our DNP program page here.