If you can dream it, then you can be it. Adult MSJ graduate Latrice reinforces that college is possible across any stage of life.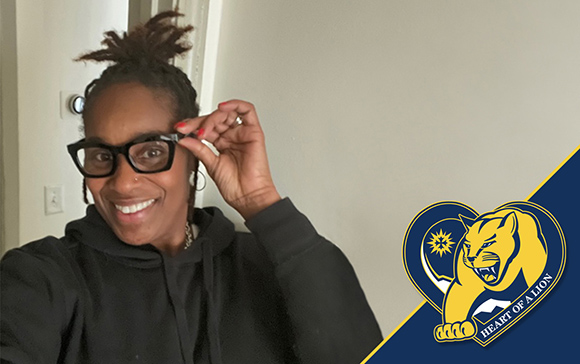 Sometimes life simply happens, and other priorities take hold until we can get back to where we left off.
For Latrice Hunter-Miles at 53 years old, that is certainly how the journey went. She wanted to become a teacher for as long as she could remember, dedicatedly working alongside education professionals for 31 years. But due to financial circumstances and becoming a wife and mother, completing her bachelor's degree felt out of reach.
Even so, she prayed about a way to finish.
"I never thought I would have the opportunity to return to school. I always prayed and asked God, 'if it's in your will, will you provide me the means to go back and complete my degree?'"
Through the support and encouragement of God, her family, and the Mount's Dean of Education Dr. Laura Saylor, Ph.D., Latrice took a deep breath, and a heavy leap of faith.
Pivoting her Potential towards Promising Possibility
In 1987, she went away to college after high school, Latrice came home one summer during college, gave birth to her son, began working, and before she knew it, life happened. She did not return.
Latrice began working in the education field as a one-on-one aide to a special needs student, and then to a paraprofessional position, to name a few.
She eventually enrolled in a few courses, but later found out she exhausted all of her financial aid and was no longer eligible for it, which became a barrier to finishing her degree.
"That was so disappointing to me because I was now ready to be a student. I had responsibilities, but was still determined to become a teacher. I thought, 'well I have a child, I'm teaching him, why not finish?''
Time passed and Latrice got married, giving birth to her second child. Her chances to return to school, she thought, were completely over. But one day, an opportunity presented itself to her to return to school through her employer's union, providing her with full tuition remission.
"I took advantage of it and attended classes online at Eastern Gateway Community College. I received my second associate's degree," she says. "One in Pre-Education/Liberal Arts and the other in Intervention Specialist."
As a matter of fact, an opportunity arose for her to earn a bachelor's degree presented through her union, but unfortunately it was not a great experience for her, and she ended this pursuit. "I was completely done with school. No more for me," she says.
Every time Latrice explored the idea of completing her degree, she was told she needed more classes, and felt too discouraged to return. So she continued to work full-time. Her children had grown up, and moved out, and she had a lot of time on her hands.
Although she joined volunteer work such as the PFO (Parent Faculty Organization) at an elementary school and coached cheerleading, her dream never fully faded into the background.
"I never lost my dream and passion for teaching, I just placed it on the shelf," she reflects.
If You Believe it, You Will Reach it
One day at work, Latrice received an email from the Superintendent of Human Resources, Dr. Jamison asking if there were any staff members who possess an associate's degree and are interested in becoming a teacher. If so, the Mount is offering a program just for you. "I saw it, and I deleted it. My mindset also was, 'how would I pay?'"
But, Latrice realized deleting the email didn't make it go away.
There were many staff members in her building who forwarded her the email, even calls asking if Latrice had seen the request. With the previous experience she had in college, she was set on not returning. The day Latrice thought that the meeting was being held, she sent an email and called to say she would not make it to the event.
"I had the date wrong, so I had no chance of bailing out. Next Wednesday came and I had all my transcripts with me. I was determined not to return, but just in case, I would be ready to share them."
Latrice sat in the meeting, listening to Dr. Saylor. Her prayer of five years suddenly surfaced for her:
"God, if it's in your will for me to return, you know my situation. I have exhausted all of my financial aid, and I have no money to pay out of pocket."
After everyone left, Latrice stuck around.  
"Dr. Saylor and I spoke and I told her how I lost my father who was my best friend, how I had a bad experience with my previous college," she recounts. "I had exhausted my aid, and I couldn't afford college. We cried together, and laughed."
Dr. Saylor asked if she had her transcripts, but Latrice was hesitant to give them to her. Dr. Saylor looked at them and up at Latrice, and said, "you seem to have enough classes and credits to have a degree right now, but I have to take a look and I will get back with you. In the meantime, I want you to look over this scholarship and apply."
Latrice went home and she talked to her husband, and called her children. Her meeting with Dr. Saylor led her to tears.
"I knew how sincere Dr. Saylor was when I was able to share some traumatic instances that occurred to me, and she looked me in the eye and said, 'You can do this.'"
Shortly after, Latrice received a call from Dr. Saylor. "I have some good news, you are almost done with your degree. I would love to give it to you right now, but you have to take 30 hours at the Mount." Latrice said, "I can do that!'"
No one Can Take Your Dream Away from You
Latrice applied to the Mount's "Be the Change" program at Mount St. Joseph University. This program makes earning a bachelor's degree and teaching license more accessible for those who already have already completed two years of higher education coursework at a community college. She was accepted, and received the "Be the Change" Transfer Student Scholarship, along with a teach grant, and several other scholarships.
It was Latrice's time to go for it, and it was better than she could have imagined.
"After my daughter received her degree in May 2022, she looked at me and said, 'Mommy, now it's your turn. You've taken care of everyone and put your life on hold.'"
With the help of her Principal Sherry Thompson and Dr. Kevin Jamison, Superintendent of Human Resources, Dr. Saylor, MSJ faculty, and her family, Latrice says God answered what she prayed upon for nearly five years as she found a way to return to college after her aid was depleted.
Latrice says her return to college to pursue her dream to become a teacher is a dream come true. And the best part? She will not only will have one degree, but two. This May 2023, she will have obtained her bachelor's in Education Science, and Master's in Special Education.
"I had no idea what I was getting myself into. All I kept telling my daughter and Dr. Saylor was, 'I'm afraid.' However, with their encouragement and the support of my husband, I am proud to say I will be graduating in May 2023." At 53 years old, Latrice couldn't be more proud of completing her degrees, providing her beautiful mantra for any adult student thinking about returning to college.
"We all have dreams—sometimes we have to put them on hold, but the beauty of having a dream is it belongs to you, no one can take it, it's always there and it's never too late to pursue your dreams no matter how old you are. They do come true. This journey began for me right out of Princeton High School in 1987 and at 53, here I am."
__________________________________________________________________________________________________
About our Education Program: In-person and Online Options!
The School of Education faculty prepares students to transform into competent, collaborative, caring, and reflective practitioners. Nearly 98% of surveyed education graduates were employed or enrolled in graduate studies after graduation, and are giving back in big ways.
Interested in learning more? Check out our School of Education page to see our majors and licensures, with both in-person and online options.