Alumna Rosemary Oglesby-Henry has changed the outlook and stigma of teen parenthood through her mission at Rosemary's Babies Co.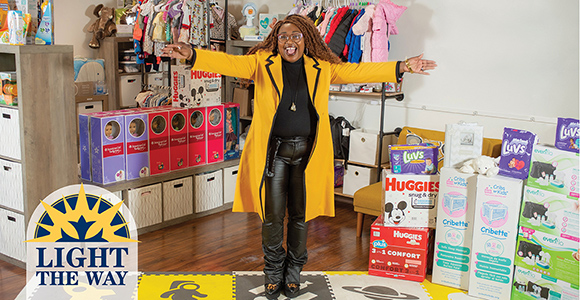 At 16, most high school students have plenty on their plates, from school work to extracurriculars, to their after-school jobs and looming college applications—but becoming a parent typically isn't one of them. However, for Rosemary Oglesby- Henry '13, it very much was. By the time Oglesby-Henry was 17, she was a new mother, living on her own, and having to make a very rapid transition from childhood to adulthood.
But she refused to be a statistic. With a history of teen pregnancy in her family, she knew she wanted to end the generational pattern with her daughter.
In 2006, Oglesby-Henry transferred to the Mount with her associate degree from Cincinnati State Technical and Community College. Due to other circumstances, she had to pause her education but returned in 2012—two years before her daughter graduated from high school. It was at this time Oglesby-Henry conceptualized what would later become Rosemary's Babies Co. (RBC)—an impact organization (501c3) committed to helping teen parents master the concepts of selfleadership to leave a long-lasting legacy.
"I wanted to help teen moms," she says. "I wanted to be able to help them in a way that nobody helped me. I also wanted teen moms to understand that they don't have to go on welfare, they don't have to stay in income-based housing, they don't have to allow the things that other people say to them to change the trajectory of their life."
When Oglesby-Henry continued her education at the Mount, pursuing her Master of Science in Organizational Leadership, she brought the concept of Rosemary's Babies Co. to fruition.
"When I realized we had to do a project I decided I was not going to spend two years researching someone else's work," she says. "I found this to be an exceptional opportunity to accomplish two goals at one time: complete my degree while structuring my calling."
A year after graduating, Oglesby-Henry spent a year with teens and the teen parent population ensuring that there was still a need for her work. She found that many teen parents were still facing the obstacles she met as a young parent.
"When I started this organization, I wanted it to be a nojudgment zone," she says. "I wanted teen parents to be able to walk through these doors and know that there's someone there that cares and listens and that understood what they were going through… because I can relate."
Seven years after its inception, RBC serves more than 200 families per year by offering online resources, one-on-one mentoring, peer support, confidential care, education, and more. In 2022, Rosemary's Babies Co. purchased a 6,900 square-foot facility, called the Holloway House & Resource Center, to expand its programming to include supportive housing for teen parent families.
Oglesby-Henry's ambition to change the outlook and stigma of teen parenthood has led her to share her mission on local as well as national platforms. To date, she has been recognized with more than 35 honors.
"My vision is to become a global corporation that supports teen parents, changing policies and legislation nationally while at the same time creating a future where teens, if they choose to parent, will no longer be ostracized but receive the care they need to be successful," she says.
__________________________________________________________________________________________________
Master of Science in Organizational Leadership: Learn More About our Flexible Program
With evening and online options designed for the working adult, graduates of the MSOL program will be able to positively impact organizational outcomes. Our cohort model builds meaningful professional connections, an emergent and dynamic learning environment, and the experience of immediately applying new learning and ways of leading. 
You can expect changes in your approach and in the outcomes you achieve. Check out more program highlights here.