Here's a look at some trendy Tik Tok meals, as well as some insights from college students about these cooking trends.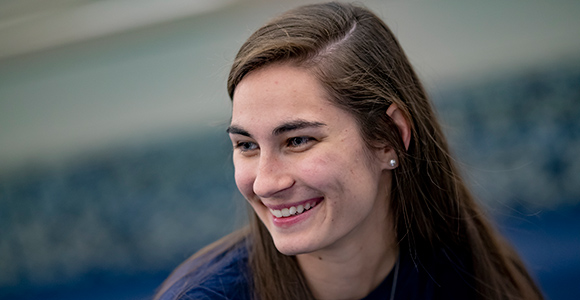 The newest video sharing app TikTok has led to Gen Z serving up some new and easy dishes in the kitchen. Everyone wants to eat healthy and quick meals while still ballin' on a budget but no college student wants to cook full meals; that's why we enjoy our air fryers and packaged ramen noodles.
Here's a look at some trendy Tik Tok meals, as well as some insights from college students about these cooking trends.
A look into some of the recipes:
Feta Pasta- All you need is…
Pack of mini cherry tomatoes
Olive Virgin Oil
One block feta
Pasta (Add chicken if wanted)
Your extra seasonings of choice (basil, parsley, garlic powder, onion powder, red pepper flakes)
Cook on 400 in a large dish for 15-20 min and boil pasta noodles- mix together with some parmesan.
Air Fryer Breakfast Burritos-
Air fryer
Tortilla
Filling ingredients of choice: Eggs, sausage, bacon, peppers, onions, cheese, potatoes, hot sauce, guacamole
Fry for 6 to 10 min or until the burrito is crispy and golden.
Salmon Rice Bowls-
Microwave some rice
Air fry some salmon
Put it all in a bowl- add soy sauce, Yum Yum Sauce, or Sriracha
Can add avocado, chopped cucumbers, or cream cheese
Roasted seaweed paper to make it like sushi.
Ramen Lasagna-
Dry ramen noodles
Red pasta sauce
Mozzarella cheese
Add ground beef if wanted
Cook at 350 for 25 minutes
So How Do They Taste?
Many college kids eat microwavable hot pockets, pizza rolls, and sandwiches, but there are so many cheap, healthy alternatives that you can make for breakfast, lunch, or dinner right in your kitchen. Sam Martin, a college athlete, has tried a few of these trendy TikTok meals to stay healthy during the season.
"My roommates and I make salmon bowls all the time. We'll just buy a large piece of salmon, put it in the air fryer and mix it with rice and other veggies. It's much cheaper than Poke bowls or sushi and we always have plenty of leftovers."
When asked about the challenges of healthy but cheap meals in college, he responded: "As a football player I'm always looking for big healthy pre-game meals. A lot of the DIY TikTok meals on my For You page are centered towards cheap but protein-filled pre-made meals to make before workouts or games. It can be challenging to find cheap and healthy meals but TikTok is the perfect place to go exploring for recipes like that."
"My favorite TikTok meals are definitely the Salmon Bowls or Veggie Chicken flatbreads."
Libby Wade, a college student in Cincinnati, has always disliked cooking. She is looking for easy and convenient meals to make on the fly.
"My freshman year I lived off Kraft Mac and Cheese and Dunkin' iced coffee but as I started nursing classes and clinicals I needed to find better alternatives to meals. I always wake up and make my breakfast burrito and whipped iced coffee that I learned from TikTok."
"I started realizing how much cheaper and much more energy I was feeling just by eating more than one meal a day. My roommates and I always make big batches of feta pasta with garlic bread. It's so quick and easy and I can always bring leftovers for lunch the next day."
Does Wade believe home cooking is hard in your 20s?
"It's something I had to get used to putting in my routine, but I realize cooking can be really easy and fun especially with roommates. TikTok has been fun to try new meals and experiment with different drinks with friends."
TikTok and other social media platforms have helped people in their 20s learn new recipes that are cheap, healthy, and easy. As a college student you're always on the go and tend to forget how crucial home cooking meals can feel and be for the body. These little recipes are super easy and take only 15-30 minutes to make with minimum ingredients. Try 'em out!