Freshman year was a swift, abrupt, and quite entertaining year.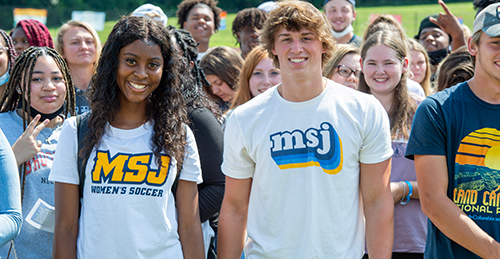 It seems that just yesterday I was playing icebreaker games in my freshman orientation groups, meeting the friends I've learned to keep throughout these two semesters. Freshman year was a swift, abrupt, and quite entertaining year. There were many ups and downs for me, but on the positive side of things, I've never felt so much beneficial change in myself, and in the world around me.
COVID-19 had a lot to do with not the highs, but most definitely the lows of the year. Graduating from my senior year in high school was the start of something completely new. The virus had started to decrease in numbers, but little did I know that COVID would still strive to make the bumps on this rollercoaster of a school year a little harder and scarier.
The summer of 2021, I got the Pfizer vaccine, because of a mandate at the school I would be attending in the fall. This was scary for me, since I never really was the type of person to get many vaccines. Masks were still around when fall showed up. The first day of school in the fall of 2021 felt no different than the fall of 2020. Masks restricted the smiles that you see as you pass a student, and it was just like senior year--almost everything was unfortunately the same.
Other than COVID, the first semester of my freshman year was overwhelming and amazing all in one. I met the best friends that I have ever earned, and they all have stuck by my side through all of it. Overall, my grades were pretty good, and my relationship with my professors was decent.
I would say the hardest part about the first semester was the fact that every day, I had 50 questions in my pocket. I knew where nothing was, I wasn't quite sure who to go to for things like financial help, academic help, and advising appointments. Luckily, my roommate knew the Mount like the back of her hand.
About halfway into the first semester, my roommate dropped out, around the same time that I broke up with my boyfriend. I honestly felt alone, and bored most of the time when I had the room to myself. I ended up figuring things out with my boyfriend thankfully, and by the end of the semester, one of my best friends in my friend group, Amanda, was in need of a roommate. I took the offer as soon as it was given to me, and the next day I had the key to West 519. I moved into my new room right before winter break, making memories along the way.
Winter break felt like a lifetime. I went through a rough patch with my parents over the break. I live at home during breaks and in the summer. Sometimes when I do go home though, my parents and I tend to bud heads.
My mental health decreased over winter break, and that started off my second semester in the worst way. Not to mention the email that students and faculty got at 6:30 the night before classes started back up, announcing that the first two weeks of the semester would be online. This messed up my entire routine. It was hard to get motivated because of this. Those first couple of weeks were the rock bottom of my year. My grades were horrible in the beginning because I learn horribly when I have to learn digitally. I eventually got out of that pit of anxiety, got my grades up, and got myself back up off of the floor.
Continuing on through the semester, I learned how amazing my advisors are. Jennifer Morris and Michael Bindis played a huge role in my success, and relief of stress this year. For every question that I had, they both had an answer. They helped me drop classes, and schedule amazing ones for next year.
Another member of the Mount St. Joseph University faculty that I'd love to recognize for my success is Elizabeth Barkley. She was my professor for the course I took in the first semester, and for the course I am currently taking. She has always been there for me. She's been patient with me even when it is difficult to impossible, she always pushes her students to do their best, and because of that, they strive for it. She is an amazing role model, and a good-hearted person.
Where we are at now in the semester, I have never felt better. I can see my friends' faces without the masks, and some of my best friends get to stay here at the Mount because the vaccine mandate was lifted. It turned out to be smiles all around.
This year has flown by, and I couldn't be happier with how my year has turned out so far. Even though there were issues, crying sessions, and confusion, change played a good role for my freshman year. I grew up this year, knowing it was going to happen, but I didn't expect such a big change.
I feel stronger, mentally and physically healthier, and my mindset about school and learning has peaked. I yearn to learn more in the years to come. I hope to make even more amazing, lifelong friends.
Next year, I hope to change even more.