This spring break, a group of MSJ students ventured to Appalachia through a program called WorkFest.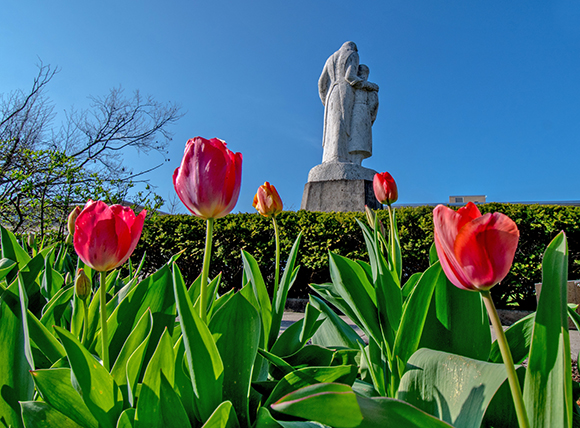 Many of us students spent spring break on a beach, in a cabin in Tennessee, or we just stayed home to work. On the other hand, there was a group of students who used their time from spring break to participate in a trip to Appalachia for the program here called WorkFest. Michelle Arnold of the Office of Mission Integration drew upon her organizational skills, making this trip enjoyable, and full of light for all of the students that attended the trip.
For a brief overview of this wonderful way that students spent their spring break, this trip involves doing good. This event sponsored by the Christian Appalachian Project was the Mount's 30th year anniversary approaching this trip, and it was spectacular. This trip includes helping people in need for the common good, meeting students from other universities, and working on projects to improve the lives of others.
A fun fact: Mount St. Joseph University is the only university to have participated in every single WorkFest over the 30 years!
When I interviewed the students who attended this trip, I asked them what were the highlights, and what were the important aspects of the projects they completed. The students, and Arnold, explained how there were two separate projects that they worked on.
The students started on a two-bedroom addition to an elderly woman's trailer so that she could take custody of her grandchildren. They explained how this really opened their eyes when it came to understanding how hard living situations can be. The other project included interior work on a house, along with putting in a ramp, steps, and porch.
The group of students left on Sunday, March 6, and returned to campus on Friday, March 11. They stayed at a camp Camp Andrew Jackson in Jackson County, Ky., which is the camp that houses most students when they attend WorkFest. Arnold stated that she and the students had daily devotions in the mornings and evenings, they ate together, and they worked with other volunteers including alumni students.
The students I interviewed said that this trip was eye-opening: it opened their hearts, and it made their spring break immensely meaningful.
I personally did nothing with my spring break this year, I just worked. Next year, I may look into this WorkFest program, mainly because I want to be more productive, and I have volunteered in previous years that included helping others, which is something that I plan to continue doing.
I really suggest that more students look into this program here at the Mount, because it really is a great opportunity, and it could change lives.