Mount St. Joseph University commemorates faculty, staff, students, and alumni who have served our nation.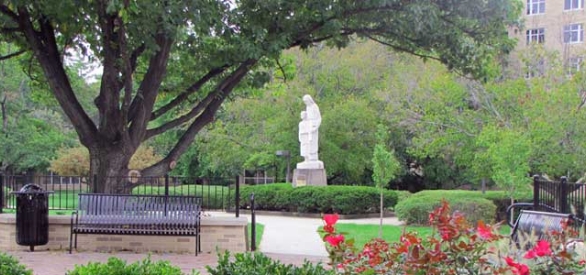 On Veterans Day, November 11, Mount St. Joseph University recognizes and celebrates faculty, staff, students, and alumni who have served our nation.
The Mount is proud to be part of the Principles of Excellence Program of the U.S. Department of Veteran Affairs. These guiding principles help to ensure quality and service in meeting the educational needs of veterans. Additionally, the Mount is also part of the Yellow Ribbon program that connects veteran students with educational tuition assistance by the Veterans Administration in partnership with the Mount, up to the allowable maximum amount per year.
"It means a lot to me that MSJ gives back to their Veterans," says alum Gerald Rauen, '13, '16. "One of the reasons I chose MSJ after retiring from the U.S. Navy was due to MSJ being a "yellow ribbon" school. From the start of my college experience until 6 ½ years later when I earned my master's degree, I always felt supported and part of something special. I would recommend the Mount to any Veteran (or anyone for that matter) wishing to continue their education. I am proud to have served my country for 20 years and I am proud to call myself a Mount Alum!"
Honoring MSJ Veteran Faculty & Staff
Several faculty and staff veterans share what their years of service has meant to them:
"My 6 years in the Air force serving our country were the most impactful and the best learning experiences in my life." -Dr. Monica Warde, Assistant Professor in Nursing
"The years I spent in the United States Marine Corps gave me a foundation to build on, which led to a very successful law enforcement career and ultimately allowed me to have the opportunity to be in the position I am in today as MSJ Director of Public Safety." -Kevin Koo, Chief of Police
 "I am very thankful for my time in service.  It introduced me to the PA profession and provided me with such outstanding experience!" -Dr. Patrick Cafferty MPAS, PA-C, DFAAPA, Chair, Program Director and Associate Professor of Physician Assistant Studies
Lunch on Us
In recognition of  Veteran's Day, this Thursday, November 11th, the Diversity, Equity, and Inclusion Department is providing lunch in the dining hall for faculty and staff who are veterans. There will be a welcome table/sign-in table near the dining hall during the lunch hours. Please stop by for a free meal if you are a veteran. Lunch is served from 11:30 a.m. -1:15 p.m. in the Corona Room.