Doctor of Physical Therapy student, Maggie Nielsen discovered her dream to change people's lives after a life-changing event of her own.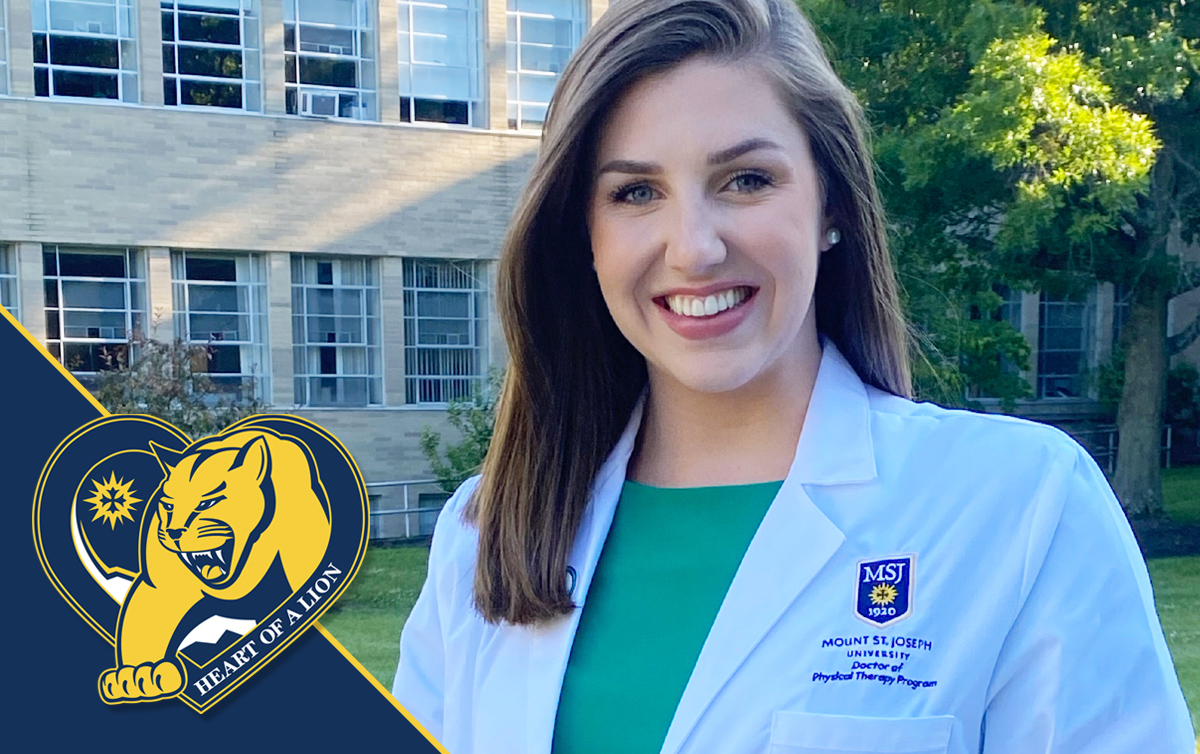 Maggie Nielsen's story began on October 30th, 2010.
Her dad was cleaning the gutters on their roof when he slipped and hit his head. He was rushed to Ohio State University's Wexner Medical Center where he had two emergency brain surgeries, one to stop the bleed in his brain, and one to reduce the pressure in his brain. At this time, Maggie's family was faced with an immense amount of uncertainty. The doctors didn't think he had a great chance of surviving his injuries.
"I was only thirteen years old at the time and my immediate thoughts were that I wouldn't have my dad there when I graduated high school or college, he wouldn't get to see me get married, and he wouldn't get to meet my kids someday," says Maggie.
Miraculously, he survived.
That didn't mean he was out of the woods yet, though. He was in the neuro ICU where he was attached to lines, tubes, and wires in every direction. Although he was not able to move much, they were able to communicate enough initially just through his eye movements.
Day by day, he grew stronger and stronger. Once he was medically stable, he transferred over to Dodd Rehabilitation Hospital at Ohio State for inpatient rehabilitation.
"Once he arrived there, they told us that he would be going home in two weeks which was a shock to us considering he wasn't able to walk, talk, or even eat on his own," she says. "Every day after school, my older brother and I would drive to visit him and see his progress."
A Life-Changing Journey Ignites Newfound Passion
There was one day in particular, that changed Maggie's life forever. She and her brother accompanied their dad to his daily physical therapy session where they were able to witness him taking his very first steps for the first time since his accident.
"It was in this moment, that I realized I wanted to be a physical therapist," Maggie recalls. "Watching how it was their job every day to add life back into their patients' days was truly remarkable. The work of this one physical therapist absolutely changed my life forever in the most amazing way possible."
With the motivation of seeing her dad take his first steps serving as the fire beneath her, Maggie began her academic journey towards becoming a physical therapist. She chose to attend Miami University for her undergraduate degree, graduating in 2019 with a bachelor's degree in Kinesiology and Health.
Memorable Mount Moments: Supporting a Dream
When Maggie began applying and looking at Doctor of Physical Therapy programs, she wasn't sure where she wanted to go, that is, until she interviewed at the Mount.
"It was in my interview at the Mount where I was able to candidly tell this exact story and explain my passion behind becoming a physical therapist," Maggie reflects. "Unlike other schools, this was the first time I really felt like I was heard and that my story and passion mattered. It was when one faculty member told me that she hoped to see me join the program that June when I realized that I had found the place that would help me to make my dream come true."
Maggie says choosing the Mount for her doctorate education was one of the best decisions she has ever made in her life.
"The faculty have been absolutely incredible and are, in my opinion, the very best part of the DPT program," she says. "You can tell that each and every one of them truly cares about teaching and making us the best physical therapists we can be. Having a small cohort size has also been awesome because we all have gotten to know each other really well and I have met some lifelong friends in this program."
In an amazing turn of events, she is completing her first clinical rotation at the very same facility that inspired her to become a physical therapist. She is grateful and humbled for this opportunity every day when walking into this building, and is empowered to make a lifelong change in these patients' lives.
Maggie's father has gone on to make a full recovery, and they even ran two half marathons together which shows how resilient and strong the human body can be after recovering from a life-threatening injury.
In June of this year, he took the most important walk of their lives together, as he walked Maggie down the aisle at her wedding.
If this entire experience has taught Maggie one thing, it is that the world is full of people who are injured, ill, in pain, and facing challenges others may not even know about. But all it takes is one person's helping, healing hand to change their life forever, and Maggie credits the Mount for helping her achieve her dream. In the face of adversity and challenge, her true strengths flourished.
"I am so excited and ready to graduate in May of 2022 and begin a life-long career of helping others and making an impact in the world around me, and I really have the Mount to thank for helping further my education and skills so that I can shine in the real world as the physical therapist I have spent the past 11 years dreaming of becoming!"
For more information on the Doctor of Physical Therapy program, learn more here.