Dr. Tim Lawson debuts his latest Belgium Dark Strong Ale on October 21 at Third Eye Brewing Company.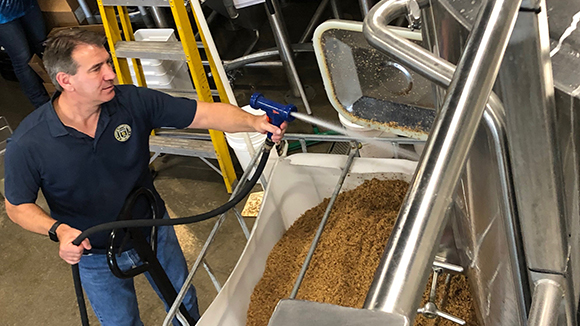 Dr. Tim Lawson Ph.D., Professor and Department Chair of Psychology at Mount St. Joseph University will debut his latest brew, a Belgium Dark Strong Ale from 5-7 p.m. on October 21 at Third Eye Brewing Company in Sharonville, Ohio.
Expressing a passion for beer brewing and a desire to share his knowledge with his students, Dr. Lawson co-teaches summer beer-brewing course, BRW101 with Dr. Andy Thompson at the Mount, and has created dozens of different homebrew recipes of many different styles of beer.  He has brewed with other local brewers at their breweries about eight times thus far.  
"Brewing gives me a chance to really learn about different styles of beer and how they are made, and it allows me to (a) challenge myself to brew beers that are of high quality, and (b) experiment with different ingredients to create unique beers and beers that are tailored to flavors and styles I enjoy," says Dr. Lawson.
Having brewed this style of beer once a year for the past four years, Dr. Lawson continued to strengthen his recipe and brewing techniques to get them just right. For his latest creation, he began the process by creating a recipe for a Belgian Dark Strong Ale, which is a dark, complex, and strong Belgian ale with a blend of malt richness, dark fruit flavors, and spicy elements. This newfound creation led him to partner with Head Brewer of Third Eye Brewing Company, Kelly Montgomery, who Dr. Lawson has known for many years.
"I finally created a recipe that I thought was excellent, and I contacted Kelly Montgomery to find out if he wanted me to brew it with him at Third Eye," says Dr. Lawson. "Kelly has gone on to become an amazing, award-winning brewer who is quickly developing a reputation as one of the best brewers in the Greater Cincinnati region.  So, I was very excited to be able to brew my recipe with him."  
Overall, Dr. Lawson has found a plethora of support from the Mount Community for this passion, as they helped arrange for him to brew the Mount's Centenni-Ale at West Side Brewery in celebration of the Mount's 100th year anniversary. In addition, his students have also brewed their recipes at Woodburn Brewery and West Side Brewery with large turnouts at the release.
For those interested in Dr. Lawson's brewing course, BRW101 is offered next summer around mid-May through June.  "It's truly one of most fun and interesting courses I teach, because it's something I'm passionate about, and I love sharing my knowledge and experience with our students," he shares. "Several students who have taken this course have gone on to work in beer-related businesses, including starting up breweries."
November Update:
The Gnarly Gnome and Cincy by the Pint put together a special, curated festival called Beer, Booze, and Bonks, where they select the top breweries in the region. They choose the top two beers from those breweries to be served at the festival. Dr. Lawson's Belgian Dark Strong Ale (named Dark Sorcery) was one of the two beers they chose from Third Eye Brewing!
For more information on the programs Dr. Lawson is a part of at the Mount, visit the Psychology page to learn more.