The Mount highlights National Transfer Student Week from October 18-22, 2021.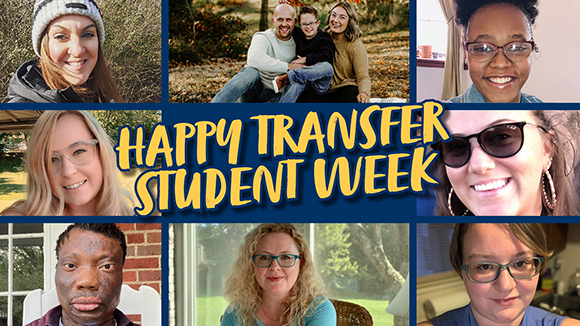 From October 18-22, Mount St. Joseph University highlights National Transfer Student Week to build awareness of diverse student needs within transfer student populations. According to the National Institute for the Study of Transfer Students, (NISTS), with more transfer students than ever before, it is important to build awareness of common transfer barriers students may face to create pathways for degree completion.
At the Mount, the Office of Admission staff understand first-hand the needs of students looking to transfer to a four-year college, demonstrating care and service to accommodate unique student needs. Amy Wolf, Assistant Director for Adult and Transfer Recruitment and Casey O'Neill, Adult Admission Counselor/Transcript Analyst provide hands-on, custom admission counseling for adult and transfer students, making transferring as easy as possible. This includes personalized appointments, and identifying transfer pathways to keep transfers on track with their career goals to exceed personally and professionally.
"My number one goal with a prospective transfer student is to make them feel comfortable about calling Mount St. Joseph University their home," says O'Neill. "I offer guidance to those who have questions about transfer credit, scholarship opportunities, and interested majors. I am a former transfer student myself so I am able to use this experience to ease the nerves of those who are interested in transferring. It is a tremendous honor to watch students transfer here and then walk on stage at graduation with a MSJ degree in hand."
In addition, the Mount offers several academic scholarships, grants, awards, loans, and payment plan options to assist transfer students in paying for college tuition.
Student Testimonial
Transfer student Brittany Kirksey, a senior in early childhood education, reflects on how the Mount addressed her transfer needs and education goals to maintain a work/life balance.
"After graduating from Cincinnati State, my life picked up," Kirksey shares. "I knew that I wasn't done with my career path or my goals, but I needed a school that was going to be flexible to my work schedule, and my life with my family. As a working mom, finding a balance and a suitable schedule for school was pertinent. The Mount's bachelor's degree transfer program and its afternoon/evening classes offered the flexibility that I needed to manage life at work, home, and school, thus making it the best option."
Learn More
Climb Higher Series | Faculty-led, Virtual, Academic Information Sessions
Join us for our virtual Climb Higher Series!  Hear directly from our faculty about our undergraduate course offerings, program-specific details, and professional development opportunities.
MSJ Transfer Student Panel
Students can watch this student information panel about transfer students:
https://www.youtube.com/watch?v=m3rVO9nyH9o
Contact Us
The Mount stands ready to assist students with their college search. Contact our team to learn more about the Mount's programs and financial aid opportunities, to schedule a visit, or to apply. Please contact the Office of Admission at admission@msj.edu, 513-244-4531