MSJ alumna Molly McClarnon recalls her love story with her husband Anthony.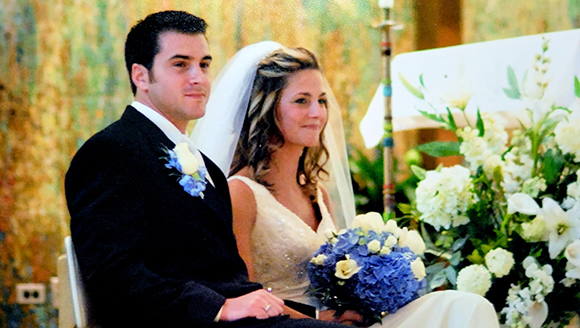 As they tend to say, love strikes at the most unexpected times. After locking her keys in her jeep located outside the Seton Lobby, who knew a wedding in the Mater Dei Chapel awaited Molly a few years later after one interaction with Anthony McClarnon.
Molly recalls the day she met Anthony.
 "The first time I actually had a long conversation with him was when I saw him in the Seton Lobby after I locked my keys in my Jeep," she says. "I was annoyed and frustrated, and trying to find campus police when he came up to me. Pretty sure he put me in a better mood. He invited me to his college graduation party, and the rest was history. I had a great time at that party, and when my friends were ready to leave, Aunt Dar insisted on taking me home later!"
Molly and Anthony had a class or two together, but didn't see each other much because he didn't live on campus. He had several business classes with her friends, Jayne and Lori. "When I started having a crush on him, Jayne would remind me not to wear my nerdy ankle-high socks to the weight room to work out because Anthony might be there," says Molly. "Good thing I took her advice!"
The year after Anthony graduated, Molly was still a senior, so Anthony made an effort to attend all of her volleyball games and followed by Maloney's Pub afterwards. He quickly became part of the MSJ volleyball family, and they would attend student parties together on weekends. They are both forever thankful for their Mount connection.
"I realized he was the one when he would call me and wanted to see me every day," Molly recalls. "I was surprised and thrilled by that, and felt the same way. We didn't get tired of each other and that never went away."
After graduation, Molly served as an admission counselor at the Mount for almost two years where she formed amazing friendships with the staff. In fact, the entire admission office staff attended their wedding in the Mater Dei Chapel.
Anthony took her completely by surprise when they went to Cancun and he proposed on the beach. They got married at the Mount in on April 28, 2007, and had their first daughter, Caelin Eve, on New Year's Eve, and she is now 13. Their son, Shane Anthony, is ten and their youngest, Brielle Jane, is six. The couple built a house in a neighborhood called Fort Scott in Harrison, OH.

"We both loved our years at the Mount. If it hadn't been the kind of school where you run into everybody, chances are we wouldn't have crossed paths," exclaims Molly. "Getting married at the Mount was special to us because it's where we found each other and it felt like home."
Interested in hosting your wedding at the beautiful Mater Dei Chapel like the McClarnon's? Visit the Mater Dei Chapel page to submit a wedding inquiry form!