The Lion's Cupboard is an on-campus food pantry providing an assortment of non-perishable food items and hygiene products to MSJ students.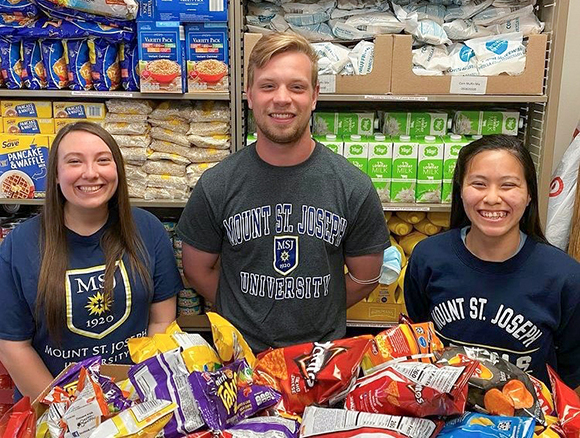 Opened to all students last March, the Lion's Cupboard initiative is an on-campus food pantry run by the Student Resource Center at Mount St. Joseph University, that provides an assortment of non-perishable food items and hygiene products to MSJ students, full and part time, as well as residents and commuters.
The Cupboard is run by many hard-working student volunteers, Chair, Program Director and Assistant Professor in Sociology and Social Work Dr. Jennifer Withrow, and AmeriCorps member, Student Resource Center Coordinator, and senior Amber Reinert. AmeriCorps members serve directly with non-profit organizations to address existing challenges in the United States today.
Furthermore, this initiative offers a variety of food items including canned fruits and vegetables, cereal, shelf-stable milk, chili, spaghetti, peanut butter, jelly, and chips. They also provide students with other products including hygiene products like shampoo, hand soap, and feminine hygiene products. This year they hope to add more clothing items to the Cupboard. It is open to all students, regardless of the degree they are pursuing or the number of credit hours they are taking.
According to Forbes, a fall 2019 survey of nearly 167,000 students nationwide found that 39% of students at two-or four-year schools had experienced food insecurity in the last 30 days. The Lion's Cupboard came about when the Student Resource Center opened it last March when Hanne Driscoll, previous AmeriCorps employee, noticed that food insecurity was a common concern on campus.
 "I believe that having a food pantry on campus is taking steps to reduce the stigma surrounding seeking assistance," says Reinert, overseer of the Lion's Cupboard this year. "Through our initiatives this semester, like our addition of clothes to the pantry, we are hoping to change the way we discuss and perceive visiting a food pantry. During the pandemic, when most things seem much harder than they used to be, I hope students know that they can always come to the Lion's Cupboard and Student Resource Center for assistance and support."
Consequently, the Lion's Cupboard's impact goes beyond its basic objective of assisting students who struggle with food insecurity. According to Reinert, the fact that the food pantry is for students and run by students reflects the strong sense of community here at the Mount. "During this time, when a lot of us have felt isolated from one another and uncertain, knowing that we are part of a community provides a sense of comfort and stability for students," she says.  
"Ever since I toured the Mount as a prospective student, I have felt a strong sense of community on campus. I feel that people here genuinely care and look out for one another," she shares. "Seeing as though I could be in a position to give back to the Mount community and continue on this legacy really drew me to the AmeriCorps position."
As the AmeriCorps member and Student Resource Center coordinator, Reinert works with students to refer them to community resources that will meet their needs. As she has learned in several of her psychology and sociology courses, it is difficult for a student to thrive in their classes or extracurricular activities if their basic needs are not being met. Being able to assist them in meeting those needs means a lot to Reinhart, and is part of what has made this position so fulfilling to her.
Reinert is currently a senior psychology major, and upon graduating from the Mount, she intends to further her education at the graduate level for clinical psychology or clinical mental health counseling. During her time at the Mount, she has been involved in a variety of extra-curricular, academic, and employment positions. Reinert participated in a practicum at Cincinnati Children's Hospital the summer of her freshman year, currently serves as Vice President of Peers Advocating for Wellness and Safety, served as vice president of Student Government Association, worked as an orientation leader, and worked as a theatre usher and library student assistant on campus.
For more information on the Mount's student resources, visit the Student Resource Center page.