Mount St. Joseph University began the academic year with a 13 percent increase in first-year enrollment versus last year.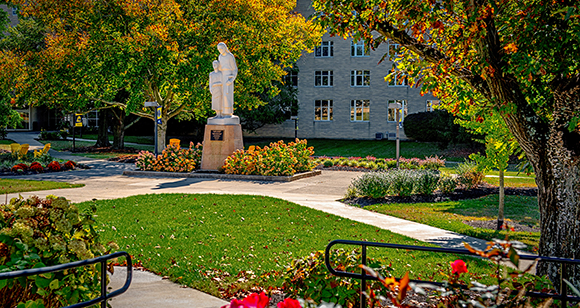 CINCINNATI – Mount St. Joseph University started the new academic year with a 13 percent increase in its first-year enrollment as compared to last year. Part of that first-year growth is a 31 percent increase in diverse student populations over last year.
"It's great to see such a significant first-year enrollment increase during the pandemic," said Mount St. Joseph University Vice President of Recruitment and Admission Chris Powers Ph.D.  "The young people who visit our campus when they are considering where to pursue a higher education quickly discover that we are dedicated to helping them learn, thrive and grow into critical thinkers, effective professionals and community leaders."   
In addition to the increase in first-year enrollment, recruitment of adult and transfer students grew by 33 percent.
The Mount's leadership attributes these enrollment increases to its focus on individualized student experiences, offering a diverse and inclusive campus environment and its values-centered tradition of educational excellence.  Mount students benefit from a liberal arts environment with small class sizes, nationally recognized faculty, outstanding NCAA Division III athletics programs, and a robust campus life.  With a career placement rate of 96.9% after graduation, prospective students recognize that the Mount creates a unique pathway to success. 
 "What becomes apparent to potential students as they visit campus, learn about the Mount's academic, athletic and other programs, and talk to faculty, staff and current students is that a Mount education focuses on the whole person – body, mind and spirit," President H. James Williams, Ph.D. said. "We prepare our students for what's ahead, what's important and what it takes to succeed in their careers and in life."  
 About the Mount St. Joseph University 
As a Catholic institution rooted in the values of the Sisters of Charity, Mount St. Joseph University excels at serving the common good. Undergraduate, graduate, and doctoral students at the Mount are inspired to think beyond the classroom and redraw the bounds of what's possible for their futures. This is accomplished through individualized educational experiences, a safe, secure campus environment, and an all-in commitment from faculty and staff to seeing students reach their highest potential. The Mount fosters life-long learners who serve, care, and contribute to the world beyond their front doors. To find out more visit: www.msj.edu 
###