Science meets artistic innovation in this recent development: Mount St. Joseph University's Art Guild presents the 15-foot outdoor Science Mural, a campus collaboration located in the Japanese Garden on campus.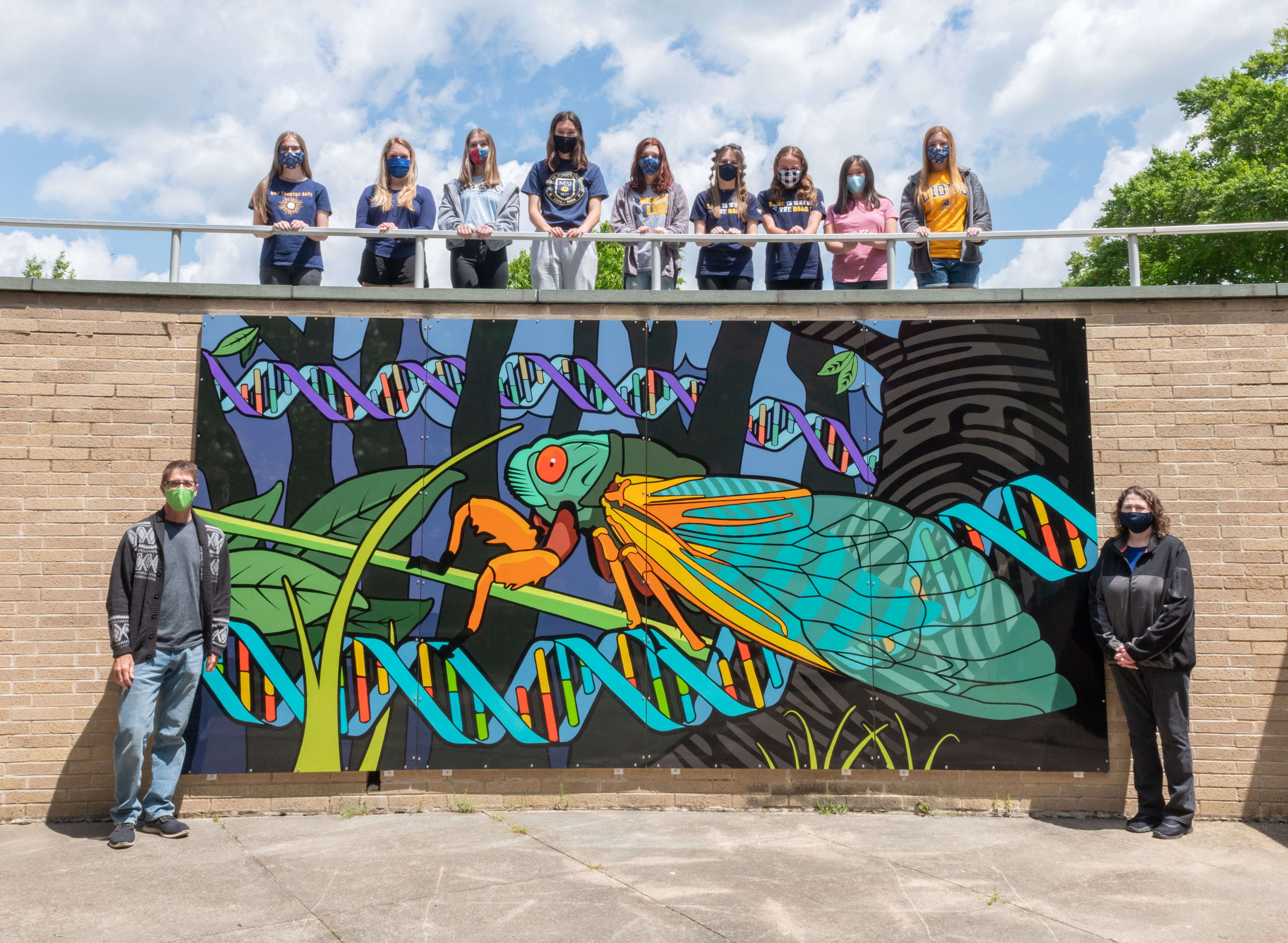 A collaboration between the Department of Behavioral and Natural Sciences and the Department of Art and Design who brought the creation to life, this mural installation draws its inspiration from many aspects of science, with an entomology focal-point as a cicada design takes the main stage as the Mount anticipates Brood X to arrive. The mural is composed of acrylic paint inspired by a contemporary, street-art style.
The Department of Art and Design's Art Guild who created the design, is a hands-on art making experience, where members of the class complete public art projects both on and off campus. The Art Guild came about as a way for the Mount to engage students in art-making that would encourage building community amongst MSJ students, and to also inspire the outside community by sharing the Mount's mission within Greater Cincinnati.
Science Cicada Mural Creation and Experience
Moreover, Art Guild directors, Kurt Grannan, Associate Professor in the Department of Art and Design partnered with Velma Dailey, Studio San Giuseppe Gallery Director to collaborate with the Department of Behavioral and Natural Sciences to review the design to approve the creative interpretation of the mural's 15-foot cicada. Over the next few months, Dailey, Grannan, and 15 Art Guild students had assigned time slots to come in and paint.
The students understood what was needed and stepped up to the task, incorporating acrylic mural paint in all the shapes on the mural.
 "The Art Guild has been a wonderful experience," says Alyssa McRoberts, Mount sophomore this coming Fall. "I have been a part of the Art Guild during the 2020-2021 school year. We've been able to positively influence our community even though we've been virtual this year. This past school year was my first year at Mount St. Joseph University. My classes were virtual with some exceptions of meeting a couple of times a month in person. Therefore, when the Art Guild announced that we would be painting a mural, I was thrilled! This experience has allowed me to collaborate with my classmates and see them in person! We were able to work together to successfully create the Japanese Garden Mural."
Grannan reflects on the art-making coming to life in-person after a long-awaited year. "My favorite part of this collaboration was able to work with young artists in the studio. We were coming out of Covid, and it was the first time we had been able to get together in small groups to work on a creative project in a long time. Of course, we positioned the mural panels on tables to follow social distancing rules and followed other guidelines, like social distancing and masks. But it still felt good; we were in a class working together on a large, meaningful project."
Enrollment in the MSJ Art Guild
Enrollment in the group is open to all MSJ students by instructor approval. In addition, it is a wonderful opportunity for each student to earn a $500 tuition grant for completing a semester participating in the Art Guild. Visit the Department of Art and Design page to learn more about art and design programs at the Mount. 
Check out the time lapse of the Art Guild's artistic development on the mural.