Educator Amanda Eagan answers some questions on her Mount experience in Early Childhood Education where she credits the Mount's Service Learning program, her practicums, and expert faculty classroom preparation, which led her to her current dream job.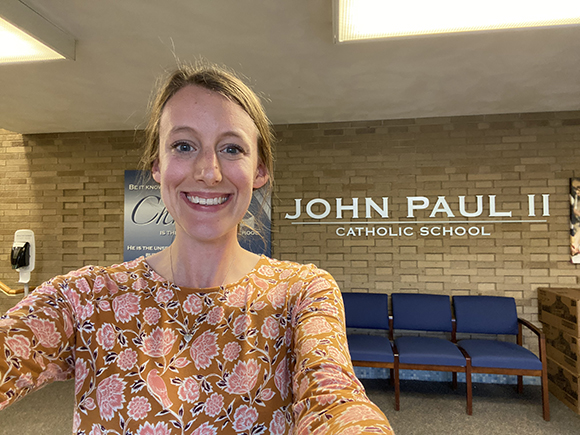 What is your specific major(s) and/or minor?

Early Childhood Education
Why did you choose the Mount?

I chose Mount St. Joseph because of the small community feel that the school has.  I really liked that the class sizes were small and the professors got to know their students.  Some of my education classes had 10 or less people in them.  The Mount makes you feel like you are part of a family.
What inspired you to pursue your major(s)?
I had many teachers as I went through school that inspired me to be a teacher.  I saw the passion, energy, and love for teaching in the work that all of my teachers had done from grade school all the way through high school.  I also loved being with kids and seeing their growth over time.  While in grade school, I put together a "Nature Club" for my younger neighbors in the neighborhood. I would find activities, crafts, and games that involved learning something about nature. I continued to volunteer in high school at St. James White Oak after school program, helping students with homework.  I then started working there after volunteering for two years which led me into college.  
What field do to you wish to pursue? How was the Mount instrumental in preparing you for your future career path?
I am currently pursuing my dream of being a teacher in the primary grades.  I had the experience of teaching in second grade for a year for my first year of teaching and I have been teaching first grade for the past three years.  The Mount provided me with service learning and practicum experiences in almost every age group that I am now licensed to teach.  I did service learning in preschool, a practicum for science and math in third grade, a practicum for reading and social studies in kindergarten, and student teaching in first grade. The education professors at the Mount have firsthand experience in the classroom and they have so much to offer teachers preparing for their careers. 
Was there a professor/instructor that helped your development as a person?
All of my education professors were fantastic! They each had advice and wisdom on different areas of the education field. They provided me with knowledge and expertise that I use daily in my classroom. I also worked closely with Keith Lanser through my leadership position in the Habitat for Humanity Campus Chapter.  Keith was our advisor for Habitat and also had a hand in helping me develop in my career and with personal goals.
Did you co-op/student teach? If so, where?
I student taught at St. Aloysius Gonzaga School in Bridgetown.  I also had practicum experiences at C.O. Harrison and Delshire.  

What was your involvement like at the Mount? Extracurricular activities, major projects, etc. that you would like to share.
While at the Mount, I was involved in Student Government, a Resident Assistant and Habitat for Humanity.  I served on student government for three years, one of the years I was secretary.  My biggest achievement while at the Mount was starting the Habitat for Humanity campus chapter with Brady Eagan, who is now my husband.  We started the Campus Chapter when I was a sophomore.  We built up the Chapter by doing volunteer build days and volunteering in Habitat for Humanity's Restore.  We also took a trip at the end of each year to South Carolina for a week to help build homes down there.  We helped to partner and launch the MLK Day of Service that is now a continuing event.
I feel like rebuilding this club for the Mount made a huge impact not only on the Mount community, but also the community that is around the Mount. Our Campus Chapter helped to build and restore homes all over Cincinnati and Kentucky. I also was a Resident Assistant for two years in the dorms.  This gave me a lot of experience with how to handle difficult situations, plan events, and document incidents, which are all helpful in the education field. 

Have there been any pivotal points during your college career or in your career? Awards, nominations, etc.
During my college career, the Habitat for Humanity Campus Chapter and the MLK Day of Service were recognized during the Celebration of Teaching and Learning. I also received the 2016 Dave Scharfenberger Community Service Award.

How would you rate your educational experience at the Mount, and how was it a strong fit for you?
I had a wonderful experience while attending the Mount. I made several professional connections with Mount Staff and through teaching opportunities. I made many friends through extracurriculars, volunteering, attending events on campus, and classmates in education.  I learned how to integrate what I learned in class at the Mount into the classroom where I am teaching now.  I still feel like I am a part of the Mount community even though I have graduated.