Thinking about transferring? Transfer student and senior Lauren Supe knows this process well, making her way from a community college to the Mount. Supe answers some questions on how the MSJ Admission staff, faculty, and academic advisors made this process easy to set her up for academic success in the dual licensure program for Early Childhood Education and Special Education.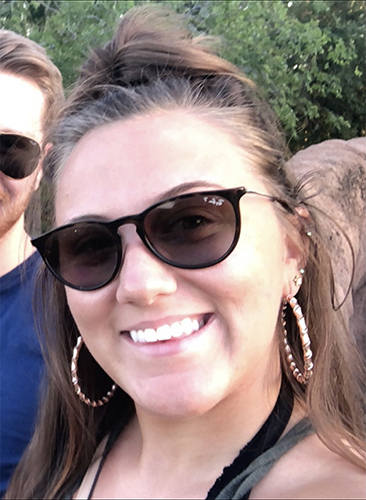 Why did you choose the Mount?
When I was in my very first education course at Cincinnati State, Amy Wolf joined our class to discuss transfer incentives for students from Cincy State who complete a bachelor's degree at MSJ. I immediately thought "There is no way I can afford MSJ, it is such a beautiful school", however, after learning more about the scholarships they offer for transfer students, I made it my goal to make it there.
How did the Mount Admission team help accommodate your transfer needs?
Transferring was a breeze thanks to Amy Wolf. I met with and spoke to her and my MSJ advisor several times before even making the big transfer! I was still in classes at Cincy State while planning my first semester at MSJ. I thought I would be nervous but there wasn't even an opportunity to be nervous with how seamlessly Amy made my transition. She ensured that I was comfortable, I knew what to expect and that I had everything I needed to be successful.
What has helped you be successful at the Mount?
My biggest advantage at MSJ is 100% the faculty. All of my professors have been more than helpful and accommodating. I thought the transition from a community college to a university would be a culture shock. I was terrified that I wasn't prepared enough, that I wouldn't fit in, that the workload would be too much. All of these worries were wiped away on day one. When I first transferred and received the names of my professors, I reached out to them via e-mail and let them know who I was and that I was transferring from Cincy State. I asked them for any advice that they could give me about making my transition easier, and some tips for success. Every single one of my professors wrote back with the kindest words and the best advice. Throughout my first semester they checked in frequently to ensure I was feeling comfortable and was feeling successful in my courses. This encouragement and care from professors seemed so surreal. It was certainly a motivating factor, as well as a comfort through my first semester.
What advice would you give to someone looking to transfer to the Mount?
If you are sitting there in a classroom at Cincinnati State doubting yourself and feeling like you aren't prepared enough to attend a university, that you can't afford it, or that you don't have the time or work ethic to be successful, stop it! You can do whatever you set your mind to. There are so many caring people and great resources to help you be successful. Transferring to MSJ was the best decision I have ever made.
How do you manage your course load with a job/and or your personal life?
Every two weeks I go through my classes and fill out my planner with every single thing I have to do. I choose a four to five-hour block two days each week to commit to school-work. I also set my alarms for the week for two hours before due date times just in case there were finishing touches that I need to complete or additional work that I didn't complete in my time block. Juggling work and school can be overwhelming and times, however, if it gets too overwhelming at any point I am in constant contact with my professors. They are always willing to work with me.
How does the Mount help you accomplish your education goals virtually during the COVID-19 pandemic?
 I thought the transition to virtual classes was going to be chaotic and horrible. I was contemplating not even going back and taking a semester off. This was not the case at all. The professors were understanding, patient and kind from the start. Our Zoom classes are engaging, and still full of learning and participation. I don't feel that my education is suffering, or that I am behind at all.
Visit the Transfer Student Spotlight page to learn more about transfer student experiences at the Mount. 
Request Information
Thinking about transferring to the Mount's campus? Learn more about how the Mount can meet your transfer needs by filling out this short form:
Loading...