In the midst of a pandemic, the arts continue to be celebrated, embraced, and felt within the Mount community. "Hindsight 20/20" tells stories of reconnection, challenge, family, and faith from last year in a first-of-its-kind, online gallery exhibition.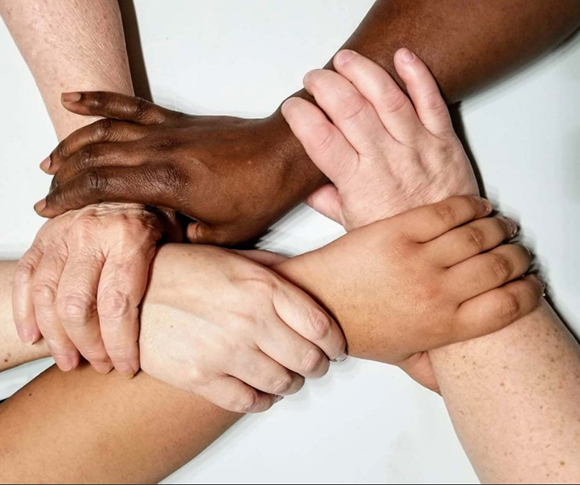 Launched on March 16, 2021, a total of 40 current students, faculty, staff, and Mount alumni photographers submitted 89 photos to the Studio San Giuseppe Art Gallery in response to the following question: "What has this year (2020) meant to you?"
A story lives behind each submission; a reflection on solitude, personal milestones, rekindling time spent with loved ones, nature, and pets. A time to process civil injustice and strengthening of faith while enduring uncertainty from a global health crisis. Showcasing a range of diverse experiences, the photos represent one moment captured in time across 40 unique individuals that speak firmly of challenge, grace, and endurance.
"'The Hindsight 20/20' exhibition is the very first time we invited the entire Mount community to be the featured artists of the entire exhibition," says Velma Dailey, Director of the Studio San Giuseppe Art Gallery. "This new show isn't based on a response to a famous photographer's works or pre-determined prompt. This show is by the people of the Mount community from concept to completion. To me that makes it even more extraordinary."
During a difficult year under restrictions from COVID-19, Dailey thought deeply about how to provide an online gallery presence during the pandemic. Finding these nuances in composition became Dailey's source of inspiration for the exhibit. Altered perceptions of line, value, and color were seen more clearly than before, thus bringing "Hindsight 20/20" to life. "I felt like we all had this shared experience of 2020. We all had a story to share. I wanted to "see" everyone else's story."
The campus collaboration to make the launch of an online exhibition emerge further solidified the support of the Mount's campus, coming together to promote the arts. According to Dailey, from the beginning of the MSJ campus construction in 1962, the arts have always had a prominent presence on campus, from the Mater Dei Chapel, Studio San Giuseppe Art Gallery, Theatre and Recital Hall, and St. Joseph Statue to countless other artworks spread across campus. The arts are continually celebrated throughout the Mount community, and surely, COVID-19 was not stopping it.
After the first photography submission, Dailey recounts the impact. "I looked at her (Heather Crabbe's) photo and I read her description. And I cried. I knew this exhibition was important. These stories are important. This month (March 2021) marks one year from the beginning of when everything began to fall apart. So much has happened since March 2020. There is hope."
Whether it makes viewers laugh, brings them to tears, makes them ponder, or evokes joy from the small, simple life pleasures, there is something that anyone can take away from "Hindsight 20/20." We extend many thanks to the artists who shared their story. View the "Hindsight 20/20 Online Exhibition".
­­­