The end of the first semester is a performance-filled time for members of the Mount's music department.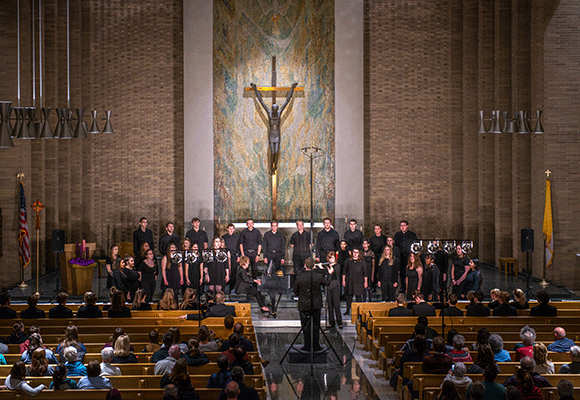 The end of the first semester is a performance-filled time for members of the Mount's music department. Most years there are holiday choral and band concerts directed by Joe Rivers and Mark McCafferty, as well as a final theater event for Richard Buchanan.
So what to do when a pandemic hits, and live performances are deemed unsafe? Not a problem for this creative trio: Collaborate and go virtual.
This year's virtual Christmas Extravaganza will be available on several social media pages beginning Friday, Dec. 11--at the end of a week when students have completed final exams and essays, and the day before the Mount's December Class of 2020 celebrates their achievement in a virtual graduation ceremony.
The band and choir started practice outside in small groups and were able to move inside once cold weather arrived. Each ensemble only came together once for a recording session in October 2020, says Rivers, the Mount's Director of Choral Activities.
This year, Rivers and his chorus have been focusing on BIPOC works, created by musicians who are Black, indigenous, people of color, or female. The two selections he has chosen for the Christmas program reflect that emphasis.
His 40 singers have been practicing and will record their individual performances at home. Once Rivers receives these recordings, he will face the labor-intensive task of splicing them together into a seamless whole.
McCafferty, Chair of the Music Department and Director of Bands, was able to hold band rehearsals outside until cold weather set in. They were able to complete most band material live. The University Band will perform "A Charlie Brown Christmas," and The Steel Drum Band will perform "Steel Drummer Boy" and "What a Wonderful World."
The third performing art group contributing to the Christmas program includes Mount student actors under Buchanan, Director of Theatre Arts. This segment of the program, "A Christmas Carol Lip Synch," builds upon a short silent-movie production of Dickens' "A Christmas Carol." Individual students have recorded words that Buchanan will overlay on the film.
So, while a 2020 Christmas at the Mount will look different from those of previous years, students and the three faculty members are delighted that they can keep the holiday tradition alive.
"Each of us is doing a small part that will have a great impact on the Mount and our local community, who will have access to the recorded program," says Rivers. "We are happy to be able to give our community access to the arts, which they haven't had in months."
And, he added, with a hint of pride in his voice, "People will see that, despite the challenges, we are still creating art."