The SLHS major provides an understanding of human communication and prepares you for professional training in speech-language pathology or audiology.
The Department of Speech, Language, and Hearing Sciences is dedicated to helping students learn, thrive, and grow for the future. This major provides the scientific knowledge needed for advanced studies as well as opportunities for practical experience and well-rounded professional training. Speech, Language, and Hearing Sciences is often a pre-professional degree for those wishing to pursue a career in speech-language pathology or audiology. Whether your career takes you to the neonatal intensive care unit, an elementary school, an acute care rehabilitation hospital, or a private practice, the education you receive at the Mount will provide you with the knowledge and skills to make a meaningful difference in your world.
100%
of students are successfully employed, volunteering, or enrolled in graduate studies within six months of graduating
Most of our students choose co-op experiences to augment their training
29%
The demand for speech-language pathologists is predicted to grow 29% through 2030
SLHS at the Mount
Our Philosophy
Students in the Speech, Language, and Hearing Sciences program are challenged to grow both in and beyond the classroom. Our faculty are committed to supporting your academic growth and mentoring your professional growth through challenging your mind, inspiring your soul, and putting your passion into action.
Challenge the Mind
The Mount is committed to academic excellence. The undergraduate Speech, Language, and Hearing Sciences major combines the Mount's strong liberal arts curriculum with coursework specific to understanding the anatomy, physiology, and development of communication across the lifespan. Critical thinking and clinical application skills are developed in through major courses including:
Anatomy and Physiology of Speech and Hearing
Neuroscience and Communicative Behavior
Speech and Language Development
Phonetics and Linguistics
Theoretical Perspectives and Foundations in Literacy
Inspire the Soul
At the Mount, our education reaches beyond the classroom to serve the common good and build a better world. Speech, Language, and Hearing Science students engage in Service Learning with community partners such as local schools, hospitals, and other community partners.
Passion into Action
The Mount provides both the benefits of a small school and the opportunities of a big city. Cincinnati is home to several major hospital systems, including one of the best pediatric hospitals in the country. Additionally, we have partnerships with clinics and schools throughout the Tri-State area. As part of the undergraduate program, students gain hands-on experience in the fields of speech-language pathology and audiology. Additionally, we uniquely offer the opportunity for Speech, Language, and Hearing Science students to complete a formal cooperative learning experience (co-op) and gain practical experience.
Career Outlook
Demand for speech-language pathologists is predicted to grow 27% through 2028 (Bureau of Labor Statistics, 2020), making the employment outlook very strong. Speech-language pathologists work in a variety of settings including schools, hospitals, private practices, skilled nursing facilities, and early intervention programs. Employment for audiologists is expected to grow 13% as the population ages and their hearing is affected (Bureau of Labor Statistics, 2020). Audiologists in work in hospitals, private practices, schools, and industry. 
For additional information on the various work settings for speech-language pathologists and audiologists, please see the Careers in SLP & Audiology video series from the American Speech-Language-Hearing Association linked below in the Additional Resources section.
Students who do not pursue a graduate degree in speech-language pathology or audiology may also find employment in settings related to child development, special education, early intervention, general health and wellness programs, as well as educational material development and promotions. Some states allow for a speech-language pathology assistant license (SLPA). The requirements for the SLPA license currently vary by state.
If you have questions about the Speech, Language, and Hearing Sciences program, please contact Dr. Erin Sizemore at erin.sizemore@msj.edu.
INSTAGRAM NEWS
RECENT NEWS
SLHS Inquiry Form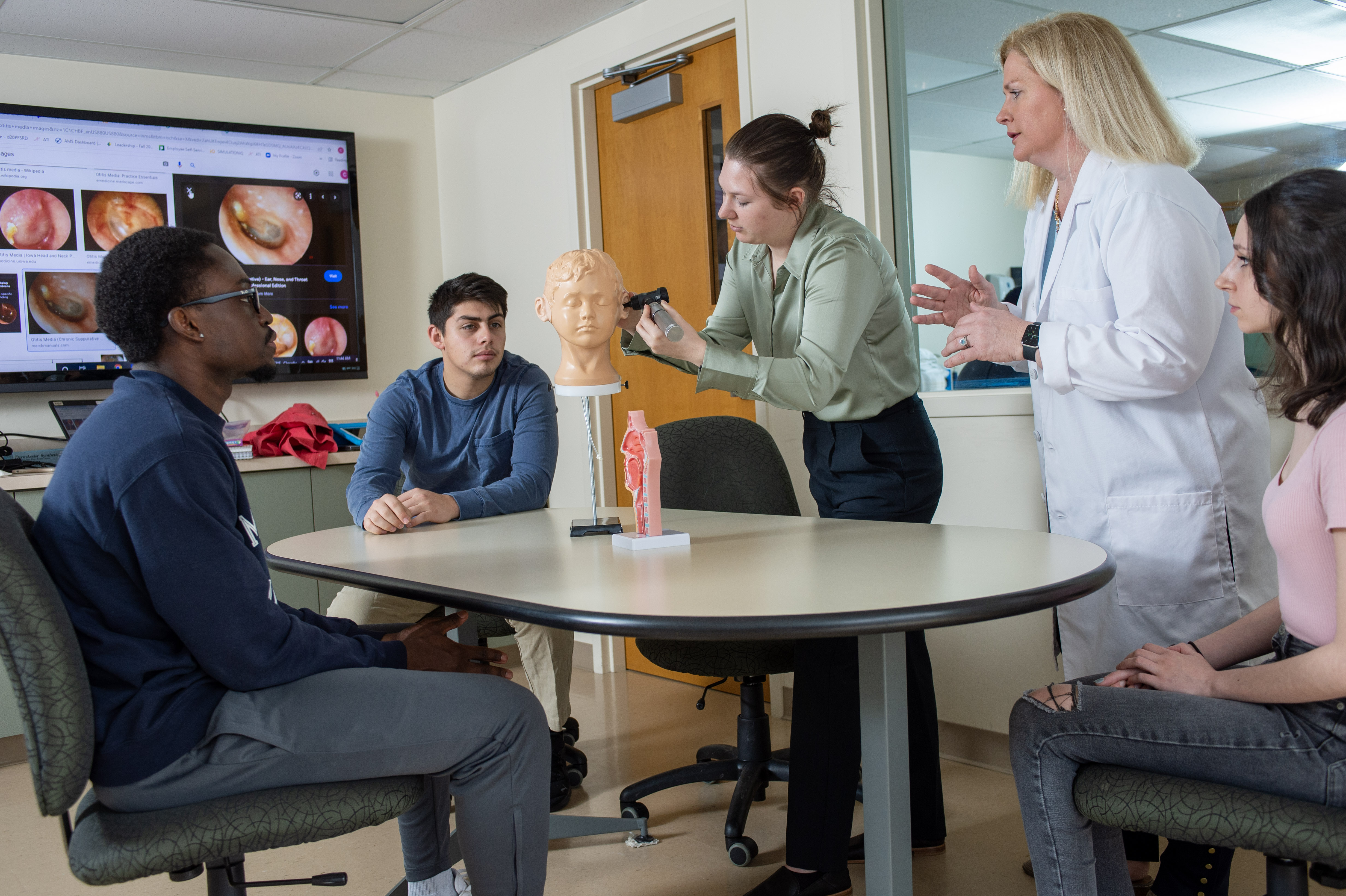 The Bachelor of Science in Speech, Language, and Hearing Sciences degree is blended with the Mount's broad liberal arts foundation to prepare students for a variety of careers. The Mount also offers a 3+2 program that combines this degree with the Master of Speech-Language Pathology (MSLP) program for qualified students.